Bible Verses about Salvation
«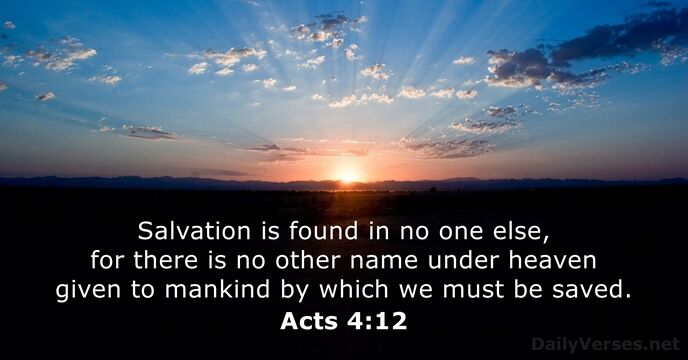 »
Salvation is found in no one else, for there is no other name under heaven given to mankind by which we must be saved.

Niemand anders dan Hij kan de mensen redden. Er is op aarde niemand anders door wie de mensen gered kunnen worden.

They replied, "Believe in the Lord Jesus, and you will be saved—you and your household."

Paulus antwoordde: "Geloof in de Heer Jezus. Dan zul je worden gered, met iedereen die in je huis woont."

He has saved us and called us to a holy life—not because of anything we have done but because of his own purpose and grace. This grace was given us in Christ Jesus before the beginning of time.

Want Hij heeft ons gered en ons geroepen om voor Hem te leven. Maar Hij deed dat niet omdat we dat hebben verdiend met de dingen die we zelf hebben gedaan. God deed dat omdat Hij altijd al van plan is geweest om goed voor ons te zijn en ons Jezus Christus te geven. Al voordat de wereld bestond had Hij dat plan.

Truly my soul finds rest in God; my salvation comes from him.

Bij God ben ik veilig. Hij zal mij redden.

And everyone who calls on the name of the Lord will be saved.

Maar iedereen die de Heer aanbidt, zal worden gered.

Or do you not know that wrongdoers will not inherit the kingdom of God? Do not be deceived: Neither the sexually immoral nor idolaters nor adulterers nor men who have sex with men nor thieves nor the greedy nor drunkards nor slanderers nor swindlers will inherit the kingdom of God.

Weten jullie dan niet dat slechte mensen niet bij Gods Koninkrijk zullen horen? Houd jezelf toch niet voor de gek! Mensen die met allerlei mannen of vrouwen naar bed gaan, of afgoden aanbidden, of niet trouw zijn aan hun eigen man of vrouw, of mannen die met mannen en vrouwen die met vrouwen seks hebben, of mensen die stelen, hebzuchtig zijn, te veel drinken, leugens over anderen rondvertellen of anderen bedriegen, zullen Gods Koninkrijk niet binnengaan.

For it is with your heart that you believe and are justified, and it is with your mouth that you profess your faith and are saved.

Door dit met je hart te geloven, word je vrijgesproken van schuld. En door het met je mond hardop te zeggen, word je gered.

For the grace of God has appeared that offers salvation to all people. It teaches us to say "No" to ungodliness and worldly passions, and to live self-controlled, upright and godly lives in this present age.

Want God heeft laten zien hoeveel Hij van de mensen houdt: Hij wil alle mensen redden. Zijn liefde en goedheid voeden ons op. Daardoor houden we ons niet meer bezig met de slechte dingen van de wereld. Voortaan kunnen we verstandig en vol geloof in deze wereld leven zoals God het wil.

For the Son of Man came to seek and to save the lost.

Want de Mensenzoon is gekomen om mensen die bij God weggelopen waren, te zoeken en te redden.

The Lord is not slow in keeping his promise, as some understand slowness. Instead he is patient with you, not wanting anyone to perish, but everyone to come to repentance.

Sommigen van jullie denken dat de Heer vergeet te doen wat Hij heeft beloofd. Maar dat is niet zo. Nee, Hij wacht en stelt het uit omdat Hij geduld heeft met ons. Want Hij wil niet dat er mensen verloren zullen gaan. Hij wil dat alle mensen in Hem zullen gaan geloven en zullen gaan leven zoals Hij het wil.

Jesus replied, "What is impossible with man is possible with God."

Hij zei tegen hen: "Wat voor mensen niet mogelijk is, is voor God wél mogelijk."

Whoever believes and is baptized will be saved, but whoever does not believe will be condemned.

Wie het nieuws gelooft en zich laat dopen, zal worden gered. Maar wie het niet gelooft, zal worden veroordeeld.

Enter through the narrow gate. For wide is the gate and broad is the road that leads to destruction, and many enter through it. But small is the gate and narrow the road that leads to life, and only a few find it.

Jezus zei tegen zijn leerlingen: "Ga binnen door de smalle poort. Want de poort naar de dood is wijd, en de weg daar naartoe is breed. En er zijn heel veel mensen die die weg nemen en door die poort binnengaan. Maar de poort naar het leven is nauw, en de weg daar naartoe is smal. Er zijn maar weinig mensen die die weg en die poort vinden."

Though you have not seen him, you love him; and even though you do not see him now, you believe in him and are filled with an inexpressible and glorious joy, for you are receiving the end result of your faith, the salvation of your souls.

Jullie hebben Hem nog nooit gezien. Toch houden jullie van Hem. Jullie geloven Hem en zijn heel erg blij dat jullie door Hem zijn gered. En gered worden is immers het doel van het geloof.

So Christ was sacrificed once to take away the sins of many; and he will appear a second time, not to bear sin, but to bring salvation to those who are waiting for him.

Zo is ook Christus éénmaal gestorven. Hij heeft Zichzelf éénmaal geofferd om de straf voor de ongehoorzaamheid van de mensen op Zich te nemen. Als Hij voor de tweede keer komt, komt Hij niet meer om Zichzelf voor onze ongehoorzaamheid te offeren. Dan komt Hij om de mensen die op Hem vertrouwen voor hun redding, helemaal te bevrijden.

For this is what the Lord has commanded us: "I have made you a light for the Gentiles, that you may bring salvation to the ends of the earth."

Want de Heer heeft ons bevolen: 'Ik heb jullie gemaakt tot een licht voor de niet-Joodse volken. Zo zullen jullie redding brengen over de hele wereld.'

For as in Adam all die, so in Christ all will be made alive.

Alle mensen zullen door de schuld van Adam sterven. Maar nu zullen alle mensen door Christus levend gemaakt worden.

For I am not ashamed of the gospel, because it is the power of God that brings salvation to everyone who believes: first to the Jew, then to the Gentile.

Want ik schaam mij niet voor het goede nieuws van Christus. Want het goede nieuws is de kracht van God: iedereen die het gelooft, wordt erdoor gered. Het goede nieuws is op de eerste plaats voor de Joden, maar ook voor de andere volken.

Very rarely will anyone die for a righteous person, though for a good person someone might possibly dare to die. But God demonstrates his own love for us in this: While we were still sinners, Christ died for us.

Het is al heel bijzonder als iemand zijn leven wil geven om een góed mens te redden. Misschien heeft iemand daar nog de moed voor. Maar Christus heeft zijn leven voor ons gegeven toen we nog sléchte mensen waren. Daarmee bewijst God hoeveel Hij van ons houdt.

For if, while we were God's enemies, we were reconciled to him through the death of his Son, how much more, having been reconciled, shall we be saved through his life!

Toen we nog vijanden van God waren, heeft God ervoor gezorgd dat we vrede met Hem konden sluiten. Namelijk door de dood van zijn Zoon. Daardoor zijn we vrienden van God geworden. En daarom is het nu ook zéker dat we elke dag worden gered en veilig zijn door het léven van zijn Zoon.

Jesus looked at them and said, "With man this is impossible, but not with God; all things are possible with God."

Jezus keek hen aan en zei: "Bij mensen is dat onmogelijk, maar niet bij God. Want bij God zijn alle dingen mogelijk."

You make your saving help my shield, and your right hand sustains me; your help has made me great. You provide a broad path for my feet, so that my ankles do not give way.

U beschermde me als een schild en U hielp mij. Dankzij uw goedheid ben ik machtig geworden. U heeft de weg voor mij gebaand. Ik kon gaan zonder te struikelen.

"Go," said Jesus, "your faith has healed you." Immediately he received his sight and followed Jesus along the road.

Jezus zei tegen hem: "Ga naar huis, je geloof heeft je gered." Onmiddellijk kon hij zien en hij volgde Hem op de weg.

Though the fig tree does not bud and there are no grapes on the vines, though the olive crop fails and the fields produce no food, though there are no sheep in the pen and no cattle in the stalls, yet I will rejoice in the L

ord

, I will be joyful in God my Savior.

Zelfs als de vijgenbomen niet zullen bloeien, en er geen één druif in de wijngaarden te vinden zal zijn, en we geen enkele olijf van de olijfbomen zullen kunnen oogsten, en er niets meer op de akkers zal groeien, en alle schapen uit de stallen zullen worden geroofd, en alle koeien verdwenen zullen zijn, zelfs dan zal ik tóch nog juichen over de Heer, blij jubelen over de God die voor mij zorgt.

Since you are precious and honored in my sight, and because I love you, I will give people in exchange for you, nations in exchange for your life.

Omdat Ik je kostbaar vond, heb Ik jou uitgekozen. Ik houd heel veel van je. Daarom geef Ik mensen als losgeld voor jou. Ik geef volken in ruil voor jouw leven.
He who did not spare his own Son, but gave him up for us all—how will he not also, along with him, graciously give us all things?
Personal Bible reading plan
Create an account to configure your Bible reading plan and you will see your progress and the next chapter to read here!
Read more...