«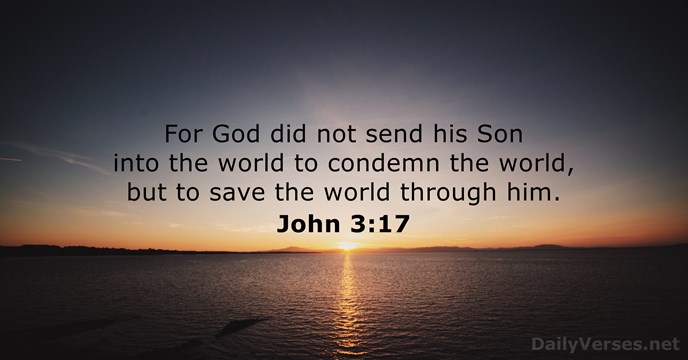 »
For God did not send his Son into the world to condemn the world, but to save the world through him.

Want God heeft zijn Zoon niet naar de wereld gestuurd om de mensen te veroordelen, maar om door Hem de mensen te redden.

For it is by grace you have been saved, through faith—and this is not from yourselves, it is the gift of God—not by works, so that no one can boast.

Want omdat God zo liefdevol en goed is, heeft Hij jullie gered door jullie geloof. Jullie hebben niet jezelf gered, maar Gód heeft jullie gered. Het is zíjn geschenk. Jullie zijn dus niet gered doordat jullie zelf zo goed je best deden om goede mensen te zijn. Want Hij wilde niet dat jullie over je redding zouden kunnen opscheppen.

My salvation and my honor depend on God; he is my mighty rock, my refuge.

God zal mijn eer redden. Hij is de rots onder mijn voeten. Bij Hem ben ik veilig.

For, "Everyone who calls on the name of the Lord will be saved."

Want er staat in de Boeken: "Iedereen die de Heer aanbidt, zal worden gered."

For the Lord himself will come down from heaven, with a loud command, with the voice of the archangel and with the trumpet call of God, and the dead in Christ will rise first. After that, we who are still alive and are left will be caught up together with them in the clouds to meet the Lord in the air. And so we will be with the Lord forever.

Op een bepaald moment zal één van de belangrijkste engelen roepen dat de Heer eraan komt. Hij zal op de trompet blazen en de Heer zal uit de hemel naar de aarde komen. De mensen die in Christus geloofden toen ze stierven, zullen dan het eerst uit de dood opstaan. Daarna zullen wij die nog leven en nog hier zijn, samen met hen op de wolken worden meegenomen. Dan zullen we de Heer in de lucht ontmoeten. Dan zullen we voor altijd bij de Heer zijn.

I am the gate; whoever enters through me will be saved. They will come in and go out, and find pasture.

IK BEN de deur. Als iemand door Mij binnenkomt, zal hij worden gered. Hij zal naar binnen gaan en naar buiten gaan en hij zal het goed hebben.

For the message of the cross is foolishness to those who are perishing, but to us who are being saved it is the power of God.

De mensen die verloren gaan, vinden het een belachelijk verhaal dat Jezus ons gered heeft door aan het kruis voor ons te sterven. Maar voor ons die gered zijn, is het de kracht van God.

Whoever has the Son has life; whoever does not have the Son of God does not have life.

Dus als je de Zoon hebt, heb je het eeuwige leven. Maar als je de Zoon van God níet hebt, heb je ook geen eeuwig leven.

For God so loved the world that he gave his one and only Son, that whoever believes in him shall not perish but have eternal life.

Want God houdt zoveel van de mensen, dat Hij zijn enige Zoon aan hen heeft gegeven. Iedereen die in Hem gelooft, zal niet verloren gaan, maar zal het eeuwige leven hebben.

I love you, L

ord

, my strength. The L

ord

is my rock, my fortress and my deliverer; my God is my rock, in whom I take refuge, my shield and the horn of my salvation, my stronghold.

Hij zei: Ik houd heel erg veel van U, mijn Heer. U geeft mij kracht. Heer, U bent de rots onder mijn voeten, de burcht waar ik veilig ben, mijn Bevrijder. U bent mijn God, de rots waarop ik kan vertrouwen, het schild dat mij beschermt, mijn Redder, mijn sterke toren waarin ik veilig ben.

For whoever wants to save their life will lose it, but whoever loses their life for me will find it.

Want als je je leven voor jezelf wil houden, zul je het juist verliezen. Maar als je je leven opgeeft voor Mij, zul je het juist redden.

That God was reconciling the world to himself in Christ, not counting people's sins against them. And he has committed to us the message of reconciliation.

God heeft door Christus de mensen vergeven dat ze ongehoorzaam aan Hem waren. Nu zijn ze vrijgesproken van schuld. En Hij heeft ons de taak gegeven om dit aan de mensen te vertellen. Want daardoor kunnen ze vrienden van God worden.

Therefore he is able to save completely those who come to God through him, because he always lives to intercede for them.

Daarom kan Hij ook álle mensen redden die door Hem naar God toe komen. Want Hij leeft voor altijd om bij God voor hen op te komen.

Now, brothers and sisters, I want to remind you of the gospel I preached to you, which you received and on which you have taken your stand. By this gospel you are saved, if you hold firmly to the word I preached to you. Otherwise, you have believed in vain.

Broeders en zusters, ik wil jullie herinneren aan het goede nieuws dat ik jullie heb verteld. Jullie hebben het geloofd en het is de basis van jullie leven geworden. Jullie zijn door dat goede nieuws ook gered. Maar jullie moeten het wel precies zó blijven geloven als ik het jullie heb verteld. Anders zijn jullie voor niets tot geloof gekomen.

The righteous cry out, and the L

ord

hears them; he delivers them from all their troubles. The L

ord

is close to the brokenhearted and saves those who are crushed in spirit.

Als de mensen die leven zoals de Heer het wil tot Hem om hulp roepen, dan luistert de Heer. Hij redt hen uit al hun moeilijkheden. Hij is dicht bij mensen die wanhopig zijn. Hij redt de mensen die alle hoop hebben opgegeven.

But the one who stands firm to the end will be saved.

Maar de mensen die volhouden tot het einde, zullen worden gered.

But our citizenship is in heaven. And we eagerly await a Savior from there, the Lord Jesus Christ.

Maar wij zijn bewoners van een Koninkrijk in de hemel. En zo moeten wij ook leven. En daar vandaan verwachten we ook de Heer Jezus Christus als onze Redder.

Therefore, get rid of all moral filth and the evil that is so prevalent and humbly accept the word planted in you, which can save you.

Doe dus niets meer wat ook maar een béétje verkeerd of slecht is. Luister liever goed naar het woord van God dat in jullie hart is gezaaid en wortels heeft gekregen. Want door het woord van God worden jullie gered.

I will give you a new heart and put a new spirit in you; I will remove from you your heart of stone and give you a heart of flesh.

Ik zal jullie een nieuw hart geven. Ik zal een nieuwe geest in jullie leggen. Jullie eigen hart, dat zo hard en zo koud is als steen, zal Ik uit jullie weghalen. En dan zal Ik jullie een warm, zacht hart geven.

The thief comes only to steal and kill and destroy; I have come that they may have life, and have it to the full.

Maar een dief komt alleen maar om te stelen en te doden en te vernietigen. Ik ben gekomen om leven te geven en overvloed.

The L

ord

will rescue his servants; no one who takes refuge in him will be condemned.

De Heer redt de mensen die Hem dienen. Mensen die op Hem vertrouwen, zullen veilig zijn.

For I know that through your prayers and God's provision of the Spirit of Jesus Christ what has happened to me will turn out for my deliverance.

Want ik weet dat die blijdschap mij goed zal doen. Ook jullie gebeden en de hulp van de Geest van Jezus Christus helpen mij.

For the L

ord

is our judge, the L

ord

is our lawgiver, the L

ord

is our king; it is he who will save us.

Want de Heer is onze Rechter, onze Wetgever, onze Koning. Hij zal ons redden.

For in the gospel the righteousness of God is revealed—a righteousness that is by faith from first to last, just as it is written: "The righteous will live by faith."

Want in het goede nieuws laat God zien, hoe mensen kunnen worden vrijgesproken van hun schuld voor hun ongehoorzaamheid aan God. Namelijk door geloof dat steeds meer groeit. Het is zoals er in de Boeken staat: "Mensen die leven zoals Ik het wil, zullen leven door hun geloof in Mij."

For just as through the disobedience of the one man the many were made sinners, so also through the obedience of the one man the many will be made righteous.

Door de ongehoorzaamheid van één mens (Adam) zijn alle mensen schuldig geworden. En door de gehoorzaamheid van één Mens (Jezus) zijn alle mensen vrijgesproken van schuld.
The Lord loves righteousness and justice; the earth is full of his unfailing love.
Personal Bible reading plan
Create an account to configure your Bible reading plan and you will see your progress and the next chapter to read here!
Read more...