18 Bible Verses about the Savior
«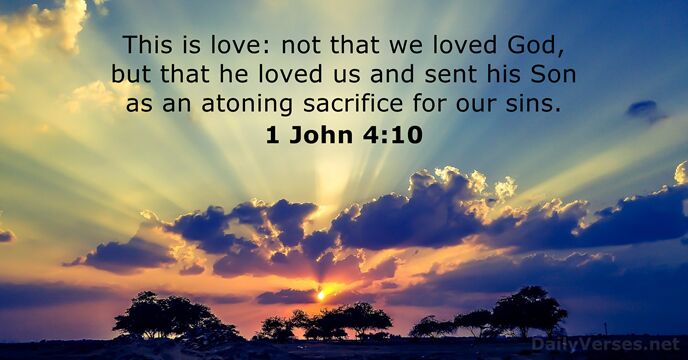 »
This is love: not that we loved God, but that he loved us and sent his Son as an atoning sacrifice for our sins.

De liefde komt van God. God had ons al lief voordat wij hem liefhadden. Omdat God ons liefhad, heeft hij zijn Zoon naar de wereld gestuurd. Door zijn Zoon worden onze zonden vergeven.

I know that my redeemer lives, and that in the end he will stand on the earth.

Eén ding weet ik zeker: God zal mij redden. Ooit zal hij komen en mij hier op aarde verdedigen.

He is the atoning sacrifice for our sins, and not only for ours but also for the sins of the whole world.

Dankzij hem wil God onze zonden vergeven. En niet alleen onze eigen zonden, maar die van de hele wereld.

Today in the town of David a Savior has been born to you; he is the Messiah, the Lord.

Vandaag is jullie redder geboren: Christus, de Heer. Hij is geboren in Betlehem, de stad van David.

I have been crucified with Christ and I no longer live, but Christ lives in me. The life I now live in the body, I live by faith in the Son of God, who loved me and gave himself for me.

Bovendien heeft de wet niets meer over ons te zeggen. Want Christus is voor ons gestorven aan het kruis. En met hem is ons oude ik gestorven. We zijn nieuwe mensen geworden. Christus, de Zoon van God, houdt van ons en leeft in ons. Nu wordt ons leven niet meer beheerst door de wet, maar door God!

Who, being in very nature God, did not consider equality with God something to be used to his own advantage; rather, he made himself nothing by taking the very nature of a servant, being made in human likeness. And being found in appearance as a man, he humbled himself by becoming obedient to death— even death on a cross!

Jezus Christus was aan God gelijk. Maar hij vroeg niet om de hoogste macht en eer voor zichzelf. Nee, hij gaf zijn hemelse positie op. Hij maakte zich zo onbelangrijk als een slaaf. Hij kwam als mens op aarde. En toen hij leefde als mens, dacht hij nooit aan zichzelf. Hij was altijd gehoorzaam aan God, zelfs toen hij aan het kruis moest sterven.

For all have sinned and fall short of the glory of God, and all are justified freely by his grace through the redemption that came by Christ Jesus.

Want alle mensen doen verkeerde dingen. Daardoor leeft niemand dicht bij God. Maar God wil de mensen redden, zomaar, voor niets. Hij vergeeft de zonden van iedereen die gelooft in Jezus Christus. Zo goed wil God voor ons zijn.

In him we have redemption through his blood, the forgiveness of sins, in accordance with the riches of God's grace.

God heeft laten zien dat hij goed voor ons is. Hij stuurde Christus naar ons toe, zijn Zoon, van wie hij zo veel houdt. Hij liet Christus voor ons sterven. Zo groot was Gods goedheid voor ons. Door de dood van Christus zijn onze zonden vergeven, en zijn we bevrijd van onze schuld. Laten we God voor zijn goedheid danken!

Therefore he is able to save completely those who come to God through him, because he always lives to intercede for them.

Maar Jezus leeft voor altijd. Hij blijft dus ook voor altijd priester. Daarom kan hij mensen die via hem bij God komen, voor altijd redden. Want Jezus laat ons niet in de steek.

Fixing our eyes on Jesus, the pioneer and perfecter of faith. For the joy set before him he endured the cross, scorning its shame, and sat down at the right hand of the throne of God.

Laten we daarbij steeds blijven denken aan Jezus. Hij zorgde ervoor dat we gingen geloven, en hij maakt ons geloof volmaakt. Hij is voor ons aan het kruis gestorven. Hij vond het niet erg dat hij op die manier vernederd werd. Want hij dacht aan de beloning die hij in de hemel zou krijgen. En nu zit hij naast God, aan de rechterkant van Gods troon.

For you know that it was not with perishable things such as silver or gold that you were redeemed from the empty way of life handed down to you from your ancestors, but with the precious blood of Christ, a lamb without blemish or defect.

Vroeger was jullie leven zinloos. Want net als jullie voorouders vereerden jullie goden die niet bestaan. God heeft jullie daarvan bevrijd. Hij betaalde daar een hoge prijs voor, die meer waard was dan zilver of goud. Want hij liet zijn onschuldige Zoon sterven aan het kruis. Christus stierf voor jullie, net als een lam dat geofferd wordt.

But I have been the L

ord

your God ever since you came out of Egypt. You shall acknowledge no God but me, no Savior except me.

De Heer zegt: 'Volk van Israël, ik ben de Heer, jullie God. Dat ben ik al sinds jullie weggingen uit Egypte. Ik ben de enige God die jullie mogen dienen. Er is geen andere god die jullie kan redden.'

And, once made perfect, he became the source of eternal salvation for all who obey him.

Toen Christus gestorven was, kreeg hij alle eer in de hemel. God heeft hem daar hogepriester voor altijd gemaakt. Dankzij Christus kunnen alle mensen die hem gehoorzaam zijn, voor altijd gered worden.

For if, while we were God's enemies, we were reconciled to him through the death of his Son, how much more, having been reconciled, shall we be saved through his life!

Vroeger waren we dus vijanden van God. Maar nu is het goed tussen God en ons, dankzij de dood van zijn Zoon. Want dankzij de dood van Christus ziet God ons als goede mensen. En dus zullen we ook voor eeuwig gered worden. Daar hoeven we niet aan te twijfelen. Want Christus leeft, en hij zal ons redden op de dag dat God rechtspreekt over de wereld.

The angel said to the women, "Do not be afraid, for I know that you are looking for Jesus, who was crucified. He is not here; he has risen, just as he said. Come and see the place where he lay."

De engel zei tegen de vrouwen: 'Jullie hoeven niet bang te zijn. Ik weet dat jullie op zoek zijn naar Jezus, die aan het kruis gestorven is. Maar hij is hier niet. Want hij is opgestaan uit de dood, zoals hij gezegd heeft. Kom maar kijken, hier heeft hij gelegen.'

For this reason Christ is the mediator of a new covenant, that those who are called may receive the promised eternal inheritance—now that he has died as a ransom to set them free from the sins committed under the first covenant.

Wij hebben ons niet gehouden aan Gods oude afspraak met ons. Maar Christus is gestorven om ons te bevrijden van alles wat we verkeerd gedaan hebben. Doordat hij zichzelf geofferd heeft, geldt nu Gods nieuwe afspraak. En daarom kunnen wij, die door God uitgekozen zijn, voor eeuwig gered worden. Dat heeft God zelf beloofd.

But God has helped me to this very day; so I stand here and testify to small and great alike. I am saying nothing beyond what the prophets and Moses said would happen— that the Messiah would suffer and, as the first to rise from the dead, would bring the message of light to his own people and to the Gentiles.

Maar God hielp me, zoals altijd. En dus vertel ik nog steeds aan iedereen over de messias. Mozes en de profeten hebben al gezegd wat er met de messias zou gebeuren. En ik vertel precies hetzelfde: De messias zou lijden en sterven, en als eerste opstaan uit de dood. En hij zou een boodschap van redding brengen aan alle volken.

For he has rescued us from the dominion of darkness and brought us into the kingdom of the Son he loves, in whom we have redemption, the forgiveness of sins.

Hij redde ons allemaal uit de macht van het kwaad. En hij bracht ons in de nieuwe wereld van zijn Zoon Christus, van wie hij zo veel houdt. Omdat we bij Christus horen, zijn we gered en zijn onze zonden vergeven.
The Word became flesh and made his dwelling among us. We have seen his glory, the glory of the one and only Son, who came from the Father, full of grace and truth.
Husbands, love your wives, just as Christ loved the church and gave himself up for her to make her holy, cleansing her by the washing with water through the word.
Read more
The Word became flesh and made his dwelling among us. We have seen his glory, the glory of the one and only Son, who came from the Father, full of grace and truth.
Personal Bible reading plan
Create an account to configure your Bible read plan and you will see your progress and the next chapter to read here!
Read more...