14 Bible Verses about 'Angels'
«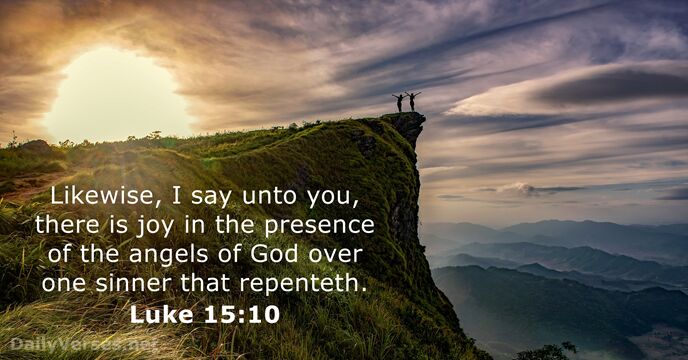 »
| | |
| --- | --- |
| Thinkest thou that I cannot now pray to my Father, and he shall presently give me more than twelve legions of angels? | Alebo si myslíš, že by som nemohol poprosiť svojho Otca a on by mi hneď poslal viac ako dvanásť plukov anjelov? |
| Likewise, I say unto you, there is joy in the presence of the angels of God over one sinner that repenteth. | Hovorím vám: Takú radosť majú Boží anjeli z jedného hriešnika, ktorý robí pokánie. |
| Let brotherly love continue. Be not forgetful to entertain strangers: for thereby some have entertained angels unawares. | Bratská láska nech trvá. Nezabúdajte na pohostinnosť, lebo niektorí takto prijali ako hostí anjelov, a ani o tom nevedeli. |
| Though I speak with the tongues of men and of angels, and have not charity, I am become as sounding brass, or a tinkling cymbal. | Keby som hovoril ľudskými jazykmi aj anjelskými, a lásky by som nemal, bol by som ako cvendžiaci kov a zuniaci cimbal. |
| He that overcometh, the same shall be clothed in white raiment; and I will not blot out his name out of the book of life, but I will confess his name before my Father, and before his angels. | Kto zvíťazí, ten takto bude oblečený do bieleho rúcha a jeho meno nevymažem z knihy života, ale vyznám jeho meno pred svojím Otcom a pred jeho anjelmi. |
| For I am persuaded, that neither death, nor life, nor angels, nor principalities, nor powers, nor things present, nor things to come, Nor height, nor depth, nor any other creature, shall be able to separate us from the love of God, which is in Christ Jesus our Lord. | A som si istý, že ani smrť, ani život, ani anjeli, ani kniežatstvá, ani prítomnosť, ani budúcnosť, ani mocnosti, ani výška, ani hĺbka, ani nijaké iné stvorenie nás nebude môcť odlúčiť od Božej lásky, ktorá je v Kristovi Ježišovi, našom Pánovi. |
| And without controversy great is the mystery of godliness: God was manifest in the flesh, justified in the Spirit, seen of angels, preached unto the Gentiles, believed on in the world, received up into glory. | A všetci vyznávajú, že veľké je tajomstvo nábožnosti: On sa zjavil v tele, bol ospravedlnený v Duchu, ukázal sa anjelom, zvestovali ho národom, na svete v neho uverili, vzatý bol do slávy. |
| For the Lord himself shall descend from heaven with a shout, with the voice of the archangel, and with the trump of God: and the dead in Christ shall rise first: Then we which are alive and remain shall be caught up together with them in the clouds, to meet the Lord in the air: and so shall we ever be with the Lord. | Lebo na povel, na hlas archanjela a zvuk Božej poľnice sám Pán zostúpi z neba a tí, čo umreli v Kristovi, vstanú prví. Potom my, čo žijeme a zostaneme, budeme spolu s nimi v oblakoch uchvátení do vzduchu v ústrety Pánovi, a tak budeme navždy s Pánom. |
| And the angel answered and said unto the women, Fear not ye: for I know that ye seek Jesus, which was crucified. He is not here: for he is risen, as he said. Come, see the place where the Lord lay. | Anjel sa prihovoril ženám: "Vy sa nebojte! Viem, že hľadáte Ježiša, ktorý bol ukrižovaný. Niet ho tu, lebo vstal, ako povedal. Poďte, pozrite si miesto, kde ležal." |
| And the angel said unto them, Fear not: for, behold, I bring you good tidings of great joy, which shall be to all people. | Ale anjel im povedal: "Nebojte sa! Zvestujem vám veľkú radosť, ktorá bude patriť všetkým ľuďom." |
| Glory to God in the highest, and on earth peace, good will toward men. | Sláva Bohu na výsostiach a na zemi pokoj ľuďom dobrej vôle. |
| And the angel said unto her, Fear not, Mary: for thou hast found favour with God. And, behold, thou shalt conceive in thy womb, and bring forth a son, and shalt call his name Jesus. | Anjel jej povedal: "Neboj sa, Mária, našla si milosť u Boha. Počneš a porodíš syna a dáš mu meno Ježiš." |
| And while they looked stedfastly toward heaven as he went up, behold, two men stood by them in white apparel; Which also said, Ye men of Galilee, why stand ye gazing up into heaven? this same Jesus, which is taken up from you into heaven, shall so come in like manner as ye have seen him go into heaven. | A kým uprene hľadeli k nebu, ako odchádza, zastali pri nich dvaja mužovia v bielom odeve a povedali: "Mužovia galilejskí, čo stojíte a hľadíte do neba? Tento Ježiš, ktorý bol od vás vzatý do neba, príde tak, ako ste ho videli do neba odchádzať." |
| But while he thought on these things, behold, the angel of the Lord appeared unto him in a dream, saying, Joseph, thou son of David, fear not to take unto thee Mary thy wife: for that which is conceived in her is of the Holy Ghost. | Ako o tom uvažoval, zjavil sa mu vo sne Pánov anjel a povedal: "Jozef, syn Dávidov, neboj sa prijať Máriu, svoju manželku, lebo to, čo sa v nej počalo, je z Ducha Svätého." |
I stretch forth my hands unto thee:
my soul thirsteth after thee, as a thirsty land. Selah
Wherefore, my beloved brethren, let every man be swift to hear, slow to speak, slow to wrath.
Read more
I stretch forth my hands unto thee: my soul thirsteth after thee, as a thirsty land. Selah
Personal Bible reading plan
Create an account to configure your Bible reading plan and you will see your progress and the next chapter to read here!
Read more...