14 Bible Verses about 'Angels'
«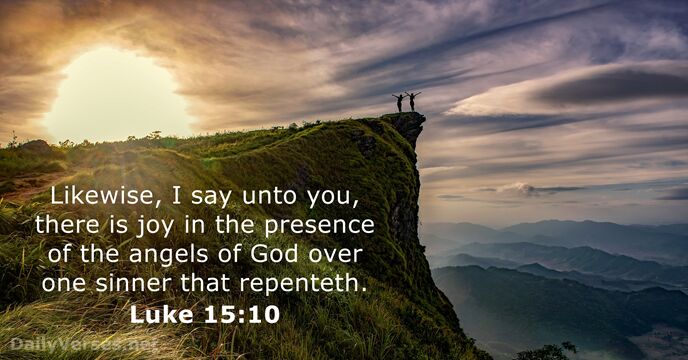 »
| | |
| --- | --- |
| Thinkest thou that I cannot now pray to my Father, and he shall presently give me more than twelve legions of angels? | ¿Acaso piensas que no puedo ahora orar a mi Padre, y que él no me daría más de doce legiones de ángeles? |
| Likewise, I say unto you, there is joy in the presence of the angels of God over one sinner that repenteth. | Así os digo que hay gozo delante de los ángeles de Dios por un pecador que se arrepiente. |
| Let brotherly love continue. Be not forgetful to entertain strangers: for thereby some have entertained angels unawares. | Permanezca el amor fraternal. No os olvidéis de la hospitalidad, porque por ella algunos, sin saberlo, hospedaron ángeles. |
| Though I speak with the tongues of men and of angels, and have not charity, I am become as sounding brass, or a tinkling cymbal. | Si yo hablara lenguas humanas y angélicas, y no tengo amor, vengo a ser como metal que resuena o címbalo que retiñe. |
| He that overcometh, the same shall be clothed in white raiment; and I will not blot out his name out of the book of life, but I will confess his name before my Father, and before his angels. | El vencedor será vestido de vestiduras blancas, y no borraré su nombre del libro de la vida, y confesaré su nombre delante de mi Padre y delante de sus ángeles. |
| For I am persuaded, that neither death, nor life, nor angels, nor principalities, nor powers, nor things present, nor things to come, Nor height, nor depth, nor any other creature, shall be able to separate us from the love of God, which is in Christ Jesus our Lord. | Por lo cual estoy seguro de que ni la muerte ni la vida, ni ángeles ni principados ni potestades, ni lo presente ni lo por venir, ni lo alto ni lo profundo, ni ninguna otra cosa creada nos podrá separar del amor de Dios, que es en Cristo Jesús, Señor nuestro. |
| And without controversy great is the mystery of godliness: God was manifest in the flesh, justified in the Spirit, seen of angels, preached unto the Gentiles, believed on in the world, received up into glory. | Indiscutiblemente, grande es el misterio de la piedad: Dios fue manifestado en carne, justificado en el Espíritu, visto de los ángeles, predicado a los gentiles, creído en el mundo, recibido arriba en gloria. |
| For the Lord himself shall descend from heaven with a shout, with the voice of the archangel, and with the trump of God: and the dead in Christ shall rise first: Then we which are alive and remain shall be caught up together with them in the clouds, to meet the Lord in the air: and so shall we ever be with the Lord. | El Señor mismo, con voz de mando, con voz de arcángel y con trompeta de Dios, descenderá del cielo. Entonces, los muertos en Cristo resucitarán primero. Luego nosotros, los que vivimos, los que hayamos quedado, seremos arrebatados juntamente con ellos en las nubes para recibir al Señor en el aire, y así estaremos siempre con el Señor. |
| And the angel answered and said unto the women, Fear not ye: for I know that ye seek Jesus, which was crucified. He is not here: for he is risen, as he said. Come, see the place where the Lord lay. | Pero el ángel dijo a las mujeres: «No temáis vosotras, porque yo sé que buscáis a Jesús, el que fue crucificado. No está aquí, pues ha resucitado, como dijo. Venid, ved el lugar donde fue puesto el Señor.» |
| And the angel said unto them, Fear not: for, behold, I bring you good tidings of great joy, which shall be to all people. | Pero el ángel les dijo: —No temáis, porque yo os doy nuevas de gran gozo, que será para todo el pueblo. |
| Glory to God in the highest, and on earth peace, good will toward men. | ¡Gloria a Dios en las alturas y en la tierra paz, buena voluntad para con los hombres! |
| And the angel said unto her, Fear not, Mary: for thou hast found favour with God. And, behold, thou shalt conceive in thy womb, and bring forth a son, and shalt call his name Jesus. | Entonces el ángel le dijo: —María, no temas, porque has hallado gracia delante de Dios. Concebirás en tu vientre y darás a luz un hijo, y llamarás su nombre Jesús. |
| And while they looked stedfastly toward heaven as he went up, behold, two men stood by them in white apparel; Which also said, Ye men of Galilee, why stand ye gazing up into heaven? this same Jesus, which is taken up from you into heaven, shall so come in like manner as ye have seen him go into heaven. | Y estando ellos con los ojos puestos en el cielo, entre tanto que él se iba, se pusieron junto a ellos dos varones con vestiduras blancas, los cuales les dijeron: —Galileos, ¿por qué estáis mirando al cielo? Este mismo Jesús, que ha sido tomado de vosotros al cielo, así vendrá como lo habéis visto ir al cielo. |
| But while he thought on these things, behold, the angel of the Lord appeared unto him in a dream, saying, Joseph, thou son of David, fear not to take unto thee Mary thy wife: for that which is conceived in her is of the Holy Ghost. | Pensando él en esto, un ángel del Señor se le apareció en sueños y le dijo: «José, hijo de David, no temas recibir a María tu mujer, porque lo que en ella es engendrado, del Espíritu Santo es.» |
I stretch forth my hands unto thee:
my soul thirsteth after thee, as a thirsty land. Selah
If my people, which are called by my name, shall humble themselves, and pray, and seek my face, and turn from their wicked ways; then will I hear from heaven, and will forgive their sin, and will heal their land.
Read more
I stretch forth my hands unto thee: my soul thirsteth after thee, as a thirsty land. Selah
Personal Bible reading plan
Create an account to configure your Bible reading plan and you will see your progress and the next chapter to read here!
Read more...