Bible Verses about 'Any'
«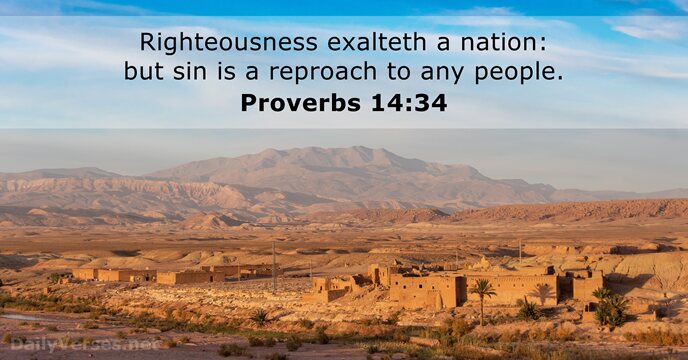 »
Righteousness exalteth a nation: but sin is a reproach to any people.

A justiça exalta as nações, mas o pecado é o opróbrio dos povos.

If any of you lack wisdom, let him ask of God, that giveth to all men liberally, and upbraideth not; and it shall be given him.

E, se algum de vós tem falta de sabedoria, peça-a a Deus, que a todos dá liberalmente e não o lança em rosto; e ser-lhe-á dada.

Forbearing one another, and forgiving one another, if any man have a quarrel against any: even as Christ forgave you, so also do ye.

Suportando-vos uns aos outros e perdoando-vos uns aos outros, se algum tiver queixa contra outro; assim como Cristo vos perdoou, assim fazei vós também.

Take heed, brethren, lest there be in any of you an evil heart of unbelief, in departing from the living God.

Vede, irmãos, que nunca haja em qualquer de vós um coração mau e infiel, para se apartar do Deus vivo.

Search me, O God, and know my heart: try me, and know my thoughts: And see if there be any wicked way in me, and lead me in the way everlasting.

Sonda-me, ó Deus, e conhece o meu coração; prova-me e conhece os meus pensamentos. E vê se há em mim algum caminho mau e guia-me pelo caminho eterno.

All things were made by him; and without him was not any thing made that was made.

Todas as coisas foram feitas por ele, e sem ele nada do que foi feito se fez.
Therefore say unto them, Thus saith the Lord G

od

; There shall none of my words be prolonged any more, but the word which I have spoken shall be done, saith the Lord G

od

.
Portanto, dize-lhes: Assim diz o Senhor J

eová

: Não será mais retardada nenhuma das minhas palavras, e a palavra que falei se cumprirá, diz o Senhor J

eová

.

And the multitude of them that believed were of one heart and of one soul: neither said any of them that ought of the things which he possessed was his own; but they had all things common.

E era um o coração e a alma da multidão dos que criam, e ninguém dizia que coisa alguma do que possuía era sua própria, mas todas as coisas lhes eram comuns.

And if a soul sin, and commit any of these things which are forbidden to be done by the commandments of the L

ord

; though he wist it not, yet is he guilty, and shall bear his iniquity.
E, se alguma pessoa pecar e fizer contra algum de todos os mandamentos do S

enhor

o que se não deve fazer, ainda que o não soubesse, contudo, será ela culpada e levará a sua iniquidade.
There is none holy as the L

ord

: for there is none beside thee: neither is there any rock like our God.
Não há santo como é o S

enhor

; porque não há outro fora de ti; e rocha nenhuma há como o nosso Deus.
The young lions do lack, and suffer hunger: but they that seek the L

ord

shall not want any good thing.
Os filhos dos leões necessitam e sofrem fome, mas aqueles que buscam ao S

enhor

de nada têm falta.

What shall we say then? Shall we continue in sin, that grace may abound? God forbid. How shall we, that are dead to sin, live any longer therein?

Que diremos, pois? Permaneceremos no pecado, para que a graça seja mais abundante? De modo nenhum! Nós que estamos mortos para o pecado, como viveremos ainda nele?

If any man serve me, let him follow me; and where I am, there shall also my servant be: if any man serve me, him will my Father honour.

Se alguém me serve, siga-me; e, onde eu estiver, ali estará também o meu servo. E, se alguém me servir, meu Pai o honrará.

When a man hath taken a new wife, he shall not go out to war, neither shall he be charged with any business: but he shall be free at home one year, and shall cheer up his wife which he hath taken.

Quando algum homem tomar uma mulher nova, não sairá à guerra, nem se lhe imporá carga alguma; por um ano inteiro ficará livre na sua casa e alegrará a sua mulher, que tomou.

Ye shall not afflict any widow, or fatherless child. If thou afflict them in any wise, and they cry at all unto me, I will surely hear their cry; And my wrath shall wax hot, and I will kill you with the sword; and your wives shall be widows, and your children fatherless.

A nenhuma viúva nem órfão afligireis. Se de alguma maneira os afligirdes, e eles clamarem a mim, eu certamente ouvirei o seu clamor, e a minha ira se acenderá, e vos matarei à espada; e vossas mulheres ficarão viúvas, e vossos filhos, órfãos.

Let us not therefore judge one another any more: but judge this rather, that no man put a stumblingblock or an occasion to fall in his brother's way.

Assim que não nos julguemos mais uns aos outros; antes, seja o vosso propósito não pôr tropeço ou escândalo ao irmão.

No man hath seen God at any time. If we love one another, God dwelleth in us, and his love is perfected in us.

Ninguém jamais viu a Deus; se nós amamos uns aos outros, Deus está em nós, e em nós é perfeito o seu amor.

They shall hunger no more, neither thirst any more; neither shall the sun light on them, nor any heat. For the Lamb which is in the midst of the throne shall feed them, and shall lead them unto living fountains of waters: and God shall wipe away all tears from their eyes.

Nunca mais terão fome, nunca mais terão sede; nem sol nem calma alguma cairá sobre eles, porque o Cordeiro que está no meio do trono os apascentará e lhes servirá de guia para as fontes das águas da vida; e Deus limpará de seus olhos toda lágrima.

No man hath seen God at any time, the only begotten Son, which is in the bosom of the Father, he hath declared him.

Deus nunca foi visto por alguém. O Filho unigênito, que está no seio do Pai, este o fez conhecer.

And it shall be, when he shall be guilty in one of these things, that he shall confess that he hath sinned in that thing.

Será, pois, que, culpado sendo numa destas coisas, confessará aquilo em que pecou.

For the word of God is quick, and powerful, and sharper than any twoedged sword, piercing even to the dividing asunder of soul and spirit, and of the joints and marrow, and is a discerner of the thoughts and intents of the heart.

Porque a palavra de Deus é viva, e eficaz, e mais penetrante do que qualquer espada de dois gumes, e penetra até à divisão da alma, e do espírito, e das juntas e medulas, e é apta para discernir os pensamentos e intenções do coração.

Neither is there salvation in any other: for there is none other name under heaven given among men, whereby we must be saved.

E em nenhum outro há salvação, porque também debaixo do céu nenhum outro nome há, dado entre os homens, pelo qual devamos ser salvos.

Keep the sabbath day to sanctify it, as the L

ord

thy God hath commanded thee. Six days thou shalt labour, and do all thy work: But the seventh day is the sabbath of the L

ord

thy God: in it thou shalt not do any work, thou, nor thy son, nor thy daughter, nor thy manservant, nor thy maidservant, nor thine ox, nor thine ass, nor any of thy cattle, nor thy stranger that is within thy gates; that thy manservant and thy maidservant may rest as well as thou.
Guarda o dia de sábado, para o santificar, como te ordenou o S

enhor

, teu Deus. Seis dias trabalharás e farás toda a tua obra. Mas o sétimo dia é o sábado do S

enhor

, teu Deus; não farás nenhuma obra nele, nem tu, nem teu filho, nem tua filha, nem o teu servo, nem a tua serva, nem o teu boi, nem o teu jumento, nem animal algum teu, nem o estrangeiro que está dentro de tuas portas; para que o teu servo e a tua serva descansem como tu.

But above all things, my brethren, swear not, neither by heaven, neither by the earth, neither by any other oath: but let your yea be yea; and your nay, nay; lest ye fall into condemnation.

Mas, sobretudo, meus irmãos, não jureis nem pelo céu nem pela terra, nem façais qualquer outro juramento; mas que a vossa palavra seja sim, sim e não, não, para que não caiais em condenação.

For in Jesus Christ neither circumcision availeth any thing, nor uncircumcision; but faith which worketh by love.

Porque, em Jesus Cristo, nem a circuncisão nem a incircuncisão têm virtude alguma, mas, sim, a fé que opera por amor.
For in Jesus Christ neither circumcision availeth any thing, nor uncircumcision; but faith which worketh by love.
Personal Bible reading plan
Create an account to configure your Bible reading plan and you will see your progress and the next chapter to read here!
Read more...