Bible Verses about 'Before'
«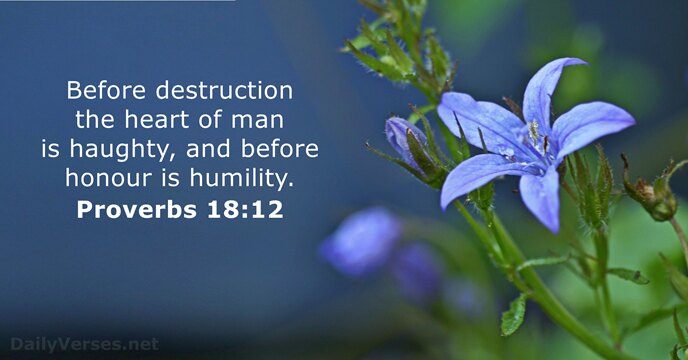 »
Before destruction the heart of man is haughty, and before honour is humility.

Ylpeys vie ihmisen perikatoon, kunnian tie käy nöyryyden kautta.

What and if ye shall see the Son of man ascend up where he was before?

Miten käykään, jos te näette Ihmisen Pojan nousevan sinne, missä hän ennen oli!

Lord, all my desire is before thee; and my groaning is not hid from thee.

Herra, sinä tiedät, mitä minä kaipaan, huokaukseni ovat tulleet sinun korviisi.

O come, let us worship and bow down: let us kneel before the L

ord

our maker.

Tulkaa, kumartukaa maahan, polvistukaamme Herran, Luojamme, eteen.

Let thine eyes look right on, and let thine eyelids look straight before thee.

Katso suoraan ja pälyilemättä, suuntaa katseesi vakaasti eteenpäin.

If the world hate you, ye know that it hated me before it hated you.

Jos maailma vihaa teitä, muistakaa, että ennen teitä se on vihannut minua.

The fear of the L

ord

is the instruction of wisdom; and before honour is humility.

Herran pelko on viisauden koulu, kunnian tie käy nöyryyden kautta.

I have chosen the way of truth: thy judgments have I laid before me.

Minä olen valinnut totuuden tien, sinun päätöksesi ovat aina silmieni edessä.

A man's gift maketh room for him, and bringeth him before great men.

Lahja avaa ovet antajalleen, vie hänet mahtimiesten luo.

He that overcometh, the same shall be clothed in white raiment; and I will not blot out his name out of the book of life, but I will confess his name before my Father, and before his angels.

Se, joka voittaa, saa ylleen valkeat vaatteet, enkä minä pyyhi hänen nimeään elämän kirjasta, vaan tunnustan hänet omakseni Isäni ja hänen enkeliensä edessä.

I have set the L

ord

always before me: because he is at my right hand, I shall not be moved.

Minä pysyn aina lähellä Herraa. Kun hän on oikealla puolellani, minä en horju.

Wash you, make you clean; put away the evil of your doings from before mine eyes; cease to do evil.

Peseytykää, puhdistautukaa, tehkää loppu pahoista töistänne, ne ovat aina silmissäni. Lakatkaa tekemästä pahaa.

And the L

ord

turned the captivity of Job, when he prayed for his friends: also the L

ord

gave Job twice as much as he had before.

Kun Job oli rukoillut ystäviensä puolesta, Herra käänsi hänen kohtalonsa. Herra antoi Jobille kaksin verroin kaikkea, mitä hänellä oli ennen ollut.

Before the mountains were brought forth, or ever thou hadst formed the earth and the world, even from everlasting to everlasting, thou art God.

Jo ennen kuin vuoret syntyivät, ennen kuin maa ja maanpiiri saivat alkunsa, sinä olit. Jumala, ajasta aikaan sinä olet.

And the L

ord

, he it is that doth go before thee; he will be with thee, he will not fail thee, neither forsake thee: fear not, neither be dismayed.

Herra itse kulkee sinun edelläsi. Hän on sinun kanssasi, hän ei jätä sinua yksin eikä hylkää sinua. Älä lannistu, älä pelkää.

And now, little children, abide in him; that, when he shall appear, we may have confidence, and not be ashamed before him at his coming.

Niin, lapseni, pysykää Kristuksessa, jotta hänen ilmestyessään voimme astua rohkeasti esiin emmekä joudu häveten väistymään hänen luotaan, kun hän saapuu.

In my distress I called upon the L

ord

, and cried unto my God: he heard my voice out of his temple, and my cry came before him, even into his ears.

Silloin minä huusin hädässäni Herraa, kutsuin avuksi Jumalaani. Ääneni kantautui hänen temppeliinsä, ja hän kuuli minun huutoni.

Now the birth of Jesus Christ was on this wise: When as his mother Mary was espoused to Joseph, before they came together, she was found with child of the Holy Ghost.

Jeesuksen Kristuksen syntymä tapahtui näin. Maria, Jeesuksen äiti, oli kihlattu Joosefille. Ennen kuin heidän liittonsa oli vahvistettu, kävi ilmi, että Maria, Pyhän Hengen vaikutuksesta, oli raskaana.

Father, I will that they also, whom thou hast given me, be with me where I am; that they may behold my glory, which thou hast given me: for thou lovedst me before the foundation of the world.

Isä, minä tahdon, että ne, jotka olet minulle antanut, olisivat kanssani siellä missä minä olen. Siellä he näkevät minun kirkkauteni, jonka sinä olet antanut minulle, koska olet rakastanut minua jo ennen maailman luomista.

Who hath saved us, and called us with an holy calling, not according to our works, but according to his own purpose and grace, which was given us in Christ Jesus before the world began.

Hän on meidät pelastanut ja kutsunut pyhällä kutsullaan, ei meidän tekojemme perusteella vaan oman päätöksensä ja armonsa mukaisesti, jonka hän jo ennen aikojen alkua soi meille antamalla meille Kristuksen Jeesuksen.

Looking unto Jesus the author and finisher of our faith; who for the joy that was set before him endured the cross, despising the shame, and is set down at the right hand of the throne of God.

Katse suunnattuna Jeesukseen, uskomme perustajaan ja täydelliseksi tekijään. Edessään olleen ilon tähden hän häpeästä välittämättä kesti ristillä kärsimykset, ja nyt hän istuu Jumalan valtaistuimen oikealla puolella.

Pure religion and undefiled before God and the Father is this, To visit the fatherless and widows in their affliction, and to keep himself unspotted from the world.

Puhdasta, Jumalan ja Isän silmissä tahratonta palvelusta on huolehtia orvoista ja leskistä, kun he ovat ahdingossa, ja varjella itsensä niin, ettei maailma saastuta.

Sing unto God, sing praises to his name: extol him that rideth upon the heavens by his name Jah, and rejoice before him. A father of the fatherless, and a judge of the widows, is God in his holy habitation.

Laulakaa Jumalalle, soittakaa hänen nimensä kunniaksi, ylistäkää häntä, joka kiitää pilvivaunuillaan. Herra on hänen nimensä, iloitkaa hänen edessään! Hän on orpojen isä ja leskien puoltaja, Jumala pyhässä asunnossaan.

Humble yourselves in the sight of the Lord, and he shall lift you up.

Nöyrtykää Herran edessä, niin hän on teidät korottava.

And the multitudes that went before, and that followed, cried, saying, Hosanna to the son of David: Blessed is he that cometh in the name of the Lord; Hosanna in the highest.

Ja ihmisjoukko, joka kulki hänen edellään ja perässään, huusi: – Hoosianna, Daavidin Poika! Siunattu olkoon hän, joka tulee Herran nimessä! Hoosianna korkeuksissa!
And this is the confidence that we have in him, that, if we ask any thing according to his will, he heareth us.
Personal Bible reading plan
Create an account to configure your Bible reading plan and you will see your progress and the next chapter to read here!
Read more...