Bible Verses about 'Day'
«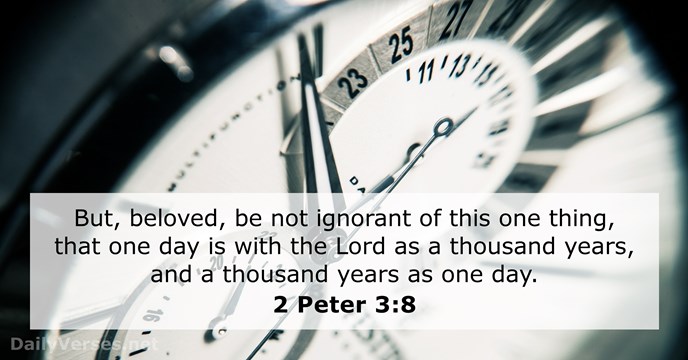 »
Give us this day our daily bread.

O pão nosso de cada dia dá-nos hoje.

For which cause we faint not; but though our outward man perish, yet the inward man is renewed day by day.

Por isso, não desfalecemos; mas, ainda que o nosso homem exterior se corrompa, o interior, contudo, se renova de dia em dia.

But, beloved, be not ignorant of this one thing, that one day is with the Lord as a thousand years, and a thousand years as one day.

Mas, amados, não ignoreis uma coisa: que um dia para o Senhor é como mil anos, e mil anos, como um dia.

In the last day, that great day of the feast, Jesus stood and cried, saying, If any man thirst, let him come unto me, and drink.

E, no último dia, o grande dia da festa, Jesus pôs-se em pé e clamou, dizendo: Se alguém tem sede, que venha a mim e beba.

One man esteemeth one day above another: another esteemeth every day alike. Let every man be fully persuaded in his own mind.

Um faz diferença entre dia e dia, mas outro julga iguais todos os dias. Cada um esteja inteiramente seguro em seu próprio ânimo.

The heavens declare the glory of God; and the firmament sheweth his handywork. Day unto day uttereth speech, and night unto night sheweth knowledge.

Os céus manifestam a glória de Deus e o firmamento anuncia a obra das suas mãos. Um dia faz declaração a outro dia, e uma noite mostra sabedoria a outra noite.

Let my mouth be filled with thy praise and with thy honour all the day.

Encha-se a minha boca do teu louvor e da tua glória todo o dia.

This is the day which the L

ord

hath made; we will rejoice and be glad in it.
Este é o dia que fez o S

enhor

; regozijemo-nos e alegremo-nos nele.

When I kept silence, my bones waxed old through my roaring all the day long.

Enquanto eu me calei, envelheceram os meus ossos pelo meu bramido em todo o dia.

He coveteth greedily all the day long: but the righteous giveth and spareth not.

Todo o dia avidamente cobiça, mas o justo dá e nada retém.

Riches profit not in the day of wrath: but righteousness delivereth from death.

Não aproveitam as riquezas no dia da ira, mas a justiça livra da morte.

And grieve not the holy Spirit of God, whereby ye are sealed unto the day of redemption.

E não entristeçais o Espírito Santo de Deus, no qual estais selados para o Dia da redenção.

Lead me in thy truth, and teach me: for thou art the God of my salvation; on thee do I wait all the day.

Guia-me na tua verdade e ensina-me, pois tu és o Deus da minha salvação; por ti estou esperando todo o dia.

For unto you is born this day in the city of David a Saviour, which is Christ the Lord.

Pois, na cidade de Davi, vos nasceu hoje o Salvador, que é Cristo, o Senhor.

In the day of prosperity be joyful, but in the day of adversity consider: God also hath set the one over against the other, to the end that man should find nothing after him.

No dia da prosperidade, goza do bem, mas, no dia da adversidade, considera; porque também Deus fez este em oposição àquele, para que o homem nada ache que tenha de vir depois dele.
And the L

ord

shall be king over all the earth: in that day shall there be one L

ord

, and his name one.
E o S

enhor

será rei sobre toda a terra; naquele dia, um será o S

enhor

, e um será o seu nome.
The L

ord

is good, a strong hold in the day of trouble; and he knoweth them that trust in him.
O S

enhor

é bom, uma fortaleza no dia da angústia, e conhece os que confiam nele.
Remember the sabbath day, to keep it holy. Six days shalt thou labour, and do all thy work: But the seventh day is the sabbath of the L

ord

thy God: in it thou shalt not do any work, thou, nor thy son, nor thy daughter, thy manservant, nor thy maidservant, nor thy cattle, nor thy stranger that is within thy gates: For in six days the L

ord

made heaven and earth, the sea, and all that in them is, and rested the seventh day: wherefore the L

ord

blessed the sabbath day, and hallowed it.
Lembra-te do dia do sábado, para o santificar. Seis dias trabalharás e farás toda a tua obra, mas o sétimo dia é o sábado do S

enhor

, teu Deus; não farás nenhuma obra, nem tu, nem o teu filho, nem a tua filha, nem o teu servo, nem a tua serva, nem o teu animal, nem o teu estrangeiro que está dentro das tuas portas. Porque em seis dias fez o S

enhor

os céus e a terra, o mar e tudo que neles há e ao sétimo dia descansou; portanto, abençoou o S

enhor

o dia do sábado e o santificou.

But I say unto you, That every idle word that men shall speak, they shall give account thereof in the day of judgment.

Mas eu vos digo que de toda palavra ociosa que os homens disserem hão de dar conta no Dia do Juízo.

Then they that gladly received his word were baptized: and the same day there were added unto them about three thousand souls.

De sorte que foram batizados os que de bom grado receberam a sua palavra; e, naquele dia, agregaram-se quase três mil almas.

Jesus Christ the same yesterday, and to day, and for ever.

Jesus Cristo é o mesmo ontem, e hoje, e eternamente.

If thy brother trespass against thee, rebuke him; and if he repent, forgive him. And if he trespass against thee seven times in a day, and seven times in a day turn again to thee, saying, I repent; thou shalt forgive him.

E, se teu irmão pecar contra ti, repreende-o; e, se ele se arrepender, perdoa-lhe; e, se pecar contra ti sete vezes no dia e sete vezes no dia vier ter contigo, dizendo: Arrependo-me, perdoa-lhe.

And God blessed the seventh day, and sanctified it: because that in it he had rested from all his work which God created and made.

E abençoou Deus o dia sétimo e o santificou; porque nele descansou de toda a sua obra, que Deus criara e fizera.

Being confident of this very thing, that he which hath begun a good work in you will perform it until the day of Jesus Christ.

Tendo por certo isto mesmo: que aquele que em vós começou a boa obra a aperfeiçoará até ao Dia de Jesus Cristo.

The Lord knoweth how to deliver the godly out of temptations, and to reserve the unjust unto the day of judgment to be punished.

Assim, sabe o Senhor livrar da tentação os piedosos e reservar os injustos para o Dia de Juízo, para serem castigados.
A prudent man foreseeth the evil, and hideth himself; but the simple pass on, and are punished.
Personal Bible reading plan
Create an account to configure your Bible reading plan and you will see your progress and the next chapter to read here!
Read more...