Bible Verses about 'Ears'
«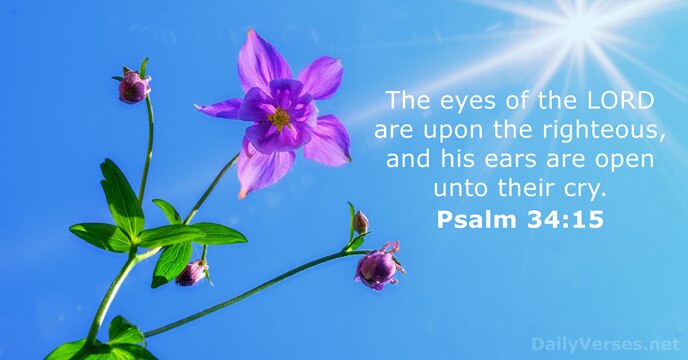 »
The eyes of the L

ord

are upon the righteous, and his ears are open unto their cry.
Os olhos do S

enhor

estão sobre os justos; e os seus ouvidos, atentos ao seu clamor.
Out of the depths have I cried unto thee, O L

ord

. Lord, hear my voice: let thine ears be attentive to the voice of my supplications.
Das profundezas a ti clamo, ó S

enhor

! Senhor, escuta a minha voz! Sejam os teus ouvidos atentos à voz das minhas súplicas.
In my distress I called upon the L

ord

, and cried unto my God: he heard my voice out of his temple, and my cry came before him, even into his ears.
Na angústia, invoquei ao S

enhor

e clamei ao meu Deus; desde o seu templo ouviu a minha voz e aos seus ouvidos chegou o meu clamor perante a sua face.

For the eyes of the Lord are over the righteous, and his ears are open unto their prayers: but the face of the Lord is against them that do evil.

Porque os olhos do Senhor estão sobre os justos, e os seus ouvidos, atentos às suas orações; mas o rosto do Senhor é contra os que fazem males.
Wherefore thou art great, O L

ord

God: for there is none like thee, neither is there any God beside thee, according to all that we have heard with our ears.
Portanto, grandioso és, ó Senhor J

eová

, porque não há semelhante a ti, e não há outro Deus, senão tu só, segundo tudo o que temos ouvido com os nossos ouvidos.

And it came to pass, that he went through the corn fields on the sabbath day; and his disciples began, as they went, to pluck the ears of corn. And the Pharisees said unto him, Behold, why do they on the sabbath day that which is not lawful? And he said unto them, Have ye never read what David did, when he had need, and was an hungred, he, and they that were with him? How he went into the house of God in the days of Abiathar the high priest, and did eat the shewbread, which is not lawful to eat but for the priests, and gave also to them which were with him? And he said unto them, The sabbath was made for man, and not man for the sabbath: Therefore the Son of man is Lord also of the sabbath.

E aconteceu que, passando ele num sábado pelas searas, os seus discípulos, caminhando, começaram a colher espigas. E os fariseus lhe disseram: Vês? Por que fazem no sábado o que não é lícito? Mas ele disse-lhes: Nunca lestes o que fez Davi, quando estava em necessidade e teve fome, ele e os que com ele estavam? Como entrou na Casa de Deus, no tempo de Abiatar, sumo sacerdote, e comeu os pães da proposição, dos quais não era lícito comer senão aos sacerdotes, dando também aos que com ele estavam? E disse-lhes: O sábado foi feito por causa do homem, e não o homem, por causa do sábado. Assim, o Filho do Homem até do sábado é senhor.

But, beloved, be not ignorant of this one thing, that one day is with the Lord as a thousand years, and a thousand years as one day.

Mas, amados, não ignoreis uma coisa: que um dia para o Senhor é como mil anos, e mil anos, como um dia.
I sought the L

ord

, and he heard me, and delivered me from all my fears.
Busquei ao S

enhor

, e ele me respondeu; livrou-me de todos os meus temores.

Hear, O my son, and receive my sayings; and the years of thy life shall be many.

Ouve, filho meu, e aceita as minhas palavras, e se te multiplicarão os anos de vida.

For a thousand years in thy sight are but as yesterday when it is past, and as a watch in the night.

Porque mil anos são aos teus olhos como o dia de ontem que passou, e como a vigília da noite.
Hear my prayer, O L

ord

, and give ear unto my cry; hold not thy peace at my tears: for I am a stranger with thee, and a sojourner, as all my fathers were.
Ouve, S

enhor

, a minha oração, e inclina os teus ouvidos ao meu clamor; não te cales perante as minhas lágrimas, porque sou para contigo como um estranho, e peregrino como todos os meus pais.

Remember now thy Creator in the days of thy youth, while the evil days come not, nor the years draw nigh, when thou shalt say, I have no pleasure in them.

Lembra-te do teu Criador nos dias da tua mocidade, antes que venham os maus dias, e cheguem os anos dos quais venhas a dizer: Não tenho neles contentamento.

Blessed and holy is he that hath part in the first resurrection: on such the second death hath no power, but they shall be priests of God and of Christ, and shall reign with him a thousand years.

Bem-aventurado e santo aquele que tem parte na primeira ressurreição; sobre estes não tem poder a segunda morte, mas serão sacerdotes de Deus e de Cristo e reinarão com ele mil anos.

Turn again, and tell Hezekiah the captain of my people, Thus saith the L

ord

, the God of David thy father, I have heard thy prayer, I have seen thy tears: behold, I will heal thee: on the third day thou shalt go up unto the house of the L

ord

.
Volta e dize a Ezequias, chefe do meu povo: Assim diz o S

enhor

, Deus de Davi, teu pai: Ouvi a tua oração e vi as tuas lágrimas; eis que eu te sararei; ao terceiro dia subirás à Casa do S

enhor

.

They shall hunger no more, neither thirst any more; neither shall the sun light on them, nor any heat. For the Lamb which is in the midst of the throne shall feed them, and shall lead them unto living fountains of waters: and God shall wipe away all tears from their eyes.

Nunca mais terão fome, nunca mais terão sede; nem sol nem calma alguma cairá sobre eles, porque o Cordeiro que está no meio do trono os apascentará e lhes servirá de guia para as fontes das águas da vida; e Deus limpará de seus olhos toda lágrima.

And I heard a great voice out of heaven saying, Behold, the tabernacle of God is with men, and he will dwell with them, and they shall be his people, and God himself shall be with them, and be their God. And God shall wipe away all tears from their eyes; and there shall be no more death, neither sorrow, nor crying, neither shall there be any more pain: for the former things are passed away.

E ouvi uma grande voz do céu, que dizia: Eis aqui o tabernáculo de Deus com os homens, pois com eles habitará, e eles serão o seu povo, e o mesmo Deus estará com eles e será o seu Deus. E Deus limpará de seus olhos toda lágrima, e não haverá mais morte, nem pranto, nem clamor, nem dor, porque já as primeiras coisas são passadas.

And he was teaching in one of the synagogues on the sabbath. And, behold, there was a woman which had a spirit of infirmity eighteen years, and was bowed together, and could in no wise lift up herself. And when Jesus saw her, he called her to him, and said unto her, Woman, thou art loosed from thine infirmity. And he laid his hands on her: and immediately she was made straight, and glorified God. And the ruler of the synagogue answered with indignation, because that Jesus had healed on the sabbath day, and said unto the people, There are six days in which men ought to work: in them therefore come and be healed, and not on the sabbath day. The Lord then answered him, and said, Thou hypocrite, doth not each one of you on the sabbath loose his ox or his ass from the stall, and lead him away to watering? And ought not this woman, being a daughter of Abraham, whom Satan hath bound, lo, these eighteen years, be loosed from this bond on the sabbath day? And when he had said these things, all his adversaries were ashamed: and all the people rejoiced for all the glorious things that were done by him.

E ensinava no sábado, numa das sinagogas. E eis que estava ali uma mulher que tinha um espírito de enfermidade havia já dezoito anos; e andava curvada e não podia de modo algum endireitar-se. E, vendo-a Jesus, chamou-a a si, e disse-lhe: Mulher, estás livre da tua enfermidade. E impôs as mãos sobre ela, e logo se endireitou e glorificava a Deus. E, tomando a palavra o príncipe da sinagoga, indignado porque Jesus curava no sábado, disse à multidão: Seis dias há em que é mister trabalhar; nestes, pois, vinde para serdes curados e não no dia de sábado. Respondeu-lhe, porém, o Senhor e disse: Hipócrita, no sábado não desprende da manjedoura cada um de vós o seu boi ou jumento e não o leva a beber água? E não convinha soltar desta prisão, no dia de sábado, esta filha de Abraão, a qual há dezoito anos Satanás mantinha presa? E, dizendo ele isso, todos os seus adversários ficaram envergonhados, e todo o povo se alegrava por todas as coisas gloriosas que eram feitas por ele.
And this is the confidence that we have in him, that, if we ask any thing according to his will, he heareth us.
Personal Bible reading plan
Create an account to configure your Bible reading plan and you will see your progress and the next chapter to read here!
Read more...