Bible Verses about 'Eat'
«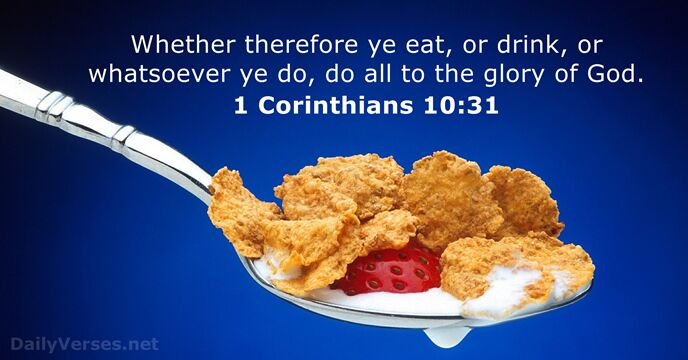 »
These ye shall eat of all that are in the waters: all that have fins and scales shall ye eat: And whatsoever hath not fins and scales ye may not eat; it is unclean unto you.

Isto comereis de tudo o que há nas águas: tudo o que tem barbatanas e escamas comereis. Mas tudo o que não tiver barbatanas nem escamas não o comereis; imundo vos será.

Whether therefore ye eat, or drink, or whatsoever ye do, do all to the glory of God.

Portanto, quer comais, quer bebais ou façais outra qualquer coisa, fazei tudo para a glória de Deus.

Death and life are in the power of the tongue: and they that love it shall eat the fruit thereof.

A morte e a vida estão no poder da língua; e aquele que a ama comerá do seu fruto.

Go thy way, eat thy bread with joy, and drink thy wine with a merry heart; for God now accepteth thy works.

Vai, pois, come com alegria o teu pão e bebe com bom coração o teu vinho, pois já Deus se agrada das tuas obras.

Take no thought for your life, what ye shall eat; neither for the body, what ye shall put on. The life is more than meat, and the body is more than raiment.

Não estejais apreensivos pela vossa vida, sobre o que comereis, nem pelo corpo, sobre o que vestireis. Mais é a vida do que o sustento, e o corpo, mais do que as vestes.

When goods increase, they are increased that eat them: and what good is there to the owners thereof, saving the beholding of them with their eyes?

Onde a fazenda se multiplica, aí se multiplicam também os que a comem; que mais proveito, pois, têm os seus donos do que a verem com os seus olhos?

Every moving thing that liveth shall be meat for you; even as the green herb have I given you all things. But flesh with the life thereof, which is the blood thereof, shall ye not eat.

Tudo quanto se move, que é vivente, será para vosso mantimento; tudo vos tenho dado, como a erva verde. A carne, porém, com sua vida, isto é, com seu sangue, não comereis.

Therefore I say unto you, Take no thought for your life, what ye shall eat, or what ye shall drink; nor yet for your body, what ye shall put on. Is not the life more than meat, and the body than raiment?

Por isso, vos digo: não andeis cuidadosos quanto à vossa vida, pelo que haveis de comer ou pelo que haveis de beber; nem quanto ao vosso corpo, pelo que haveis de vestir. Não é a vida mais do que o mantimento, e o corpo, mais do que a vestimenta?

I know that there is no good in them, but for a man to rejoice, and to do good in his life. And also that every man should eat and drink, and enjoy the good of all his labour, it is the gift of God.

Já tenho conhecido que não há coisa melhor para eles do que se alegrarem e fazerem bem na sua vida; e também que todo homem coma e beba e goze do bem de todo o seu trabalho. Isso é um dom de Deus.

Behold that which I have seen: it is good and comely for one to eat and to drink, and to enjoy the good of all his labour that he taketh under the sun all the days of his life, which God giveth him: for it is his portion.

Eis aqui o que eu vi, uma boa e bela coisa: comer, e beber, e gozar cada um do bem de todo o seu trabalho, em que trabalhou debaixo do sol, todos os dias da sua vida que Deus lhe deu; porque esta é a sua porção.

Go, gather together all the Jews that are present in Shushan, and fast ye for me, and neither eat nor drink three days, night or day: I also and my maidens will fast likewise; and so will I go in unto the king, which is not according to the law: and if I perish, I perish.

Vai, e ajunta todos os judeus que se acharem em Susã, e jejuai por mim, e não comais nem bebais por três dias, nem de dia nem de noite, e eu e as minhas moças também assim jejuaremos; e assim irei ter com o rei, ainda que não é segundo a lei; e, perecendo, pereço.
Then he said unto them, Go your way, eat the fat, and drink the sweet, and send portions unto them for whom nothing is prepared: for this day is holy unto our L

ord

: neither be ye sorry; for the joy of the L

ord

is your strength.
Disse-lhes mais: Ide, e comei as gorduras, e bebei as doçuras, e enviai porções aos que não têm nada preparado para si; porque esse dia é consagrado ao nosso Senhor; portanto, não vos entristeçais, porque a alegria do S

enhor

é a vossa força.

Every man also to whom God hath given riches and wealth, and hath given him power to eat thereof, and to take his portion, and to rejoice in his labour; this is the gift of God.

E quanto ao homem, a quem Deus deu riquezas e fazenda e lhe deu poder para delas comer, e tomar a sua porção, e gozar do seu trabalho, isso é dom de Deus.

Let not him that eateth despise him that eateth not; and let not him which eateth not judge him that eateth: for God hath received him.

O que come não despreze o que não come; e o que não come não julgue o que come; porque Deus o recebeu por seu.
And he was there with the L

ord

forty days and forty nights; he did neither eat bread, nor drink water. And he wrote upon the tables the words of the covenant, the ten commandments.
E esteve Moisés ali com o S

enhor

quarenta dias e quarenta noites; não comeu pão, nem bebeu água, e escreveu nas tábuas as palavras do concerto, os dez mandamentos.

I am the living bread which came down from heaven: if any man eat of this bread, he shall live for ever: and the bread that I will give is my flesh, which I will give for the life of the world.

Eu sou o pão vivo que desceu do céu; se alguém comer desse pão, viverá para sempre; e o pão que eu der é a minha carne, que eu darei pela vida do mundo.

And it came to pass, that he went through the corn fields on the sabbath day; and his disciples began, as they went, to pluck the ears of corn. And the Pharisees said unto him, Behold, why do they on the sabbath day that which is not lawful? And he said unto them, Have ye never read what David did, when he had need, and was an hungred, he, and they that were with him? How he went into the house of God in the days of Abiathar the high priest, and did eat the shewbread, which is not lawful to eat but for the priests, and gave also to them which were with him? And he said unto them, The sabbath was made for man, and not man for the sabbath: Therefore the Son of man is Lord also of the sabbath.

E aconteceu que, passando ele num sábado pelas searas, os seus discípulos, caminhando, começaram a colher espigas. E os fariseus lhe disseram: Vês? Por que fazem no sábado o que não é lícito? Mas ele disse-lhes: Nunca lestes o que fez Davi, quando estava em necessidade e teve fome, ele e os que com ele estavam? Como entrou na Casa de Deus, no tempo de Abiatar, sumo sacerdote, e comeu os pães da proposição, dos quais não era lícito comer senão aos sacerdotes, dando também aos que com ele estavam? E disse-lhes: O sábado foi feito por causa do homem, e não o homem, por causa do sábado. Assim, o Filho do Homem até do sábado é senhor.

And Jesus being full of the Holy Ghost returned from Jordan, and was led by the Spirit into the wilderness, Being forty days tempted of the devil. And in those days he did eat nothing: and when they were ended, he afterward hungered.

E Jesus, cheio do Espírito Santo, voltou do Jordão e foi levado pelo Espírito ao deserto. E quarenta dias foi tentado pelo diabo, e, naqueles dias, não comeu coisa alguma, e, terminados eles, teve fome.

Behold, I stand at the door, and knock: if any man hear my voice, and open the door, I will come in to him, and will sup with him, and he with me.

Eis que estou à porta e bato; se alguém ouvir a minha voz e abrir a porta, entrarei em sua casa e com ele cearei, e ele, comigo.

Then he took the five loaves and the two fishes, and looking up to heaven, he blessed them, and brake, and gave to the disciples to set before the multitude. And they did eat, and were all filled: and there was taken up of fragments that remained to them twelve baskets.

E, tomando os cinco pães e os dois peixes e olhando para o céu, abençoou-os, e partiu-os, e deu-os aos seus discípulos para os porem diante da multidão. E comeram todos e saciaram-se; e levantaram, do que lhes sobejou, doze cestos de pedaços.

And they, continuing daily with one accord in the temple, and breaking bread from house to house, did eat their meat with gladness and singleness of heart, Praising God, and having favour with all the people. And the Lord added to the church daily such as should be saved.

E, perseverando unânimes todos os dias no templo e partindo o pão em casa, comiam juntos com alegria e singeleza de coração, louvando a Deus e caindo na graça de todo o povo. E todos os dias acrescentava o Senhor à igreja aqueles que se haviam de salvar.

Let no man therefore judge you in meat, or in drink, or in respect of an holyday, or of the new moon, or of the sabbath days: Which are a shadow of things to come; but the body is of Christ.

Portanto, ninguém vos julgue pelo comer, ou pelo beber, ou por causa dos dias de festa, ou da lua nova, ou dos sábados, que são sombras das coisas futuras, mas o corpo é de Cristo.
A prudent man foreseeth the evil, and hideth himself; but the simple pass on, and are punished.
Personal Bible reading plan
Create an account to configure your Bible reading plan and you will see your progress and the next chapter to read here!
Read more...