Bible Verses about 'Every'
«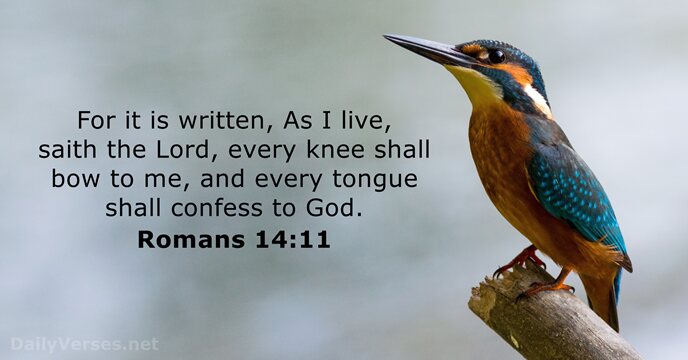 »
For it is written, As I live, saith the Lord, every knee shall bow to me, and every tongue shall confess to God.

Porque está escrito: Pela minha vida, diz o Senhor, todo joelho se dobrará diante de mim, e toda língua confessará a Deus.

To every thing there is a season, and a time to every purpose under the heaven.

Tudo tem o seu tempo determinado, e há tempo para todo o propósito debaixo do céu.

For every house is builded by some man; but he that built all things is God.

Porque toda casa é edificada por alguém, mas o que edificou todas as coisas é Deus.

Every good gift and every perfect gift is from above, and cometh down from the Father of lights, with whom is no variableness, neither shadow of turning.

Toda boa dádiva e todo dom perfeito vêm do alto, descendo do Pai das luzes, em quem não há mudança, nem sombra de variação.

For where envying and strife is, there is confusion and every evil work.

Porque, onde há inveja e espírito faccioso, aí há perturbação e toda obra perversa.

Every word of God is pure: he is a shield unto them that put their trust in him.

Toda palavra de Deus é pura; escudo é para os que confiam nele.

Then shalt thou understand righteousness, and judgment, and equity; yea, every good path.

Então, entenderás justiça, e juízo, e equidade, e todas as boas veredas.

And God said, Behold, I have given you every herb bearing seed, which is upon the face of all the earth, and every tree, in the which is the fruit of a tree yielding seed; to you it shall be for meat.

E disse Deus: Eis que vos tenho dado toda erva que dá semente e que está sobre a face de toda a terra e toda árvore em que há fruto de árvore que dá semente; ser-vos-ão para mantimento.

One man esteemeth one day above another: another esteemeth every day alike. Let every man be fully persuaded in his own mind.

Um faz diferença entre dia e dia, mas outro julga iguais todos os dias. Cada um esteja inteiramente seguro em seu próprio ânimo.
Every way of a man is right in his own eyes: but the L

ord

pondereth the hearts.
Todo caminho do homem é reto aos seus olhos, mas o S

enhor

sonda os corações.

And that every tongue should confess that Jesus Christ is Lord, to the glory of God the Father.

E toda língua confesse que Jesus Cristo é o Senhor, para glória de Deus Pai.

Wherefore God also hath highly exalted him, and given him a name which is above every name: That at the name of Jesus every knee should bow, of things in heaven, and things in earth, and things under the earth.

Pelo que também Deus o exaltou soberanamente e lhe deu um nome que é sobre todo o nome, para que ao nome de Jesus se dobre todo joelho dos que estão nos céus, e na terra, e debaixo da terra.

It is an honour for a man to cease from strife: but every fool will be meddling.

Honroso é para o homem o desviar-se de questões, mas todo tolo se entremete nelas.

For I have satiated the weary soul, and I have replenished every sorrowful soul.

Porque satisfiz a alma cansada, e toda a alma entristecida saciei.

Being enriched in every thing to all bountifulness, which causeth through us thanksgiving to God.

Para que em tudo enriqueçais para toda a beneficência, a qual faz que por nós se deem graças a Deus.
Blessed is every one that feareth the L

ord

; that walketh in his ways.
Bem-aventurado aquele que teme ao S

enhor

e anda nos seus caminhos!

Wherefore, my beloved brethren, let every man be swift to hear, slow to speak, slow to wrath.

Sabeis isto, meus amados irmãos; mas todo o homem seja pronto para ouvir, tardio para falar, tardio para se irar.

Who will render to every man according to his deeds.

O qual recompensará cada um segundo as suas obras.

Nevertheless, to avoid fornication, let every man have his own wife, and let every woman have her own husband.

Mas, por causa da prostituição, cada um tenha a sua própria mulher, e cada uma tenha o seu próprio marido.

But I say unto you, That every idle word that men shall speak, they shall give account thereof in the day of judgment.

Mas eu vos digo que de toda palavra ociosa que os homens disserem hão de dar conta no Dia do Juízo.

Thy word is true from the beginning: and every one of thy righteous judgments endureth for ever.

A tua palavra é a verdade desde o princípio, e cada um dos teus juízos dura para sempre.

And daily in the temple, and in every house, they ceased not to teach and preach Jesus Christ.

E todos os dias, no templo e nas casas, não cessavam de ensinar e de anunciar a Jesus Cristo.

But he answered and said, It is written, Man shall not live by bread alone, but by every word that proceedeth out of the mouth of God.

Ele, porém, respondendo, disse: Está escrito: Nem só de pão viverá o homem, mas de toda a palavra que sai da boca de Deus.

And he said unto them, Go ye into all the world, and preach the gospel to every creature.

E disse-lhes: Ide por todo o mundo, pregai o evangelho a toda criatura.

Let no man seek his own, but every man another's wealth.

Ninguém busque o proveito próprio; antes, cada um, o que é de outrem.
Beware of false prophets, which come to you in sheep's clothing, but inwardly they are ravening wolves.
Personal Bible reading plan
Create an account to configure your Bible reading plan and you will see your progress and the next chapter to read here!
Read more...