20 Bible Verses about 'Fool'
«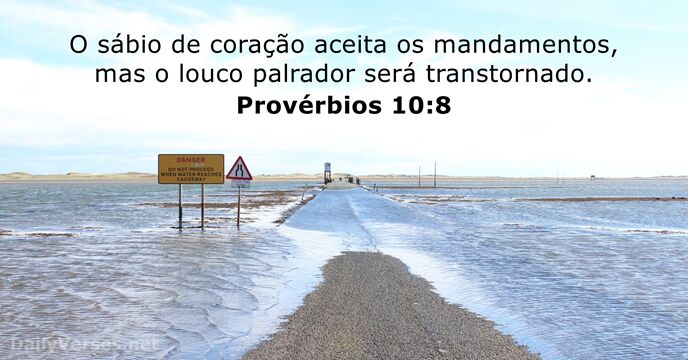 »
The wise in heart will receive commands, But a prating fool will fall.

O sábio de coração aceita os mandamentos, mas o louco palrador será transtornado.

Whoever hides hatred has lying lips, And whoever spreads slander is a fool.

O que encobre o ódio tem lábios falsos, e o que difama é um insensato.

Excellent speech is not becoming to a fool, Much less lying lips to a prince.

Não convém ao tolo a fala excelente; quanto menos ao príncipe, o lábio mentiroso!

It is honorable for a man to stop striving, Since any fool can start a quarrel.

Honroso é para o homem o desviar-se de questões, mas todo tolo se entremete nelas.

A fool vents all his feelings, But a wise man holds them back.

Um tolo expande toda a sua ira, mas o sábio a encobre e reprime.

A fool despises his father's instruction, But he who receives correction is prudent.

O tolo despreza a correção de seu pai, mas o que observa a repreensão prudentemente se haverá.

A fool has no delight in understanding, But in expressing his own heart.

Não toma prazer o tolo no entendimento, senão em que se descubra o seu coração.

The words of a wise man's mouth are gracious, But the lips of a fool shall swallow him up.

Nas palavras da boca do sábio, há favor, mas os lábios do tolo o devoram.

Even a fool is counted wise when he holds his peace; When he shuts his lips, he is considered perceptive.

Até o tolo, quando se cala, será reputado por sábio; e o que cerrar os seus lábios, por sábio.

Let no one deceive himself. If anyone among you seems to be wise in this age, let him become a fool that he may become wise.

Ninguém se engane a si mesmo: se alguém dentre vós se tem por sábio neste mundo, faça-se louco para ser sábio.

A fool's lips enter into contention, And his mouth calls for blows.

Os lábios do tolo entram na contenda, e a sua boca brada por açoites.

A fool's wrath is known at once, But a prudent man covers shame.

A ira do louco se conhece no mesmo dia, mas o avisado encobre a afronta.

A highway shall be there, and a road, And it shall be called the Highway of Holiness. The unclean shall not pass over it, But it shall be for others. Whoever walks the road, although a fool, Shall not go astray.

E ali haverá um alto caminho, um caminho que se chamará O Caminho Santo; o imundo não passará por ele, mas será para o povo de Deus; os caminhantes, até mesmo os loucos, não errarão.

A wise son makes a glad father, But a foolish son is the grief of his mother.

O filho sábio alegra a seu pai, mas o filho louco é a tristeza de sua mãe.

For the message of the cross is foolishness to those who are perishing, but to us who are being saved it is the power of God.

Porque a palavra da cruz é loucura para os que perecem; mas para nós, que somos salvos, é o poder de Deus.

He who walks with wise men will be wise, But the companion of fools will be destroyed.

Anda com os sábios e serás sábio, mas o companheiro dos tolos será afligido.

The fear of the L

ord

is the beginning of knowledge, But fools despise wisdom and instruction.
O temor do S

enhor

é o princípio da ciência; os loucos desprezam a sabedoria e a instrução.

But those who desire to be rich fall into temptation and a snare, and into many foolish and harmful lusts which drown men in destruction and perdition.

Mas os que querem ser ricos caem em tentação, e em laço, e em muitas concupiscências loucas e nocivas, que submergem os homens na perdição e ruína.

See then that you walk circumspectly, not as fools but as wise, redeeming the time, because the days are evil.

Portanto, vede prudentemente como andais, não como néscios, mas como sábios, remindo o tempo, porquanto os dias são maus.

And He said, "What comes out of a man, that defiles a man. For from within, out of the heart of men, proceed evil thoughts, adulteries, fornications, murders, thefts, covetousness, wickedness, deceit, lewdness, an evil eye, blasphemy, pride, foolishness. All these evil things come from within and defile a man."

E dizia: O que sai do homem, isso é que contamina o homem. Porque do interior do coração dos homens saem os maus pensamentos, os adultérios, as prostituições, os homicídios, os furtos, a avareza, as maldades, o engano, a dissolução, a inveja, a blasfêmia, a soberba, a loucura. Todos estes males procedem de dentro e contaminam o homem.
Beloved, if our heart does not condemn us, we have confidence toward God. And whatever we ask we receive from Him, because we keep His commandments and do those things that are pleasing in His sight.
Wives, submit to your own husbands, as is fitting in the Lord.
Husbands, love your wives and do not be bitter toward them.
Read more
Beloved, if our heart does not condemn us, we have confidence toward God. And whatever we ask we receive from Him, because we keep His commandments and do those things that are pleasing in His sight.
Personal Bible reading plan
Create an account to configure your Bible reading plan and you will see your progress and the next chapter to read here!
Read more...