20 Bible Verses about 'Fool'
«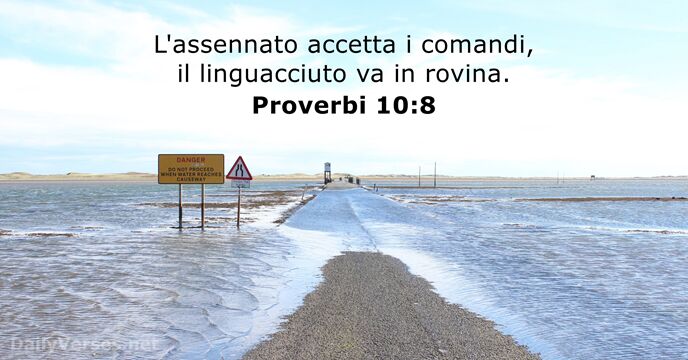 »
The wise in heart will receive commands, But a prating fool will fall.

L'assennato accetta i comandi, il linguacciuto va in rovina.

Whoever hides hatred has lying lips, And whoever spreads slander is a fool.

Placano l'odio le labbra sincere, chi diffonde la calunnia è uno stolto.

Excellent speech is not becoming to a fool, Much less lying lips to a prince.

Non conviene all'insensato un linguaggio elevato, ancor meno al principe un linguaggio falso.

It is honorable for a man to stop striving, Since any fool can start a quarrel.

E' una gloria per l'uomo astenersi dalle contese, attaccar briga è proprio degli stolti.

A fool vents all his feelings, But a wise man holds them back.

Lo stolto dà sfogo a tutto il suo malanimo, il saggio alla fine lo sa calmare.

A fool despises his father's instruction, But he who receives correction is prudent.

Lo stolto disprezza la correzione paterna; chi tiene conto dell'ammonizione diventa prudente.

A fool has no delight in understanding, But in expressing his own heart.

Lo stolto non ama la prudenza, ma vuol solo far mostra dei suoi sentimenti.

The words of a wise man's mouth are gracious, But the lips of a fool shall swallow him up.

Le parole della bocca del saggio procurano benevolenza, ma le labbra dello stolto lo mandano in rovina.

Even a fool is counted wise when he holds his peace; When he shuts his lips, he is considered perceptive.

Anche lo stolto, se tace, passa per saggio e, se tien chiuse le labbra, per intelligente.

Let no one deceive himself. If anyone among you seems to be wise in this age, let him become a fool that he may become wise.

Nessuno si illuda. Se qualcuno tra voi si crede un sapiente in questo mondo, si faccia stolto per diventare sapiente.

A fool's lips enter into contention, And his mouth calls for blows.

Le labbra dello stolto provocano liti e la sua bocca gli provoca percosse.

A fool's wrath is known at once, But a prudent man covers shame.

Lo stolto manifesta subito la sua collera, l'accorto dissimula l'offesa.

A highway shall be there, and a road, And it shall be called the Highway of Holiness. The unclean shall not pass over it, But it shall be for others. Whoever walks the road, although a fool, Shall not go astray.

Ci sarà una strada appianata e la chiameranno Via santa; nessun impuro la percorrerà e gli stolti non vi si aggireranno.

A wise son makes a glad father, But a foolish son is the grief of his mother.

Il figlio saggio rende lieto il padre; il figlio stolto contrista la madre.

For the message of the cross is foolishness to those who are perishing, but to us who are being saved it is the power of God.

La parola della croce infatti è stoltezza per quelli cha vanno in perdizione, ma per quelli che si salvano, per noi, è potenza di Dio.

He who walks with wise men will be wise, But the companion of fools will be destroyed.

Và con i saggi e saggio diventerai, chi pratica gli stolti ne subirà danno.

The fear of the L

ord

is the beginning of knowledge, But fools despise wisdom and instruction.

Il timore del Signore è il principio della scienza; gli stolti disprezzano la sapienza e l'istruzione.

But those who desire to be rich fall into temptation and a snare, and into many foolish and harmful lusts which drown men in destruction and perdition.

Al contrario coloro che vogliono arricchire, cadono nella tentazione, nel laccio e in molte bramosie insensate e funeste, che fanno affogare gli uomini in rovina e perdizione.

See then that you walk circumspectly, not as fools but as wise, redeeming the time, because the days are evil.

Vigilate dunque attentamente sulla vostra condotta, comportandovi non da stolti, ma da uomini saggi; profittando del tempo presente, perché i giorni sono cattivi.

And He said, "What comes out of a man, that defiles a man. For from within, out of the heart of men, proceed evil thoughts, adulteries, fornications, murders, thefts, covetousness, wickedness, deceit, lewdness, an evil eye, blasphemy, pride, foolishness. All these evil things come from within and defile a man."

Quindi soggiunse: «Ciò che esce dall'uomo, questo sì contamina l'uomo. Dal di dentro infatti, cioè dal cuore degli uomini, escono le intenzioni cattive: fornicazioni, furti, omicidi, adultèri, cupidigie, malvagità, inganno, impudicizia, invidia, calunnia, superbia, stoltezza. Tutte queste cose cattive vengono fuori dal di dentro e contaminano l'uomo».
I spread out my hands to You;
My soul longs for You like a thirsty land.
Selah
Who "will render to each one according to his deeds"
Read more
I spread out my hands to You; My soul longs for You like a thirsty land. Selah
Personal Bible reading plan
Create an account to configure your Bible reading plan and you will see your progress and the next chapter to read here!
Read more...