11 Bible Verses about 'Fools'
«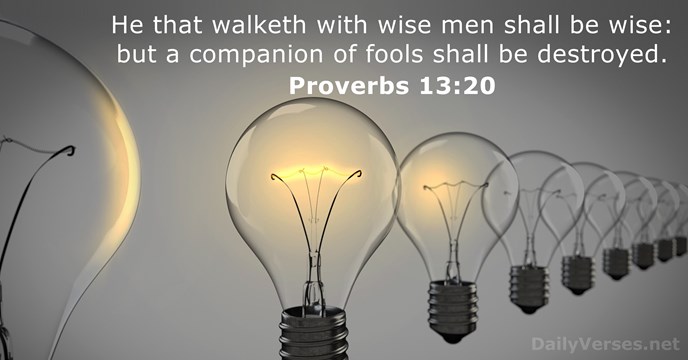 »
He that walketh with wise men shall be wise: but a companion of fools shall be destroyed.

El que con sabios anda, sabio se vuelve; el que con necios se junta, saldrá mal parado.

The fear of the L

ord

is the beginning of knowledge: but fools despise wisdom and instruction.
El temor del S

eñor

es el principio del conocimiento; los necios desprecian la sabiduría y la disciplina.

See then that ye walk circumspectly, not as fools, but as wise, Redeeming the time, because the days are evil.

Así que tengan cuidado de su manera de vivir. No vivan como necios sino como sabios, aprovechando al máximo cada momento oportuno, porque los días son malos.

And an highway shall be there, and a way, and it shall be called The way of holiness; the unclean shall not pass over it; but it shall be for those: the wayfaring men, though fools, shall not err therein.

Habrá allí una calzada que será llamada Camino de santidad. No viajarán por ella los impuros, ni transitarán por ella los necios; será solo para los que siguen el camino.

A fool's lips enter into contention, and his mouth calleth for strokes.

Los labios del necio son causa de contienda; su boca incita a la riña.

A fool uttereth all his mind: but a wise man keepeth it in till afterwards.

El necio da rienda suelta a su ira, pero el sabio sabe dominarla.

A fool's wrath is presently known: but a prudent man covereth shame.

El necio muestra en seguida su enojo, pero el prudente pasa por alto el insulto.

A fool hath no delight in understanding, but that his heart may discover itself.

Al necio no le complace el discernimiento; tan sólo hace alarde de su propia opinión.

Even a fool, when he holdeth his peace, is counted wise: and he that shutteth his lips is esteemed a man of understanding.

Hasta un necio pasa por sabio si guarda silencio; se le considera prudente si cierra la boca.

The words of a wise man's mouth are gracious; but the lips of a fool will swallow up himself.

Las palabras del sabio son placenteras, pero los labios del necio son su ruina.

Let no man deceive himself. If any man among you seemeth to be wise in this world, let him become a fool, that he may be wise.

Que nadie se engañe. Si alguno de ustedes se cree sabio según las normas de esta época, hágase ignorante para así llegar a ser sabio.
I stretch forth my hands unto thee:
my soul thirsteth after thee, as a thirsty land. Selah
For what shall it profit a man, if he shall gain the whole world, and lose his own soul?
Read more
I stretch forth my hands unto thee: my soul thirsteth after thee, as a thirsty land. Selah
Personal Bible reading plan
Create an account to configure your Bible reading plan and you will see your progress and the next chapter to read here!
Read more...