Bible Verses about 'Head'
«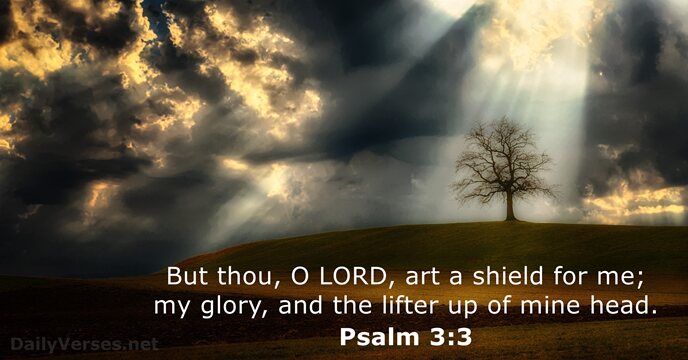 »
But thou, O L

ord

, art a shield for me; my glory, and the lifter up of mine head.
Mas tu, S

enhor

, és um escudo para mim, a minha glória e o que exalta a minha cabeça.

Wives, submit yourselves unto your own husbands, as unto the Lord. For the husband is the head of the wife, even as Christ is the head of the church: and he is the saviour of the body.

Vós, mulheres, sujeitai-vos a vosso marido, como ao Senhor; porque o marido é a cabeça da mulher, como também Cristo é a cabeça da igreja, sendo ele próprio o salvador do corpo.

Blessings are upon the head of the just: but violence covereth the mouth of the wicked.

Bênçãos há sobre a cabeça do justo, mas a violência cobre a boca dos ímpios.

And set up over his head his accusation written, This Is Jesus The King Of The Jews.

E, por cima da sua cabeça, puseram escrita a sua acusação: Este é Jesus, O Rei dos Judeus.

But speaking the truth in love, may grow up into him in all things, which is the head, even Christ.

Antes, seguindo a verdade em amor, cresçamos em tudo naquele que é a cabeça, Cristo.

When Jesus therefore had received the vinegar, he said, It is finished: and he bowed his head, and gave up the ghost.

E, quando Jesus tomou o vinagre, disse: Está consumado. E, inclinando a cabeça, entregou o espírito.

For in him dwelleth all the fulness of the Godhead bodily. And ye are complete in him, which is the head of all principality and power.

Porque nele habita corporalmente toda a plenitude da divindade. E estais perfeitos nele, que é a cabeça de todo principado e potestade.

This is the stone which was set at nought of you builders, which is become the head of the corner.

Ele é a pedra que foi rejeitada por vós, os edificadores, a qual foi posta por cabeça de esquina.

Are not five sparrows sold for two farthings, and not one of them is forgotten before God? But even the very hairs of your head are all numbered. Fear not therefore: ye are of more value than many sparrows.

Não se vendem cinco passarinhos por dois ceitis? E nenhum deles está esquecido diante de Deus. E até os cabelos da vossa cabeça estão todos contados. Não temais, pois; mais valeis vós do que muitos passarinhos.

But thou, when thou fastest, anoint thine head, and wash thy face; That thou appear not unto men to fast, but unto thy Father which is in secret: and thy Father, which seeth in secret, shall reward thee openly.

Porém tu, quando jejuares, unge a cabeça e lava o rosto, para não pareceres aos homens que jejuas, mas sim a teu Pai, que está oculto; e teu Pai, que vê o que está oculto, te recompensará.
Thine, O L

ord

is the greatness, and the power, and the glory, and the victory, and the majesty: for all that is in the heaven and in the earth is thine; thine is the kingdom, O L

ord

, and thou art exalted as head above all.
Tua é, S

enhor

, a magnificência, e o poder, e a honra, e a vitória, e a majestade; porque teu é tudo quanto há nos céus e na terra; teu é, S

enhor

, o reino, e tu te exaltaste sobre todos como chefe.

Are not two sparrows sold for a farthing? and one of them shall not fall on the ground without your Father. But the very hairs of your head are all numbered. Fear ye not therefore, ye are of more value than many sparrows.

Não se vendem dois passarinhos por um ceitil? E nenhum deles cairá em terra sem a vontade de vosso Pai. E até mesmo os cabelos da vossa cabeça estão todos contados. Não temais, pois; mais valeis vós do que muitos passarinhos.

And they stripped him, and put on him a scarlet robe. And when they had platted a crown of thorns, they put it upon his head, and a reed in his right hand: and they bowed the knee before him, and mocked him, saying, Hail, King of the Jews!

E, despindo-o, o cobriram com uma capa escarlate. E, tecendo uma coroa de espinhos, puseram-lha na cabeça e, em sua mão direita, uma cana; e, ajoelhando diante dele, o escarneciam, dizendo: Salve, Rei dos judeus!
Then Job arose, and rent his mantle, and shaved his head, and fell down upon the ground, and worshipped, And said, Naked came I out of my mother's womb, and naked shall I return thither: the L

ord

gave, and the L

ord

hath taken away; blessed be the name of the L

ord

.
Então, Jó se levantou, e rasgou o seu manto, e rapou a sua cabeça, e se lançou em terra, e adorou, e disse: Nu saí do ventre de minha mãe e nu tornarei para lá; o S

enhor

o deu e o S

enhor

o tomou; bendito seja o nome do S

enhor

.
I will greatly rejoice in the L

ord

, my soul shall be joyful in my God; for he hath clothed me with the garments of salvation, he hath covered me with the robe of righteousness, as a bridegroom decketh himself with ornaments, and as a bride adorneth herself with her jewels.
Regozijar-me-ei muito no S

enhor

, a minha alma se alegra no meu Deus, porque me vestiu de vestes de salvação, me cobriu com o manto de justiça, como um noivo que se adorna com atavios e como noiva que se enfeita com as suas joias.

And it came to pass, that he went through the corn fields on the sabbath day; and his disciples began, as they went, to pluck the ears of corn. And the Pharisees said unto him, Behold, why do they on the sabbath day that which is not lawful? And he said unto them, Have ye never read what David did, when he had need, and was an hungred, he, and they that were with him? How he went into the house of God in the days of Abiathar the high priest, and did eat the shewbread, which is not lawful to eat but for the priests, and gave also to them which were with him? And he said unto them, The sabbath was made for man, and not man for the sabbath: Therefore the Son of man is Lord also of the sabbath.

E aconteceu que, passando ele num sábado pelas searas, os seus discípulos, caminhando, começaram a colher espigas. E os fariseus lhe disseram: Vês? Por que fazem no sábado o que não é lícito? Mas ele disse-lhes: Nunca lestes o que fez Davi, quando estava em necessidade e teve fome, ele e os que com ele estavam? Como entrou na Casa de Deus, no tempo de Abiatar, sumo sacerdote, e comeu os pães da proposição, dos quais não era lícito comer senão aos sacerdotes, dando também aos que com ele estavam? E disse-lhes: O sábado foi feito por causa do homem, e não o homem, por causa do sábado. Assim, o Filho do Homem até do sábado é senhor.

For the invisible things of him from the creation of the world are clearly seen, being understood by the things that are made, even his eternal power and Godhead; so that they are without excuse.

Porque as suas coisas invisíveis, desde a criação do mundo, tanto o seu eterno poder como a sua divindade, se entendem e claramente se veem pelas coisas que estão criadas, para que eles fiquem inescusáveis.
Beware of false prophets, which come to you in sheep's clothing, but inwardly they are ravening wolves.
Personal Bible reading plan
Create an account to configure your Bible reading plan and you will see your progress and the next chapter to read here!
Read more...