Bible Verses about 'Heard'
«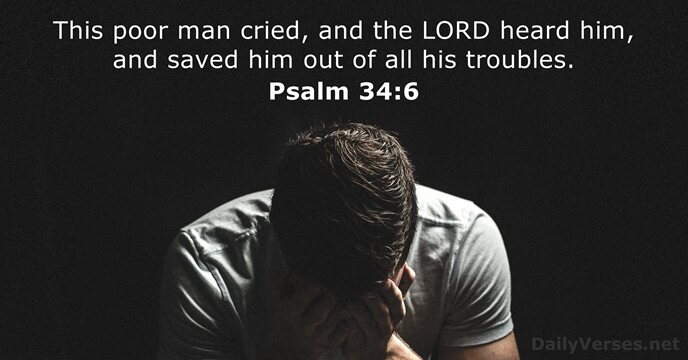 »
This poor man cried, and the L

ord

heard him, and saved him out of all his troubles.
Clamou este pobre, e o S

enhor

o ouviu; e o salvou de todas as suas angústias.

For this is the message that ye heard from the beginning, that we should love one another.

Porque esta é a mensagem que ouvistes desde o princípio: que nos amemos uns aos outros.

Let that therefore abide in you, which ye have heard from the beginning. If that which ye have heard from the beginning shall remain in you, ye also shall continue in the Son, and in the Father.

Portanto, o que desde o princípio ouvistes permaneça em vós. Se em vós permanecer o que desde o princípio ouvistes, também permanecereis no Filho e no Pai.

And I fell unto the ground, and heard a voice saying unto me, Saul, Saul, why persecutest thou me?

E caí por terra e ouvi uma voz que me dizia: Saulo, Saulo, por que me persegues?

I sought the L

ord

, and he heard me, and delivered me from all my fears.
Busquei ao S

enhor

, e ele me respondeu; livrou-me de todos os meus temores.

This then is the message which we have heard of him, and declare unto you, that God is light, and in him is no darkness at all.

E esta é a mensagem que dele ouvimos e vos anunciamos: que Deus é luz, e não há nele treva nenhuma.

But when ye pray, use not vain repetitions, as the heathen do: for they think that they shall be heard for their much speaking.

E, orando, não useis de vãs repetições, como os gentios, que pensam que, por muito falarem, serão ouvidos.

And the shepherds returned, glorifying and praising God for all the things that they had heard and seen, as it was told unto them.

E voltaram os pastores glorificando e louvando a Deus por tudo o que tinham ouvido e visto, como lhes havia sido dito.

Those things, which ye have both learned, and received, and heard, and seen in me, do: and the God of peace shall be with you.

O que também aprendestes, e recebestes, e ouvistes, e vistes em mim, isso fazei; e o Deus de paz será convosco.

But when Jesus heard that, he said unto them, They that be whole need not a physician, but they that are sick.

Jesus, porém, ouvindo, disse-lhes: Não necessitam de médico os sãos, mas sim, os doentes.

I love the L

ord

, because he hath heard my voice and my supplications. Because he hath inclined his ear unto me, therefore will I call upon him as long as I live.
Amo ao S

enhor

, porque ele ouviu a minha voz e a minha súplica. Porque inclinou para mim os seus ouvidos; portanto, invocá-lo-ei enquanto viver.
In my distress I called upon the L

ord

, and cried unto my God: he heard my voice out of his temple, and my cry came before him, even into his ears.
Na angústia, invoquei ao S

enhor

e clamei ao meu Deus; desde o seu templo ouviu a minha voz e aos seus ouvidos chegou o meu clamor perante a sua face.
Wherefore thou art great, O L

ord

God: for there is none like thee, neither is there any God beside thee, according to all that we have heard with our ears.
Portanto, grandioso és, ó Senhor J

eová

, porque não há semelhante a ti, e não há outro Deus, senão tu só, segundo tudo o que temos ouvido com os nossos ouvidos.

But when Jesus heard it, he answered him, saying, Fear not: believe only, and she shall be made whole.

Jesus, porém, ouvindo-o, respondeu-lhe, dizendo: Não temas; crê somente, e será salva.

But as it is written, Eye hath not seen, nor ear heard, neither have entered into the heart of man, the things which God hath prepared for them that love him.

Mas, como está escrito: As coisas que o olho não viu, e o ouvido não ouviu, e não subiram ao coração do homem são as que Deus preparou para os que o amam.

Therefore whatsoever ye have spoken in darkness shall be heard in the light; and that which ye have spoken in the ear in closets shall be proclaimed upon the housetops.

Porquanto tudo o que em trevas dissestes à luz será ouvido; e o que falastes ao ouvido no gabinete sobre os telhados será apregoado.

Hast thou not known? hast thou not heard, that the everlasting God, the L

ord

, the Creator of the ends of the earth, fainteth not, neither is weary? there is no searching of his understanding.
Não sabes, não ouviste que o eterno Deus, o S

enhor

, o Criador dos confins da terra, nem se cansa, nem se fatiga? Não há esquadrinhação do seu entendimento.

And at midnight Paul and Silas prayed, and sang praises unto God: and the prisoners heard them.

Perto da meia-noite, Paulo e Silas oravam e cantavam hinos a Deus, e os outros presos os escutavam.

Ye have heard that it was said by them of old time, Thou shalt not commit adultery: But I say unto you, That whosoever looketh on a woman to lust after her hath committed adultery with her already in his heart.

Ouvistes que foi dito aos antigos: Não cometerás adultério. Eu porém, vos digo que qualquer que atentar numa mulher para a cobiçar já em seu coração cometeu adultério com ela.

Turn again, and tell Hezekiah the captain of my people, Thus saith the L

ord

, the God of David thy father, I have heard thy prayer, I have seen thy tears: behold, I will heal thee: on the third day thou shalt go up unto the house of the L

ord

.
Volta e dize a Ezequias, chefe do meu povo: Assim diz o S

enhor

, Deus de Davi, teu pai: Ouvi a tua oração e vi as tuas lágrimas; eis que eu te sararei; ao terceiro dia subirás à Casa do S

enhor

.

And every creature which is in heaven, and on the earth, and under the earth, and such as are in the sea, and all that are in them, heard I saying, Blessing, and honour, and glory, and power, be unto him that sitteth upon the throne, and unto the Lamb for ever and ever.

E ouvi a toda criatura que está no céu, e na terra, e debaixo da terra, e que está no mar, e a todas as coisas que neles há, dizer: Ao que está assentado sobre o trono e ao Cordeiro sejam dadas ações de graças, e honra, e glória, e poder para todo o sempre.

When they heard this, they were baptized in the name of the Lord Jesus. And when Paul had laid his hands upon them, the Holy Ghost came on them; and they spake with tongues, and prophesied.

E os que ouviram foram batizados em nome do Senhor Jesus. E, impondo-lhes Paulo as mãos, veio sobre eles o Espírito Santo; e falavam línguas e profetizavam.

And I heard a great voice out of heaven saying, Behold, the tabernacle of God is with men, and he will dwell with them, and they shall be his people, and God himself shall be with them, and be their God. And God shall wipe away all tears from their eyes; and there shall be no more death, neither sorrow, nor crying, neither shall there be any more pain: for the former things are passed away.

E ouvi uma grande voz do céu, que dizia: Eis aqui o tabernáculo de Deus com os homens, pois com eles habitará, e eles serão o seu povo, e o mesmo Deus estará com eles e será o seu Deus. E Deus limpará de seus olhos toda lágrima, e não haverá mais morte, nem pranto, nem clamor, nem dor, porque já as primeiras coisas são passadas.

Let us hear the conclusion of the whole matter: Fear God, and keep his commandments: for this is the whole duty of man.

De tudo o que se tem ouvido, o fim é: Teme a Deus e guarda os seus mandamentos; porque este é o dever de todo homem.

So then faith cometh by hearing, and hearing by the word of God.

De sorte que a fé é pelo ouvir, e o ouvir pela palavra de Deus.
Beware of false prophets, which come to you in sheep's clothing, but inwardly they are ravening wolves.
Personal Bible reading plan
Create an account to configure your Bible reading plan and you will see your progress and the next chapter to read here!
Read more...