Bible Verses about 'Heavens'
«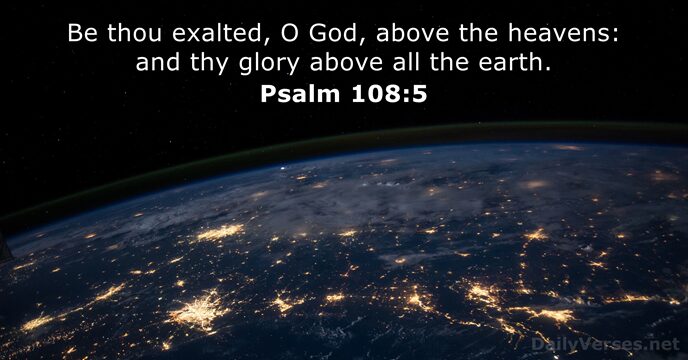 »
Be thou exalted, O God, above the heavens: and thy glory above all the earth.

Exalta-te sobre os céus, ó Deus, e a tua glória sobre toda a terra.

By the word of the L

ord

were the heavens made; and all the host of them by the breath of his mouth.
Pela palavra do S

enhor

foram feitos os céus; e todo o exército deles, pelo espírito da sua boca.

But our God is in the heavens: he hath done whatsoever he hath pleased.

Mas o nosso Deus está nos céus e faz tudo o que lhe apraz.

For as the heavens are higher than the earth, so are my ways higher than your ways, and my thoughts than your thoughts.

Porque, assim como os céus são mais altos do que a terra, assim são os meus caminhos mais altos do que os vossos caminhos, e os meus pensamentos, mais altos do que os vossos pensamentos.

The heavens declare the glory of God; and the firmament sheweth his handywork. Day unto day uttereth speech, and night unto night sheweth knowledge.

Os céus manifestam a glória de Deus e o firmamento anuncia a obra das suas mãos. Um dia faz declaração a outro dia, e uma noite mostra sabedoria a outra noite.

For we know that if our earthly house of this tabernacle were dissolved, we have a building of God, an house not made with hands, eternal in the heavens.

Porque sabemos que, se a nossa casa terrestre deste tabernáculo se desfizer, temos de Deus um edifício, uma casa não feita por mãos, eterna, nos céus.
Ah Lord G

od

! behold, thou hast made the heaven and the earth by thy great power and stretched out arm, and there is nothing too hard for thee.
Ah! Senhor J

eová

! Eis que tu fizeste os céus e a terra com o teu grande poder e com o teu braço estendido; não te é maravilhosa demais coisa alguma.

Sing unto God, sing praises to his name: extol him that rideth upon the heavens by his name Jah, and rejoice before him. A father of the fatherless, and a judge of the widows, is God in his holy habitation.

Cantai a Deus, cantai louvores ao seu nome; louvai aquele que vai sobre os céus, pois o seu nome é J

eová

; exultai diante dele. Pai de órfãos e juiz de viúvas é Deus no seu lugar santo.

In the beginning God created the heaven and the earth. And the earth was without form, and void; and darkness was upon the face of the deep. And the Spirit of God moved upon the face of the waters.

No princípio, criou Deus os céus e a terra. E a terra era sem forma e vazia; e havia trevas sobre a face do abismo; e o Espírito de Deus se movia sobre a face das águas.
It is he that buildeth his stories in the heaven, and hath founded his troop in the earth; he that calleth for the waters of the sea, and poureth them out upon the face of the earth: The L

ord

is his name.
Ele é o que edifica as suas câmaras no céu, e a sua abóbada fundou na terra, e o que chama as águas do mar, e as derrama sobre a terra; o S

enhor

é o seu nome.

To every thing there is a season, and a time to every purpose under the heaven.

Tudo tem o seu tempo determinado, e há tempo para todo o propósito debaixo do céu.

Whither shall I go from thy spirit? or whither shall I flee from thy presence? If I ascend up into heaven, thou art there: if I make my bed in hell, behold, thou art there.

Para onde me irei do teu Espírito ou para onde fugirei da tua face? Se subir ao céu, tu aí estás; se fizer no Seol a minha cama, eis que tu ali estás também.
Thine, O L

ord

is the greatness, and the power, and the glory, and the victory, and the majesty: for all that is in the heaven and in the earth is thine; thine is the kingdom, O L

ord

, and thou art exalted as head above all.
Tua é, S

enhor

, a magnificência, e o poder, e a honra, e a vitória, e a majestade; porque teu é tudo quanto há nos céus e na terra; teu é, S

enhor

, o reino, e tu te exaltaste sobre todos como chefe.

And God blessed them, and God said unto them, Be fruitful, and multiply, and replenish the earth, and subdue it: and have dominion over the fish of the sea, and over the fowl of the air, and over every living thing that moveth upon the earth.

E Deus os abençoou e Deus lhes disse: Frutificai, e multiplicai-vos, e enchei a terra, e sujeitai-a; e dominai sobre os peixes do mar, e sobre as aves dos céus, e sobre todo o animal que se move sobre a terra.

Remember the sabbath day, to keep it holy. Six days shalt thou labour, and do all thy work: But the seventh day is the sabbath of the L

ord

thy God: in it thou shalt not do any work, thou, nor thy son, nor thy daughter, thy manservant, nor thy maidservant, nor thy cattle, nor thy stranger that is within thy gates: For in six days the L

ord

made heaven and earth, the sea, and all that in them is, and rested the seventh day: wherefore the L

ord

blessed the sabbath day, and hallowed it.
Lembra-te do dia do sábado, para o santificar. Seis dias trabalharás e farás toda a tua obra, mas o sétimo dia é o sábado do S

enhor

, teu Deus; não farás nenhuma obra, nem tu, nem o teu filho, nem a tua filha, nem o teu servo, nem a tua serva, nem o teu animal, nem o teu estrangeiro que está dentro das tuas portas. Porque em seis dias fez o S

enhor

os céus e a terra, o mar e tudo que neles há e ao sétimo dia descansou; portanto, abençoou o S

enhor

o dia do sábado e o santificou.

And God said, Let us make man in our image, after our likeness: and let them have dominion over the fish of the sea, and over the fowl of the air, and over the cattle, and over all the earth, and over every creeping thing that creepeth upon the earth.

E disse Deus: Façamos o homem à nossa imagem, conforme a nossa semelhança; e domine sobre os peixes do mar, e sobre as aves dos céus, e sobre o gado, e sobre toda a terra, e sobre todo réptil que se move sobre a terra.

Now when all the people were baptized, it came to pass, that Jesus also being baptized, and praying, the heaven was opened, And the Holy Ghost descended in a bodily shape like a dove upon him, and a voice came from heaven, which said, Thou art my beloved Son; in thee I am well pleased.

E aconteceu que, como todo o povo se batizava, sendo batizado também Jesus, orando ele, o céu se abriu, e o Espírito Santo desceu sobre ele em forma corpórea, como uma pomba; e ouviu-se uma voz do céu, que dizia: Tu és meu Filho amado; em ti me tenho comprazido.
And though I have the gift of prophecy, and understand all mysteries, and all knowledge; and though I have all faith, so that I could remove mountains, and have not charity, I am nothing.
Personal Bible reading plan
Create an account to configure your Bible reading plan and you will see your progress and the next chapter to read here!
Read more...