Bible Verses about 'Law'
«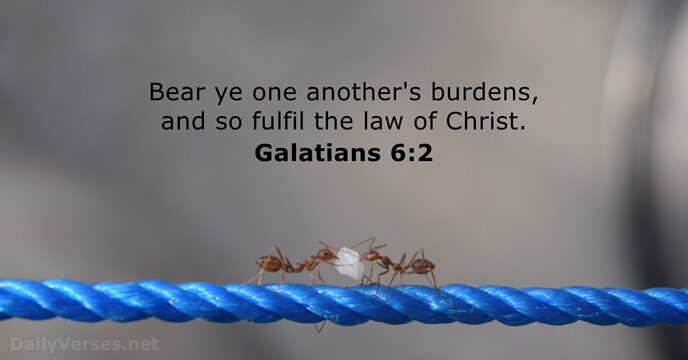 »
For as many as have sinned without law shall also perish without law: and as many as have sinned in the law shall be judged by the law.

Porque todos os que sem lei pecaram sem lei também perecerão; e todos os que sob a lei pecaram pela lei serão julgados.

What shall we say then? Is the law sin? God forbid. Nay, I had not known sin, but by the law: for I had not known lust, except the law had said, Thou shalt not covet.

Que diremos, pois? É a lei pecado? De modo nenhum! Mas eu não conheci o pecado senão pela lei; porque eu não conheceria a concupiscência, se a lei não dissesse: Não cobiçarás.

Therefore by the deeds of the law there shall no flesh be justified in his sight: for by the law is the knowledge of sin.

Por isso, nenhuma carne será justificada diante dele pelas obras da lei, porque pela lei vem o conhecimento do pecado.

Bear ye one another's burdens, and so fulfil the law of Christ.

Levai as cargas uns dos outros e assim cumprireis a lei de Cristo.

The sting of death is sin; and the strength of sin is the law.

Ora, o aguilhão da morte é o pecado, e a força do pecado é a lei.

Whosoever committeth sin transgresseth also the law: for sin is the transgression of the law.

Qualquer que pratica o pecado também pratica iniquidade, porque o pecado é iniquidade.

Blessed are the undefiled in the way, who walk in the law of the L

ord

.
Bem-aventurados os que trilham caminhos retos e andam na lei do S

enhor

.

Great peace have they which love thy law: and nothing shall offend them.

Muita paz têm os que amam a tua lei, e para eles não há tropeço.

Love worketh no ill to his neighbour: therefore love is the fulfilling of the law.

O amor não faz mal ao próximo; de sorte que o cumprimento da lei é o amor.

For Christ is the end of the law for righteousness to every one that believeth.

Porque o fim da lei é Cristo para justiça de todo aquele que crê.

What then? shall we sin, because we are not under the law, but under grace? God forbid.

Pois quê? Pecaremos porque não estamos debaixo da lei, mas debaixo da graça? De modo nenhum!

For sin shall not have dominion over you: for ye are not under the law, but under grace.

Porque o pecado não terá domínio sobre vós, pois não estais debaixo da lei, mas debaixo da graça.

For all the law is fulfilled in one word, even in this; Thou shalt love thy neighbour as thyself.

Porque toda a lei se cumpre numa só palavra, nesta: Amarás o teu próximo como a ti mesmo.

There is therefore now no condemnation to them which are in Christ Jesus, who walk not after the flesh, but after the Spirit. For the law of the Spirit of life in Christ Jesus hath made me free from the law of sin and death.

Portanto, agora, nenhuma condenação há para os que estão em Cristo Jesus, que não andam segundo a carne, mas segundo o espírito. Porque a lei do Espírito de vida, em Cristo Jesus, me livrou da lei do pecado e da morte.

Owe no man any thing, but to love one another: for he that loveth another hath fulfilled the law.

A ninguém devais coisa alguma, a não ser o amor com que vos ameis uns aos outros; porque quem ama aos outros cumpriu a lei.

We who are Jews by nature, and not sinners of the Gentiles, Knowing that a man is not justified by the works of the law, but by the faith of Jesus Christ, even we have believed in Jesus Christ, that we might be justified by the faith of Christ, and not by the works of the law: for by the works of the law shall no flesh be justified.

Nós somos judeus por natureza e não pecadores dentre os gentios. Sabendo que o homem não é justificado pelas obras da lei, mas pela fé em Jesus Cristo, temos também crido em Jesus Cristo, para sermos justificados pela fé de Cristo e não pelas obras da lei, porquanto pelas obras da lei nenhuma carne será justificada.

Think not that I am come to destroy the law, or the prophets: I am not come to destroy, but to fulfil.

Não cuideis que vim destruir a lei ou os profetas; não vim ab-rogar, mas cumprir.

I do not frustrate the grace of God: for if righteousness come by the law, then Christ is dead in vain.

Não aniquilo a graça de Deus; porque, se a justiça provém da lei, segue-se que Cristo morreu debalde.
The law of the L

ord

is perfect, converting the soul: the testimony of the L

ord

is sure, making wise the simple.
A lei do S

enhor

é perfeita e refrigera a alma; o testemunho do S

enhor

é fiel e dá sabedoria aos símplices.

But now the righteousness of God without the law is manifested, being witnessed by the law and the prophets; Even the righteousness of God which is by faith of Jesus Christ unto all and upon all them that believe: for there is no difference.

Mas, agora, se manifestou, sem a lei, a justiça de Deus, tendo o testemunho da Lei e dos Profetas, isto é, a justiça de Deus pela fé em Jesus Cristo para todos e sobre todos os que creem; porque não há diferença.

Therefore all things whatsoever ye would that men should do to you, do ye even so to them: for this is the law and the prophets.

Portanto, tudo o que vós quereis que os homens vos façam, fazei-lho também vós, porque esta é a lei e os profetas.

My son, keep thy father's commandment, and forsake not the law of thy mother.

Filho meu, guarda o mandamento de teu pai e não deixes a lei de tua mãe.

He therefore that ministereth to you the Spirit, and worketh miracles among you, doeth he it by the works of the law, or by the hearing of faith?

Aquele, pois, que vos dá o Espírito e que opera maravilhas entre vós o faz pelas obras da lei ou pela pregação da fé?

For verily I say unto you, Till heaven and earth pass, one jot or one tittle shall in no wise pass from the law, till all be fulfilled.

Porque em verdade vos digo que, até que o céu e a terra passem, nem um jota ou um til se omitirá da lei sem que tudo seja cumprido.

But whoso looketh into the perfect law of liberty, and continueth therein, he being not a forgetful hearer, but a doer of the work, this man shall be blessed in his deed.

Aquele, porém, que atenta bem para a lei perfeita da liberdade e nisso persevera, não sendo ouvinte esquecido, mas fazedor da obra, este tal será bem-aventurado no seu feito.
Beware of false prophets, which come to you in sheep's clothing, but inwardly they are ravening wolves.
Personal Bible reading plan
Create an account to configure your Bible reading plan and you will see your progress and the next chapter to read here!
Read more...