Bible Verses about 'Lead'
«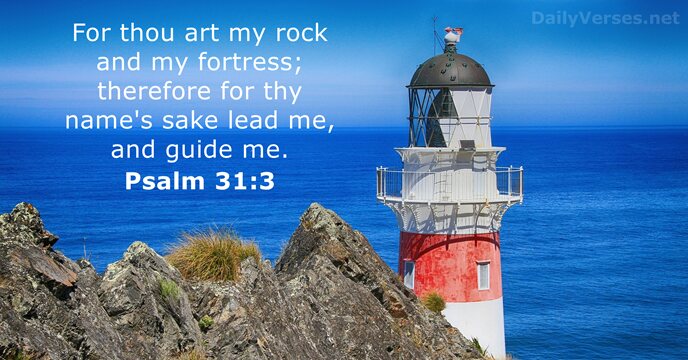 »
For thou art my rock and my fortress; therefore for thy name's sake lead me, and guide me.

Porque tu és a minha rocha e a minha fortaleza; pelo que, por amor do teu nome, guia-me e encaminha-me.

And lead us not into temptation, but deliver us from evil: For thine is the kingdom, and the power, and the glory, for ever. Amen.

E não nos induzas à tentação, mas livra-nos do mal; porque teu é o Reino, e o poder, e a glória, para sempre. Amém!

Teach me to do thy will; for thou art my God: thy spirit is good; lead me into the land of uprightness.

Ensina-me a fazer a tua vontade, pois és o meu Deus; guie-me o teu bom Espírito por terra plana.

Lead me in thy truth, and teach me: for thou art the God of my salvation; on thee do I wait all the day.

Guia-me na tua verdade e ensina-me, pois tu és o Deus da minha salvação; por ti estou esperando todo o dia.

Search me, O God, and know my heart: try me, and know my thoughts: And see if there be any wicked way in me, and lead me in the way everlasting.

Sonda-me, ó Deus, e conhece o meu coração; prova-me e conhece os meus pensamentos. E vê se há em mim algum caminho mau e guia-me pelo caminho eterno.

They shall hunger no more, neither thirst any more; neither shall the sun light on them, nor any heat. For the Lamb which is in the midst of the throne shall feed them, and shall lead them unto living fountains of waters: and God shall wipe away all tears from their eyes.

Nunca mais terão fome, nunca mais terão sede; nem sol nem calma alguma cairá sobre eles, porque o Cordeiro que está no meio do trono os apascentará e lhes servirá de guia para as fontes das águas da vida; e Deus limpará de seus olhos toda lágrima.

Enter ye in at the strait gate: for wide is the gate, and broad is the way, that leadeth to destruction, and many there be which go in thereat: Because strait is the gate, and narrow is the way, which leadeth unto life, and few there be that find it.

Entrai pela porta estreita, porque larga é a porta, e espaçoso, o caminho que conduz à perdição, e muitos são os que entram por ela; E porque estreita é a porta, e apertado, o caminho que leva à vida, e poucos há que a encontrem.
The L

ord

is my shepherd; I shall not want. He maketh me to lie down in green pastures: he leadeth me beside the still waters.
O S

enhor

é o meu pastor; nada me faltará. Deitar-me faz em verdes pastos, guia-me mansamente a águas tranquilas.

But when they shall lead you, and deliver you up, take no thought beforehand what ye shall speak, neither do ye premeditate: but whatsoever shall be given you in that hour, that speak ye: for it is not ye that speak, but the Holy Ghost.

Quando, pois, vos conduzirem para vos entregarem, não estejais solícitos de antemão pelo que haveis de dizer; mas o que vos for dado naquela hora, isso falai; porque não sois vós os que falais, mas o Espírito Santo.

I have taught thee in the way of wisdom; I have led thee in right paths.

No caminho da sabedoria, te ensinei e, pelas carreiras direitas, te fiz andar.

In all labour there is profit: but the talk of the lips tendeth only to penury.

Em todo trabalho há proveito, mas a palavra dos lábios só encaminha para a pobreza.

And he was teaching in one of the synagogues on the sabbath. And, behold, there was a woman which had a spirit of infirmity eighteen years, and was bowed together, and could in no wise lift up herself. And when Jesus saw her, he called her to him, and said unto her, Woman, thou art loosed from thine infirmity. And he laid his hands on her: and immediately she was made straight, and glorified God. And the ruler of the synagogue answered with indignation, because that Jesus had healed on the sabbath day, and said unto the people, There are six days in which men ought to work: in them therefore come and be healed, and not on the sabbath day. The Lord then answered him, and said, Thou hypocrite, doth not each one of you on the sabbath loose his ox or his ass from the stall, and lead him away to watering? And ought not this woman, being a daughter of Abraham, whom Satan hath bound, lo, these eighteen years, be loosed from this bond on the sabbath day? And when he had said these things, all his adversaries were ashamed: and all the people rejoiced for all the glorious things that were done by him.

E ensinava no sábado, numa das sinagogas. E eis que estava ali uma mulher que tinha um espírito de enfermidade havia já dezoito anos; e andava curvada e não podia de modo algum endireitar-se. E, vendo-a Jesus, chamou-a a si, e disse-lhe: Mulher, estás livre da tua enfermidade. E impôs as mãos sobre ela, e logo se endireitou e glorificava a Deus. E, tomando a palavra o príncipe da sinagoga, indignado porque Jesus curava no sábado, disse à multidão: Seis dias há em que é mister trabalhar; nestes, pois, vinde para serdes curados e não no dia de sábado. Respondeu-lhe, porém, o Senhor e disse: Hipócrita, no sábado não desprende da manjedoura cada um de vós o seu boi ou jumento e não o leva a beber água? E não convinha soltar desta prisão, no dia de sábado, esta filha de Abraão, a qual há dezoito anos Satanás mantinha presa? E, dizendo ele isso, todos os seus adversários ficaram envergonhados, e todo o povo se alegrava por todas as coisas gloriosas que eram feitas por ele.

He is in the way of life that keepeth instruction: but he that refuseth reproof erreth.

O caminho para a vida é daquele que guarda a correção, mas o que abandona a repreensão erra.

Let every one of us please his neighbour for his good to edification.

Portanto, cada um de nós agrade ao seu próximo no que é bom para edificação.

God setteth the solitary in families: he bringeth out those which are bound with chains: but the rebellious dwell in a dry land.

Deus faz que o solitário viva em família; liberta aqueles que estão presos em grilhões; mas os rebeldes habitam em terra seca.

How much more shall the blood of Christ, who through the eternal Spirit offered himself without spot to God, purge your conscience from dead works to serve the living God?

Quanto mais o sangue de Cristo, que, pelo Espírito eterno, se ofereceu a si mesmo imaculado a Deus, purificará a vossa consciência das obras mortas, para servirdes ao Deus vivo?

But now being made free from sin, and become servants to God, ye have your fruit unto holiness, and the end everlasting life.

Mas, agora, libertados do pecado e feitos servos de Deus, tendes o vosso fruto para santificação, e por fim a vida eterna.

There is a way which seemeth right unto a man, but the end thereof are the ways of death.

Há caminho que ao homem parece direito, mas o fim dele são os caminhos da morte.

Take heed, brethren, lest there be in any of you an evil heart of unbelief, in departing from the living God.

Vede, irmãos, que nunca haja em qualquer de vós um coração mau e infiel, para se apartar do Deus vivo.

Turn again, and tell Hezekiah the captain of my people, Thus saith the L

ord

, the God of David thy father, I have heard thy prayer, I have seen thy tears: behold, I will heal thee: on the third day thou shalt go up unto the house of the L

ord

.
Volta e dize a Ezequias, chefe do meu povo: Assim diz o S

enhor

, Deus de Davi, teu pai: Ouvi a tua oração e vi as tuas lágrimas; eis que eu te sararei; ao terceiro dia subirás à Casa do S

enhor

.

That as sin hath reigned unto death, even so might grace reign through righteousness unto eternal life by Jesus Christ our Lord.

Para que, assim como o pecado reinou na morte, também a graça reinasse pela justiça para a vida eterna, por Jesus Cristo, nosso Senhor.

Good and upright is the L

ord

: therefore will he teach sinners in the way. The meek will he guide in judgment: and the meek will he teach his way.
Bom e reto é o S

enhor

; pelo que ensinará o caminho aos pecadores. Guiará os mansos retamente; e aos mansos ensinará o seu caminho.

But ye, beloved, building up yourselves on your most holy faith, praying in the Holy Ghost, Keep yourselves in the love of God, looking for the mercy of our Lord Jesus Christ unto eternal life.

Mas vós, amados, edificando-vos a vós mesmos sobre a vossa santíssima fé, orando no Espírito Santo, conservai a vós mesmos no amor de Deus, esperando a misericórdia de nosso Senhor Jesus Cristo, para a vida eterna.
A prudent man foreseeth the evil, and hideth himself; but the simple pass on, and are punished.
Personal Bible reading plan
Create an account to configure your Bible reading plan and you will see your progress and the next chapter to read here!
Read more...