18 Bible Verses about 'Lift'
«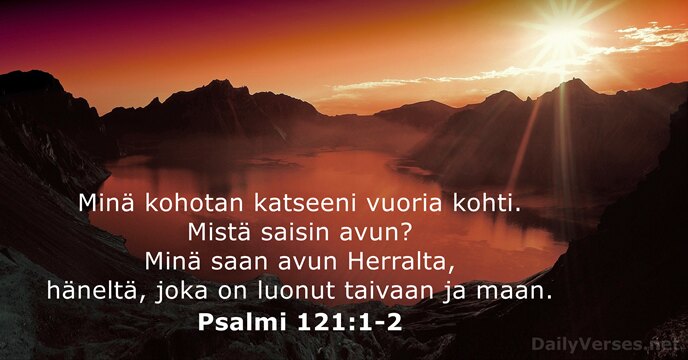 »
Arise, O L

ord

! O God, lift up Your hand! Do not forget the humble.

Riennä avuksi, Herra! Jumala, kohota kätesi! Älä unohda avuttomia!

Humble yourselves in the sight of the Lord, and He will lift you up.

Nöyrtykää Herran edessä, niin hän on teidät korottava.

I will lift up my eyes to the hills— From whence comes my help? My help comes from the L

ord

, Who made heaven and earth.

Minä kohotan katseeni vuoria kohti. Mistä saisin avun? Minä saan avun Herralta, häneltä, joka on luonut taivaan ja maan.

For if they fall, one will lift up his companion. But woe to him who is alone when he falls, For he has no one to help him up.

Jos he kaatuvat, toinen auttaa toista nousemaan, mutta voi yksinäistä, joka kaatuu – häntä auttamassa ei ole ketään.

Because Your lovingkindness is better than life, My lips shall praise You. Thus I will bless You while I live; I will lift up my hands in Your name.

Suurempi kuin elämä on sinun armosi. Minun huuleni ylistävät sinua. Jumalani, minä kiitän sinua niin kauan kuin elän, minä turvaan sinuun, kohotan käteni sinun puoleesi.

Cause me to hear Your lovingkindness in the morning, For in You do I trust; Cause me to know the way in which I should walk, For I lift up my soul to You.

Sinuun minä turvaan – osoita laupeutesi jo aamuvarhaisesta! Sinun puoleesi minä käännyn – opeta minulle tie, jota kulkea!

The L

ord

bless you and keep you; The L

ord

make His face shine upon you, And be gracious to you; The L

ord

lift up His countenance upon you, And give you peace.

Herra siunatkoon sinua ja varjelkoon sinua, Herra kirkastakoon sinulle kasvonsa ja olkoon sinulle armollinen. Herra kääntäköön kasvonsa sinun puoleesi ja antakoon sinulle rauhan.

But You, O L

ord

, are a shield for me, My glory and the One who lifts up my head.

Sinä, Herra, sinä olet minun kilpeni ja kunniani, sinä nostat minun pääni pystyyn.

The L

ord

makes poor and makes rich; He brings low and lifts up.

Herra tekee köyhäksi ja antaa rikkauden, painaa maahan ja kohottaa.

And He led them out as far as Bethany, and He lifted up His hands and blessed them. Now it came to pass, while He blessed them, that He was parted from them and carried up into heaven.

Jeesus vei opetuslapset ulos kaupungista, lähelle Betaniaa, ja siellä hän kohotti kätensä ja siunasi heidät. Siunatessaan hän erkani heistä, ja hänet otettiin ylös taivaaseen.

Therefore humble yourselves under the mighty hand of God, that He may exalt you in due time.

Nöyrtykää siis Jumalan väkevän käden alle, niin hän ajan tullen korottaa teidät.

And being in torments in Hades, he lifted up his eyes and saw Abraham afar off, and Lazarus in his bosom. "Then he cried and said, 'Father Abraham, have mercy on me, and send Lazarus that he may dip the tip of his finger in water and cool my tongue; for I am tormented in this flame.' "

Kun hän tuonelan tuskissa kohotti katseensa, hän näki kaukana Abrahamin ja Lasaruksen hänen rintaansa vasten. Silloin hän huusi: 'Isä Abraham, armahda minua! Lähetä Lasarus tänne, että hän kastaisi sormenpäänsä veteen ja vilvoittaisi kieltäni. Näissä liekeissä on kauhea olla.'

The L

ord

opens the eyes of the blind; The L

ord

raises those who are bowed down; The L

ord

loves the righteous.

Hän antaa sokeille näön ja nostaa maahan painetut jaloilleen. Herra rakastaa oikeamielisiä.

Sing to God, sing praises to His name; Extol Him who rides on the clouds, By His name YAH, And rejoice before Him. A father of the fatherless, a defender of widows, Is God in His holy habitation.

Laulakaa Jumalalle, soittakaa hänen nimensä kunniaksi, ylistäkää häntä, joka kiitää pilvivaunuillaan. Herra on hänen nimensä, iloitkaa hänen edessään! Hän on orpojen isä ja leskien puoltaja, Jumala pyhässä asunnossaan.

Behold the proud, His soul is not upright in him; But the just shall live by his faith.

Kirjoita siis: Tuo kansa on perin juurin röyhkeä ja väärämielinen. Mutta vanhurskas saa elää, kun hän pysyy uskollisena.

Now when He had spoken these things, while they watched, He was taken up, and a cloud received Him out of their sight.

Kun hän oli sanonut tämän, he näkivät, kuinka hänet otettiin ylös, ja pilvi vei hänet heidän näkyvistään.

For thus says the High and Lofty One Who inhabits eternity, whose name is Holy: "I dwell in the high and holy place, With him who has a contrite and humble spirit, To revive the spirit of the humble, And to revive the heart of the contrite ones."

Korkea ja Ylhäinen, hän, joka pysyy ikuisesti, jonka nimi on Pyhä, sanoo näin: – Minä asun korkeudessa ja pyhyydessä, mutta asun myös murtuneiden ja nöyrien luona. Minä virvoitan murtuneiden hengen ja herätän eloon nöyrien sydämen.

Now He was teaching in one of the synagogues on the Sabbath. And behold, there was a woman who had a spirit of infirmity eighteen years, and was bent over and could in no way raise herself up. But when Jesus saw her, He called her to Him and said to her, "Woman, you are loosed from your infirmity." And He laid His hands on her, and immediately she was made straight, and glorified God. But the ruler of the synagogue answered with indignation, because Jesus had healed on the Sabbath; and he said to the crowd, "There are six days on which men ought to work; therefore come and be healed on them, and not on the Sabbath day." The Lord then answered him and said, "Hypocrite! Does not each one of you on the Sabbath loose his ox or donkey from the stall, and lead it away to water it? So ought not this woman, being a daughter of Abraham, whom Satan has bound—think of it—for eighteen years, be loosed from this bond on the Sabbath?" And when He said these things, all His adversaries were put to shame; and all the multitude rejoiced for all the glorious things that were done by Him.

Jeesus oli sapattina eräässä synagogassa opettamassa. Siellä oli nainen, jota kahdeksantoista vuotta oli vaivannut sairauden henki. Hänen selkänsä oli pahasti köyryssä, eikä hän kyennyt suoristamaan itseään. Nähdessään hänet Jeesus kutsui hänet luokseen ja sanoi: »Nainen, olet päässyt vaivastasi.» Hän pani kätensä naisen päälle, ja heti tämä oikaisi selkänsä ja ylisti Jumalaa. Kun synagogan esimies näki, että Jeesus paransi sairaan sapattina, hän suutuksissaan sanoi paikalla oleville: »Viikossa on kuusi päivää työtä varten, tulkaa silloin parannettaviksi älkääkä sapattina.» Herra vastasi: »Te tekopyhät! Jokainen teistä kyllä päästää sapattina härkänsä tai aasinsa kytkyestä ja vie sen juomaan. Tätä Abrahamin tytärtä on Saatana pitänyt siteissään jo kahdeksantoista vuotta. Eikö häntä olisi saanut päästää vapaaksi sapatinpäivänä?» Jeesuksen vastauksen kuullessaan kaikki hänen vastustajansa olivat häpeissään, mutta kansa iloitsi kaikista ihmeteltävistä teoista, joita hän teki.
Beloved, if our heart does not condemn us, we have confidence toward God. And whatever we ask we receive from Him, because we keep His commandments and do those things that are pleasing in His sight.
For the grace of God that brings salvation has appeared to all men, teaching us that, denying ungodliness and worldly lusts, we should live soberly, righteously, and godly in the present age.
Read more
Beloved, if our heart does not condemn us, we have confidence toward God. And whatever we ask we receive from Him, because we keep His commandments and do those things that are pleasing in His sight.
Personal Bible reading plan
Create an account to configure your Bible reading plan and you will see your progress and the next chapter to read here!
Read more...