Bible Verses about 'Much'
«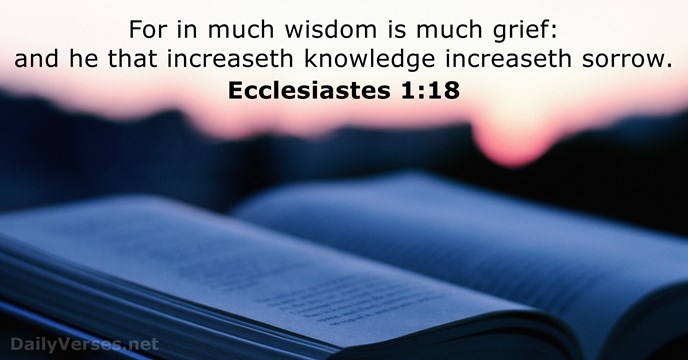 »
For in much wisdom is much grief: and he that increaseth knowledge increaseth sorrow.

Porque, na muita sabedoria, há muito enfado; e o que aumenta em ciência aumenta em trabalho.

But he that knew not, and did commit things worthy of stripes, shall be beaten with few stripes. For unto whomsoever much is given, of him shall be much required: and to whom men have committed much, of him they will ask the more.

Mas o que a não soube e fez coisas dignas de açoites com poucos açoites será castigado. E a qualquer que muito for dado, muito se lhe pedirá, e ao que muito se lhe confiou, muito mais se lhe pedirá.

Herein is my Father glorified, that ye bear much fruit; so shall ye be my disciples.

Nisto é glorificado meu Pai: que deis muito fruto; e assim sereis meus discípulos.

I have rejoiced in the way of thy testimonies, as much as in all riches.

Folgo mais com o caminho dos teus testemunhos do que com todas as riquezas.

Excellent speech becometh not a fool: much less do lying lips a prince.

Não convém ao tolo a fala excelente; quanto menos ao príncipe, o lábio mentiroso!

How much then is a man better than a sheep? Wherefore it is lawful to do well on the sabbath days.

Pois quanto mais vale um homem do que uma ovelha? É, por consequência, lícito fazer bem nos sábados.

How much better is it to get wisdom than gold! and to get understanding rather to be chosen than silver!

Quanto melhor é adquirir a sabedoria do que o ouro! E quanto mais excelente, adquirir a prudência do que a prata!

If it be possible, as much as lieth in you, live peaceably with all men.

Se for possível, quanto estiver em vós, tende paz com todos os homens.
And the L

ord

turned the captivity of Job, when he prayed for his friends: also the L

ord

gave Job twice as much as he had before.
E o S

enhor

virou o cativeiro de Jó, quando orava pelos seus amigos; e o S

enhor

acrescentou a Jó outro tanto em dobro a tudo quanto dantes possuía.

I am the vine, ye are the branches: He that abideth in me, and I in him, the same bringeth forth much fruit: for without me ye can do nothing.

Eu sou a videira, vós, as varas; quem está em mim, e eu nele, este dá muito fruto, porque sem mim nada podereis fazer.

For if, when we were enemies, we were reconciled to God by the death of his Son, much more, being reconciled, we shall be saved by his life.

Porque, se nós, sendo inimigos, fomos reconciliados com Deus pela morte de seu Filho, muito mais, estando já reconciliados, seremos salvos pela sua vida.

Consider the ravens: for they neither sow nor reap; which neither have storehouse nor barn; and God feedeth them: how much more are ye better than the fowls?

Considerai os corvos, que nem semeiam, nem segam, nem têm despensa nem celeiro, e Deus os alimenta; quanto mais valeis vós do que as aves?

If ye then, being evil, know how to give good gifts unto your children: how much more shall your heavenly Father give the Holy Spirit to them that ask him?

Pois, se vós, sendo maus, sabeis dar boas dádivas aos vossos filhos, quanto mais dará o Pai celestial o Espírito Santo àqueles que lho pedirem?

How much more shall the blood of Christ, who through the eternal Spirit offered himself without spot to God, purge your conscience from dead works to serve the living God?

Quanto mais o sangue de Cristo, que, pelo Espírito eterno, se ofereceu a si mesmo imaculado a Deus, purificará a vossa consciência das obras mortas, para servirdes ao Deus vivo?

But not as the offence, so also is the free gift. For if through the offence of one many be dead, much more the grace of God, and the gift by grace, which is by one man, Jesus Christ, hath abounded unto many.

Mas não é assim o dom gratuito como a ofensa; porque, se, pela ofensa de um, morreram muitos, muito mais a graça de Deus e o dom pela graça, que é de um só homem, Jesus Cristo, abundou sobre muitos.

Confess your faults one to another, and pray one for another, that ye may be healed. The effectual fervent prayer of a righteous man availeth much.

Confessai as vossas culpas uns aos outros e orai uns pelos outros, para que sareis; a oração feita por um justo pode muito em seus efeitos.

But now hath he obtained a more excellent ministry, by how much also he is the mediator of a better covenant, which was established upon better promises.

Mas agora alcançou ele ministério tanto mais excelente, quanto é mediador de um melhor concerto, que está confirmado em melhores promessas.

Behold the fowls of the air: for they sow not, neither do they reap, nor gather into barns; yet your heavenly Father feedeth them. Are ye not much better than they?

Olhai para as aves do céu, que não semeiam, nem segam, nem ajuntam em celeiros; e vosso Pai celestial as alimenta. Não tendes vós muito mais valor do que elas?

But when ye pray, use not vain repetitions, as the heathen do: for they think that they shall be heard for their much speaking.

E, orando, não useis de vãs repetições, como os gentios, que pensam que, por muito falarem, serão ouvidos.

But as for you, ye thought evil against me; but God meant it unto good, to bring to pass, as it is this day, to save much people alive.

Vós bem intentastes mal contra mim, porém Deus o tornou em bem, para fazer como se vê neste dia, para conservar em vida a um povo grande.

And let us consider one another to provoke unto love and to good works: Not forsaking the assembling of ourselves together, as the manner of some is; but exhorting one another: and so much the more, as ye see the day approaching.

E consideremo-nos uns aos outros, para nos estimularmos ao amor e às boas obras, não deixando a nossa congregação, como é costume de alguns; antes, admoestando-nos uns aos outros; e tanto mais quanto vedes que se vai aproximando aquele Dia.

Better is a little with righteousness than great revenues without right.

Melhor é o pouco com justiça do que a abundância de colheita com injustiça.

His lord said unto him, Well done, thou good and faithful servant: thou hast been faithful over a few things, I will make thee ruler over many things: enter thou into the joy of thy lord.

E o seu senhor lhe disse: Bem está, servo bom e fiel. Sobre o pouco foste fiel, sobre muito te colocarei; entra no gozo do teu senhor.
Bring ye all the tithes into the storehouse, that there may be meat in mine house, and prove me now herewith, saith the L

ord

of hosts, if I will not open you the windows of heaven, and pour you out a blessing, that there shall not be room enough to receive it.
Trazei todos os dízimos à casa do tesouro, para que haja mantimento na minha casa, e depois fazei prova de mim, diz o S

enhor

dos Exércitos, se eu não vos abrir as janelas do céu e não derramar sobre vós uma bênção tal, que dela vos advenha a maior abastança.

And Jesus answered and said, Verily I say unto you, There is no man that hath left house, or brethren, or sisters, or father, or mother, or wife, or children, or lands, for my sake, and the gospel's, But he shall receive an hundredfold now in this time, houses, and brethren, and sisters, and mothers, and children, and lands, with persecutions; and in the world to come eternal life.

E Jesus, respondendo, disse: Em verdade vos digo que ninguém há, que tenha deixado casa, ou irmãos, ou irmãs, ou pai, ou mãe, ou mulher, ou filhos, ou campos, por amor de mim e do evangelho, que não receba cem vezes tanto, já neste tempo, em casas, e irmãos, e irmãs, e mães, e filhos, e campos, com perseguições, e, no século futuro, a vida eterna.
And though I have the gift of prophecy, and understand all mysteries, and all knowledge; and though I have all faith, so that I could remove mountains, and have not charity, I am nothing.
Personal Bible reading plan
Create an account to configure your Bible reading plan and you will see your progress and the next chapter to read here!
Read more...