Bible Verses about 'Need'
«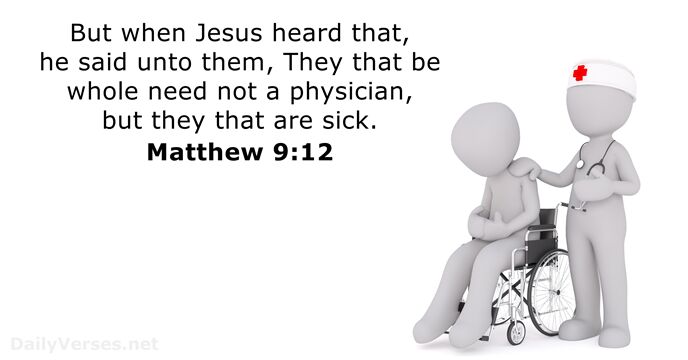 »
But when Jesus heard that, he said unto them, They that be whole need not a physician, but they that are sick.

Jesus, porém, ouvindo, disse-lhes: Não necessitam de médico os sãos, mas sim, os doentes.

But my God shall supply all your need according to his riches in glory by Christ Jesus.

O meu Deus, segundo as suas riquezas, suprirá todas as vossas necessidades em glória, por Cristo Jesus.

Let us therefore come boldly unto the throne of grace, that we may obtain mercy, and find grace to help in time of need.

Cheguemos, pois, com confiança ao trono da graça, para que possamos alcançar misericórdia e achar graça, a fim de sermos ajudados em tempo oportuno.

But whoso hath this world's good, and seeth his brother have need, and shutteth up his bowels of compassion from him, how dwelleth the love of God in him?

Quem, pois, tiver bens do mundo e, vendo o seu irmão necessitado, lhe cerrar o seu coração, como estará nele o amor de Deus?

I say unto you, that likewise joy shall be in heaven over one sinner that repenteth, more than over ninety and nine just persons, which need no repentance.

Digo-vos que assim haverá alegria no céu por um pecador que se arrepende, mais do que por noventa e nove justos que não necessitam de arrependimento.

I know both how to be abased, and I know how to abound: every where and in all things I am instructed both to be full and to be hungry, both to abound and to suffer need.

Sei estar abatido e sei também ter abundância; em toda a maneira e em todas as coisas, estou instruído, tanto a ter fartura como a ter fome, tanto a ter abundância como a padecer necessidade.

Study to shew thyself approved unto God, a workman that needeth not to be ashamed, rightly dividing the word of truth.

Procura apresentar-te a Deus aprovado, como obreiro que não tem de que se envergonhar, que maneja bem a palavra da verdade.

But the anointing which ye have received of him abideth in you, and ye need not that any man teach you: but as the same anointing teacheth you of all things, and is truth, and is no lie, and even as it hath taught you, ye shall abide in him.

E a unção que vós recebestes dele fica em vós, e não tendes necessidade de que alguém vos ensine; mas, como a sua unção vos ensina todas as coisas, e é verdadeira, e não é mentira, como ela vos ensinou, assim nele permanecereis.

Not that I speak in respect of want: for I have learned, in whatsoever state I am, therewith to be content.

Não digo isto como por necessidade, porque já aprendi a contentar-me com o que tenho.
The L

ord

shall fight for you, and ye shall hold your peace.
O S

enhor

pelejará por vós, e vos calareis.

Defend the poor and fatherless: do justice to the afflicted and needy.

Defendei o pobre e o órfão; fazei justiça ao aflito e necessitado.

Honour widows that are widows indeed.

Honra as viúvas que verdadeiramente são viúvas.

Open thy mouth, judge righteously, and plead the cause of the poor and needy.

Abre a tua boca, julga retamente e faze justiça aos pobres e aos necessitados.

And it came to pass, that he went through the corn fields on the sabbath day; and his disciples began, as they went, to pluck the ears of corn. And the Pharisees said unto him, Behold, why do they on the sabbath day that which is not lawful? And he said unto them, Have ye never read what David did, when he had need, and was an hungred, he, and they that were with him? How he went into the house of God in the days of Abiathar the high priest, and did eat the shewbread, which is not lawful to eat but for the priests, and gave also to them which were with him? And he said unto them, The sabbath was made for man, and not man for the sabbath: Therefore the Son of man is Lord also of the sabbath.

E aconteceu que, passando ele num sábado pelas searas, os seus discípulos, caminhando, começaram a colher espigas. E os fariseus lhe disseram: Vês? Por que fazem no sábado o que não é lícito? Mas ele disse-lhes: Nunca lestes o que fez Davi, quando estava em necessidade e teve fome, ele e os que com ele estavam? Como entrou na Casa de Deus, no tempo de Abiatar, sumo sacerdote, e comeu os pães da proposição, dos quais não era lícito comer senão aos sacerdotes, dando também aos que com ele estavam? E disse-lhes: O sábado foi feito por causa do homem, e não o homem, por causa do sábado. Assim, o Filho do Homem até do sábado é senhor.

For I am in a strait betwixt two, having a desire to depart, and to be with Christ; which is far better: Nevertheless to abide in the flesh is more needful for you.

Mas de ambos os lados estou em aperto, tendo desejo de partir e estar com Cristo, porque isto é ainda muito melhor. Mas julgo mais necessário, por amor de vós, ficar na carne.

According as his divine power hath given unto us all things that pertain unto life and godliness, through the knowledge of him that hath called us to glory and virtue.

Visto como o seu divino poder nos deu tudo o que diz respeito à vida e piedade, pelo conhecimento daquele que nos chamou por sua glória e virtude.

And God is able to make all grace abound toward you; that ye, always having all sufficiency in all things, may abound to every good work.

E Deus é poderoso para tornar abundante em vós toda graça, a fim de que, tendo sempre, em tudo, toda suficiência, superabundeis em toda boa obra.

But above all things, my brethren, swear not, neither by heaven, neither by the earth, neither by any other oath: but let your yea be yea; and your nay, nay; lest ye fall into condemnation.

Mas, sobretudo, meus irmãos, não jureis nem pelo céu nem pela terra, nem façais qualquer outro juramento; mas que a vossa palavra seja sim, sim e não, não, para que não caiais em condenação.
Bring ye all the tithes into the storehouse, that there may be meat in mine house, and prove me now herewith, saith the L

ord

of hosts, if I will not open you the windows of heaven, and pour you out a blessing, that there shall not be room enough to receive it.
Trazei todos os dízimos à casa do tesouro, para que haja mantimento na minha casa, e depois fazei prova de mim, diz o S

enhor

dos Exércitos, se eu não vos abrir as janelas do céu e não derramar sobre vós uma bênção tal, que dela vos advenha a maior abastança.

For the customs of the people are vain: for one cutteth a tree out of the forest, the work of the hands of the workman, with the axe. They deck it with silver and with gold; they fasten it with nails and with hammers, that it move not. They are upright as the palm tree, but speak not: they must needs be borne, because they cannot go. Be not afraid of them; for they cannot do evil, neither also is it in them to do good.

Porque os costumes dos povos são vaidade; pois cortam do bosque um madeiro, obra das mãos do artífice, com machado. Com prata e com ouro o enfeitam, com pregos e com martelos o firmam, para que não se mova. São como a palmeira, obra torneada, mas não podem falar; necessitam de quem os leve, porquanto não podem andar; não tenhais receio deles, pois não podem fazer mal, nem tampouco têm poder de fazer bem.
A soft answer turneth away wrath: but grievous words stir up anger.
Personal Bible reading plan
Create an account to configure your Bible reading plan and you will see your progress and the next chapter to read here!
Read more...