Bible Verses about 'Neither'
«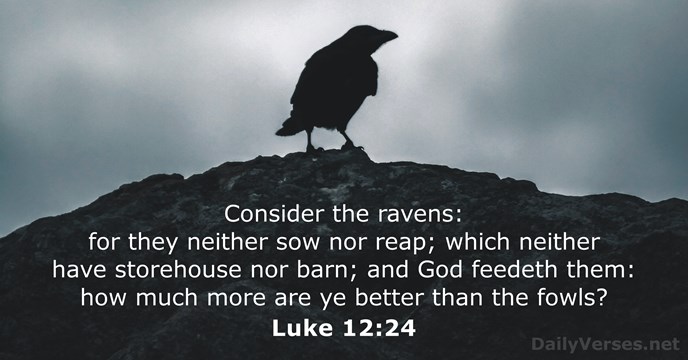 »
There is neither Jew nor Greek, there is neither bond nor free, there is neither male nor female: for ye are all one in Christ Jesus. And if ye be Christ's, then are ye Abraham's seed, and heirs according to the promise.

Nisto não há judeu nem grego; não há servo nem livre; não há macho nem fêmea; porque todos vós sois um em Cristo Jesus. E, se sois de Cristo, então, sois descendência de Abraão e herdeiros conforme a promessa.

Consider the ravens: for they neither sow nor reap; which neither have storehouse nor barn; and God feedeth them: how much more are ye better than the fowls?

Considerai os corvos, que nem semeiam, nem segam, nem têm despensa nem celeiro, e Deus os alimenta; quanto mais valeis vós do que as aves?

Remove far from me vanity and lies: give me neither poverty nor riches; feed me with food convenient for me.

Afasta de mim a vaidade e a palavra mentirosa; não me dês nem a pobreza nem a riqueza; mantém-me do pão da minha porção acostumada.

For my thoughts are not your thoughts, neither are your ways my ways, saith the L

ord

.
Porque os meus pensamentos não são os vossos pensamentos, nem os vossos caminhos, os meus caminhos, diz o S

enhor

.

For in Jesus Christ neither circumcision availeth any thing, nor uncircumcision; but faith which worketh by love.

Porque, em Jesus Cristo, nem a circuncisão nem a incircuncisão têm virtude alguma, mas, sim, a fé que opera por amor.

But if ye forgive not men their trespasses, neither will your Father forgive your trespasses.

Se, porém, não perdoardes aos homens as suas ofensas, também vosso Pai vos não perdoará as vossas ofensas.

For I am persuaded, that neither death, nor life, nor angels, nor principalities, nor powers, nor things present, nor things to come, Nor height, nor depth, nor any other creature, shall be able to separate us from the love of God, which is in Christ Jesus our Lord.

Porque estou certo de que nem a morte, nem a vida, nem os anjos, nem os principados, nem as potestades, nem o presente, nem o porvir, nem a altura, nem a profundidade, nem alguma outra criatura nos poderá separar do amor de Deus, que está em Cristo Jesus, nosso Senhor!

Peace I leave with you, my peace I give unto you: not as the world giveth, give I unto you. Let not your heart be troubled, neither let it be afraid.

Deixo-vos a paz, a minha paz vos dou; não vo-la dou como o mundo a dá. Não se turbe o vosso coração, nem se atemorize.

Behold the fowls of the air: for they sow not, neither do they reap, nor gather into barns; yet your heavenly Father feedeth them. Are ye not much better than they?

Olhai para as aves do céu, que não semeiam, nem segam, nem ajuntam em celeiros; e vosso Pai celestial as alimenta. Não tendes vós muito mais valor do que elas?

And he was there with the L

ord

forty days and forty nights; he did neither eat bread, nor drink water. And he wrote upon the tables the words of the covenant, the ten commandments.
E esteve Moisés ali com o S

enhor

quarenta dias e quarenta noites; não comeu pão, nem bebeu água, e escreveu nas tábuas as palavras do concerto, os dez mandamentos.

But above all things, my brethren, swear not, neither by heaven, neither by the earth, neither by any other oath: but let your yea be yea; and your nay, nay; lest ye fall into condemnation.

Mas, sobretudo, meus irmãos, não jureis nem pelo céu nem pela terra, nem façais qualquer outro juramento; mas que a vossa palavra seja sim, sim e não, não, para que não caiais em condenação.

They shall hunger no more, neither thirst any more; neither shall the sun light on them, nor any heat. For the Lamb which is in the midst of the throne shall feed them, and shall lead them unto living fountains of waters: and God shall wipe away all tears from their eyes.

Nunca mais terão fome, nunca mais terão sede; nem sol nem calma alguma cairá sobre eles, porque o Cordeiro que está no meio do trono os apascentará e lhes servirá de guia para as fontes das águas da vida; e Deus limpará de seus olhos toda lágrima.

Know ye not that the unrighteous shall not inherit the kingdom of God? Be not deceived: neither fornicators, nor idolaters, nor adulterers, nor effeminate, nor abusers of themselves with mankind, Nor thieves, nor covetous, nor drunkards, nor revilers, nor extortioners, shall inherit the kingdom of God.

Não sabeis que os injustos não hão de herdar o Reino de Deus? Não erreis: nem os devassos, nem os idólatras, nem os adúlteros, nem os efeminados, nem os sodomitas, nem os ladrões, nem os avarentos, nem os bêbados, nem os maldizentes, nem os roubadores herdarão o Reino de Deus.

I ate no pleasant bread, neither came flesh nor wine in my mouth, neither did I anoint myself at all, till three whole weeks were fulfilled.

Manjar desejável não comi, nem carne nem vinho entraram na minha boca, nem me ungi com unguento, até que se cumpriram as três semanas.

Lay not up for yourselves treasures upon earth, where moth and rust doth corrupt, and where thieves break through and steal: But lay up for yourselves treasures in heaven, where neither moth nor rust doth corrupt, and where thieves do not break through nor steal.

Não ajunteis tesouros na terra, onde a traça e a ferrugem tudo consomem, e onde os ladrões minam e roubam. Mas ajuntai tesouros no céu, onde nem a traça nem a ferrugem consomem, e onde os ladrões não minam, nem roubam.
And the L

ord

, he it is that doth go before thee; he will be with thee, he will not fail thee, neither forsake thee: fear not, neither be dismayed.
O S

enhor

, pois, é aquele que vai adiante de ti; ele será contigo, não te deixará, nem te desamparará; não temas, nem te espantes.
Hast thou not known? hast thou not heard, that the everlasting God, the L

ord

, the Creator of the ends of the earth, fainteth not, neither is weary? there is no searching of his understanding.
Não sabes, não ouviste que o eterno Deus, o S

enhor

, o Criador dos confins da terra, nem se cansa, nem se fatiga? Não há esquadrinhação do seu entendimento.

And the multitude of them that believed were of one heart and of one soul: neither said any of them that ought of the things which he possessed was his own; but they had all things common.

E era um o coração e a alma da multidão dos que criam, e ninguém dizia que coisa alguma do que possuía era sua própria, mas todas as coisas lhes eram comuns.

And I will establish my covenant with you, neither shall all flesh be cut off any more by the waters of a flood; neither shall there any more be a flood to destroy the earth.

E eu convosco estabeleço o meu concerto, que não será mais destruída toda carne pelas águas do dilúvio e que não haverá mais dilúvio para destruir a terra.

My little children, let us not love in word, neither in tongue; but in deed and in truth.

Meus filhinhos, não amemos de palavra, nem de língua, mas por obra e em verdade.

Ye shall not make with me gods of silver, neither shall ye make unto you gods of gold.

Não fareis outros deuses comigo; deuses de prata ou deuses de ouro não fareis para vós.

Get wisdom, get understanding: forget it not; neither decline from the words of my mouth.

Adquire a sabedoria, adquire a inteligência e não te esqueças nem te apartes das palavras da minha boca.

For there is nothing covered, that shall not be revealed; neither hid, that shall not be known.

Mas nada há encoberto que não haja de ser descoberto; nem oculto, que não haja de ser sabido.

And whosoever speaketh a word against the Son of man, it shall be forgiven him: but whosoever speaketh against the Holy Ghost, it shall not be forgiven him, neither in this world, neither in the world to come.

E, se qualquer disser alguma palavra contra o Filho do Homem, ser-lhe-á perdoado, mas, se alguém falar contra o Espírito Santo, não lhe será perdoado, nem neste século nem no futuro.
There is none holy as the L

ord

: for there is none beside thee: neither is there any rock like our God.
Não há santo como é o S

enhor

; porque não há outro fora de ti; e rocha nenhuma há como o nosso Deus.
And though I have the gift of prophecy, and understand all mysteries, and all knowledge; and though I have all faith, so that I could remove mountains, and have not charity, I am nothing.
Personal Bible reading plan
Create an account to configure your Bible reading plan and you will see your progress and the next chapter to read here!
Read more...