Bible Verses about 'No'
«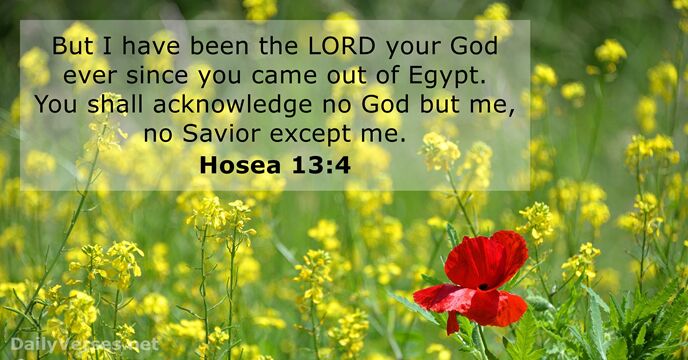 »
I ate no choice food; no meat or wine touched my lips; and I used no lotions at all until the three weeks were over.

Kolmeen viikkoon en syönyt tuoretta leipää, en pannut suuhuni lihaa enkä viiniä enkä voidellut itseäni öljyllä.

But I have been the L

ord

your God ever since you came out of Egypt. You shall acknowledge no God but me, no Savior except me.

Mutta minä olen Herra, sinun Jumalasi, minä toin sinut Egyptistä. Muuta jumalaa sinulla ei ole, ei muuta auttajaa kuin minä yksin.

There is no one holy like the L

ord

; there is no one besides you; there is no Rock like our God.

Vain Herra on pyhä, ei ole toista, meidän Jumalamme yksin on luja kallio.

You are altogether beautiful, my darling; there is no flaw in you.

Rakkaani, kaikki sinussa on kaunista, sinä olet täydellinen!

No one should seek their own good, but the good of others.

Kenenkään ei pidä etsiä omaa etuaan vaan toisen parasta.

I have no greater joy than to hear that my children are walking in the truth.

Mikään ei tuota minulle suurempaa iloa kuin se, että kuulen lasteni elävän totuudessa.

Greater love has no one than this: to lay down one's life for one's friends.

Suurempaa rakkautta ei kukaan voi osoittaa, kuin että antaa henkensä ystäviensä puolesta.

Love does no harm to a neighbor. Therefore love is the fulfillment of the law.

Rakkaus ei tee lähimmäiselle mitään pahaa. Näin rakkaus toteuttaa koko lain.

Fools find no pleasure in understanding but delight in airing their own opinions.

Moukka ei yritäkään ymmärtää, silti hän tahtoo mielipiteensä julki.

I tell you, no! But unless you repent, you too will all perish.

Eivät suinkaan – samalla tavoin te kaikki olette tuhon omia, ellette käänny.

I am coming soon. Hold on to what you have, so that no one will take your crown.

Minä tulen pian. Pidä kiinni siitä mitä sinulla on, ettei kukaan vie voitonseppelettäsi.

Salvation is found in no one else, for there is no other name under heaven given to mankind by which we must be saved.

Ei kukaan muu voi pelastaa kuin hän. Mitään muuta nimeä, joka meidät pelastaisi, ei ole ihmisille annettu koko taivaankannen alla.

For I will forgive their wickedness and will remember their sins no more.

Minä annan anteeksi heidän rikkomuksensa enkä enää milloinkaan muista heidän syntejään.

Though the fig tree does not bud and there are no grapes on the vines, though the olive crop fails and the fields produce no food, though there are no sheep in the pen and no cattle in the stalls, yet I will rejoice in the L

ord

, I will be joyful in God my Savior.

Vielä ei viikunapuu ole kukassa, viiniköynnöksissä ei ole rypäleitä, vielä ei oliivipuu kanna hedelmää eikä pelloilla kypsy vilja, vielä ei aitauksessa ole lampaita eikä karjaa tarhassa. Mutta jo nyt minä riemuitsen Herrasta, iloitsen Jumalastani, joka pelastaa.

Make every effort to live in peace with everyone and to be holy; without holiness no one will see the Lord.

Tavoitelkaa rauhaa kaikkien kanssa ja pyrkikää pyhitykseen, sillä ilman sitä ei kukaan ole näkevä Herraa.

For I take no pleasure in the death of anyone, declares the Sovereign L

ord

. Repent and live!

En minä tahdo kenenkään kuolemaa – näin sanoo Herra Jumala. Kääntykää, niin saatte elää!

Jesus answered, "I am the way and the truth and the life. No one comes to the Father except through me."

Jeesus vastasi: »Minä olen tie, totuus ja elämä. Ei kukaan pääse Isän luo muuten kuin minun kauttani.»

Direct my footsteps according to your word; let no sin rule over me.

Tee kulkuni vakaaksi ohjeillasi, älä anna minkään vääryyden vallita minua.

For no word from God will ever fail.

Jumalalle ei mikään ole mahdotonta.

When tempted, no one should say, "God is tempting me." For God cannot be tempted by evil, nor does he tempt anyone.

Älköön kukaan kiusauksiin jouduttuaan ajatelko, että kiusaus tulee Jumalalta. Jumala ei ole pahan kiusattavissa, eikä hän itse kiusaa ketään.

No one has ever seen God; but if we love one another, God lives in us and his love is made complete in us.

Jumalaa ei kukaan ole koskaan nähnyt. Mutta jos me rakastamme toisiamme, Jumala pysyy meissä ja hänen rakkautensa on saavuttanut meissä päämääränsä.

Let no debt remain outstanding, except the continuing debt to love one another, for whoever loves others has fulfilled the law.

Älkää olko kenellekään mitään velkaa, paitsi että rakastatte toisianne. Joka rakastaa toista, on täyttänyt lain vaatimukset.

God made him who had no sin to be sin for us, so that in him we might become the righteousness of God.

Kristukseen, joka oli puhdas synnistä, Jumala siirsi kaikki meidän syntimme, jotta me hänessä saisimme Jumalan vanhurskauden.

No one has ever seen God, but the one and only Son, who is himself God and is in closest relationship with the Father, has made him known.

Jumalaa ei kukaan ole koskaan nähnyt. Ainoa Poika, joka itse on Jumala ja joka aina on Isän vierellä, on opettanut meidät tuntemaan hänet.

This is the message we have heard from him and declare to you: God is light; in him there is no darkness at all.

Tämä on se sanoma, jonka olemme häneltä kuulleet ja jonka julistamme teille: Jumala on valo, hänessä ei ole pimeyden häivää.
Jesus looked at them and said, "With man this is impossible, but with God all things are possible."
Personal Bible reading plan
Create an account to configure your Bible reading plan and you will see your progress and the next chapter to read here!
Read more...