Bible Verses about 'Or'
«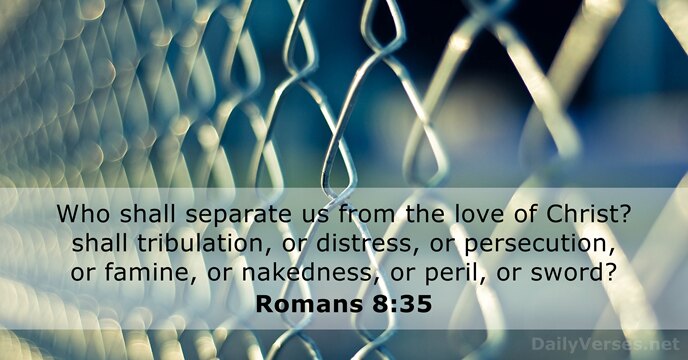 »
Who shall separate us from the love of Christ? shall tribulation, or distress, or persecution, or famine, or nakedness, or peril, or sword?

Quem nos separará do amor de Cristo? A tribulação, ou a angústia, ou a perseguição, ou a fome, ou a nudez, ou o perigo, ou a espada?

Whether therefore ye eat, or drink, or whatsoever ye do, do all to the glory of God.

Portanto, quer comais, quer bebais ou façais outra qualquer coisa, fazei tudo para a glória de Deus.

Let no man therefore judge you in meat, or in drink, or in respect of an holyday, or of the new moon, or of the sabbath days: Which are a shadow of things to come; but the body is of Christ.

Portanto, ninguém vos julgue pelo comer, ou pelo beber, ou por causa dos dias de festa, ou da lua nova, ou dos sábados, que são sombras das coisas futuras, mas o corpo é de Cristo.

And Jesus answered and said, Verily I say unto you, There is no man that hath left house, or brethren, or sisters, or father, or mother, or wife, or children, or lands, for my sake, and the gospel's, But he shall receive an hundredfold now in this time, houses, and brethren, and sisters, and mothers, and children, and lands, with persecutions; and in the world to come eternal life.

E Jesus, respondendo, disse: Em verdade vos digo que ninguém há, que tenha deixado casa, ou irmãos, ou irmãs, ou pai, ou mãe, ou mulher, ou filhos, ou campos, por amor de mim e do evangelho, que não receba cem vezes tanto, já neste tempo, em casas, e irmãos, e irmãs, e mães, e filhos, e campos, com perseguições, e, no século futuro, a vida eterna.

For do I now persuade men, or God? or do I seek to please men? for if I yet pleased men, I should not be the servant of Christ.

Porque persuado eu agora a homens ou a Deus? Ou procuro agradar a homens? Se estivesse ainda agradando aos homens, não seria servo de Cristo.

In like manner also, that women adorn themselves in modest apparel, with shamefacedness and sobriety; not with broided hair, or gold, or pearls, or costly array; But (which becometh women professing godliness) with good works.

Que do mesmo modo as mulheres se ataviem em traje honesto, com pudor e modéstia, não com tranças, ou com ouro, ou pérolas, ou vestidos preciosos, mas (como convém a mulheres que fazem profissão de servir a Deus) com boas obras.

For by one Spirit are we all baptized into one body, whether we be Jews or Gentiles, whether we be bond or free; and have been all made to drink into one Spirit.

Pois todos nós fomos batizados em um Espírito, formando um corpo, quer judeus, quer gregos, quer servos, quer livres, e todos temos bebido de um Espírito.

For where two or three are gathered together in my name, there am I in the midst of them.

Porque onde estiverem dois ou três reunidos em meu nome, aí estou eu no meio deles.

For who is God save the L

ord

? or who is a rock save our God?
Porque, quem é Deus senão o S

enhor

? E quem é rochedo senão o nosso Deus?

Think not that I am come to destroy the law, or the prophets: I am not come to destroy, but to fulfil.

Não cuideis que vim destruir a lei ou os profetas; não vim ab-rogar, mas cumprir.

But fornication, and all uncleanness, or covetousness, let it not be once named among you, as becometh saints.

Mas a prostituição e toda impureza ou avareza nem ainda se nomeiem entre vós, como convém a santos.

Though I speak with the tongues of men and of angels, and have not charity, I am become as sounding brass, or a tinkling cymbal.

Ainda que eu falasse as línguas dos homens e dos anjos e não tivesse amor, seria como o metal que soa ou como o sino que tine.

Let nothing be done through strife or vainglory; but in lowliness of mind let each esteem other better than themselves.

Nada façais por contenda ou por vanglória, mas por humildade; cada um considere os outros superiores a si mesmo.

And whatsoever ye do in word or deed, do all in the name of the Lord Jesus, giving thanks to God and the Father by him.

E, quanto fizerdes por palavras ou por obras, fazei tudo em nome do Senhor Jesus, dando por ele graças a Deus Pai.

For whether we live, we live unto the Lord; and whether we die, we die unto the Lord: whether we live therefore, or die, we are the Lord's.

Porque, se vivemos, para o Senhor vivemos; se morremos, para o Senhor morremos. De sorte que, ou vivamos ou morramos, somos do Senhor.

Every man according as he purposeth in his heart, so let him give; not grudgingly, or of necessity: for God loveth a cheerful giver.

Cada um contribua segundo propôs no seu coração, não com tristeza ou por necessidade; porque Deus ama ao que dá com alegria.

For what is a man profited, if he shall gain the whole world, and lose his own soul? or what shall a man give in exchange for his soul?

Pois que aproveita ao homem ganhar o mundo inteiro, se perder a sua alma? Ou que dará o homem em recompensa da sua alma?

Before the mountains were brought forth, or ever thou hadst formed the earth and the world, even from everlasting to everlasting, thou art God.

Antes que os montes nascessem, ou que tu formasses a terra e o mundo, sim, de eternidade a eternidade, tu és Deus.

Let us not therefore judge one another any more: but judge this rather, that no man put a stumblingblock or an occasion to fall in his brother's way.

Assim que não nos julguemos mais uns aos outros; antes, seja o vosso propósito não pôr tropeço ou escândalo ao irmão.

He therefore that ministereth to you the Spirit, and worketh miracles among you, doeth he it by the works of the law, or by the hearing of faith?

Aquele, pois, que vos dá o Espírito e que opera maravilhas entre vós o faz pelas obras da lei ou pela pregação da fé?

Not rendering evil for evil, or railing for railing: but contrariwise blessing; knowing that ye are thereunto called, that ye should inherit a blessing.

Não tornando mal por mal ou injúria por injúria; antes, pelo contrário, bendizendo, sabendo que para isto fostes chamados, para que, por herança, alcanceis a bênção.

Who art thou that judgest another man's servant? to his own master he standeth or falleth. Yea, he shall be holden up: for God is able to make him stand.

Quem és tu que julgas o servo alheio? Para seu próprio senhor ele está em pé ou cai; mas estará firme, porque poderoso é Deus para o firmar.

No man, when he hath lighted a candle, covereth it with a vessel, or putteth it under a bed; but setteth it on a candlestick, that they which enter in may see the light.

E ninguém, acendendo uma candeia, a cobre com algum vaso ou a põe debaixo da cama; mas põe-na no velador, para que os que entram vejam a luz.

God is not a man, that he should lie; neither the son of man, that he should repent: hath he said, and shall he not do it? or hath he spoken, and shall he not make it good?

Deus não é homem, para que minta; nem filho de homem, para que se arrependa; porventura, diria ele e não o faria? Ou falaria e não o confirmaria?

No man can serve two masters: for either he will hate the one, and love the other; or else he will hold to the one, and despise the other. Ye cannot serve God and mammon.

Ninguém pode servir a dois senhores, porque ou há de odiar um e amar o outro ou se dedicará a um e desprezará o outro. Não podeis servir a Deus e a Mamom.
And this is the confidence that we have in him, that, if we ask any thing according to his will, he heareth us.
Personal Bible reading plan
Create an account to configure your Bible reading plan and you will see your progress and the next chapter to read here!
Read more...