Bible Verses about 'Other'
«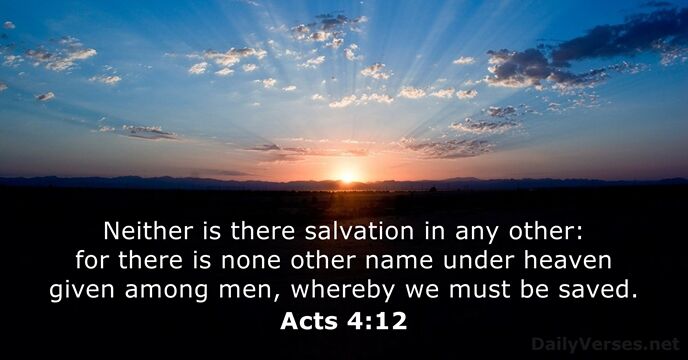 »
Neither is there salvation in any other: for there is none other name under heaven given among men, whereby we must be saved.

E em nenhum outro há salvação, porque também debaixo do céu nenhum outro nome há, dado entre os homens, pelo qual devamos ser salvos.

No man can serve two masters: for either he will hate the one, and love the other; or else he will hold to the one, and despise the other. Ye cannot serve God and mammon.

Ninguém pode servir a dois senhores, porque ou há de odiar um e amar o outro ou se dedicará a um e desprezará o outro. Não podeis servir a Deus e a Mamom.

And the second is like, namely this, Thou shalt love thy neighbour as thyself. There is none other commandment greater than these.

E o segundo, semelhante a este, é: Amarás o teu próximo como a ti mesmo. Não há outro mandamento maior do que estes.

Then went in also that other disciple, which came first to the sepulchre, and he saw, and believed. For as yet they knew not the scripture, that he must rise again from the dead.

Então, entrou também o outro discípulo, que chegara primeiro ao sepulcro, e viu, e creu. Porque ainda não sabiam a Escritura, que diz que era necessário que ressuscitasse dos mortos.

In the day of prosperity be joyful, but in the day of adversity consider: God also hath set the one over against the other, to the end that man should find nothing after him.

No dia da prosperidade, goza do bem, mas, no dia da adversidade, considera; porque também Deus fez este em oposição àquele, para que o homem nada ache que tenha de vir depois dele.

But above all things, my brethren, swear not, neither by heaven, neither by the earth, neither by any other oath: but let your yea be yea; and your nay, nay; lest ye fall into condemnation.

Mas, sobretudo, meus irmãos, não jureis nem pelo céu nem pela terra, nem façais qualquer outro juramento; mas que a vossa palavra seja sim, sim e não, não, para que não caiais em condenação.

And there appeared unto them cloven tongues like as of fire, and it sat upon each of them. And they were all filled with the Holy Ghost, and began to speak with other tongues, as the Spirit gave them utterance.

E foram vistas por eles línguas repartidas, como que de fogo, as quais pousaram sobre cada um deles. E todos foram cheios do Espírito Santo e começaram a falar em outras línguas, conforme o Espírito Santo lhes concedia que falassem.

For the flesh lusteth against the Spirit, and the Spirit against the flesh: and these are contrary the one to the other: so that ye cannot do the things that ye would.

Porque a carne cobiça contra o Espírito, e o Espírito, contra a carne; e estes opõem-se um ao outro; para que não façais o que quereis.

And ye shall be holy unto me: for I the L

ord

am holy, and have severed you from other people, that ye should be mine.
E ser-me-eis santos, porque eu, o S

enhor

, sou santo e separei-vos dos povos, para serdes meus.

Let nothing be done through strife or vainglory; but in lowliness of mind let each esteem other better than themselves.

Nada façais por contenda ou por vanglória, mas por humildade; cada um considere os outros superiores a si mesmo.

For this, Thou shalt not commit adultery, Thou shalt not kill, Thou shalt not steal, Thou shalt not bear false witness, Thou shalt not covet; and if there be any other commandment, it is briefly comprehended in this saying, namely, Thou shalt love thy neighbour as thyself.

Com efeito: Não adulterarás, não matarás, não furtarás, não darás falso testemunho, não cobiçarás, e, se há algum outro mandamento, tudo nesta palavra se resume: Amarás ao teu próximo como a ti mesmo.

We are bound to thank God always for you, brethren, as it is meet, because that your faith groweth exceedingly, and the charity of every one of you all toward each other aboundeth.

Sempre devemos, irmãos, dar graças a Deus por vós, como é de razão, porque a vossa fé cresce muitíssimo, e o amor de cada um de vós aumenta de uns para com os outros.

Defraud ye not one the other, except it be with consent for a time, that ye may give yourselves to fasting and prayer; and come together again, that Satan tempt you not for your incontinency.

Não vos defraudeis um ao outro, senão por consentimento mútuo, por algum tempo, para vos aplicardes à oração; e, depois, ajuntai-vos outra vez, para que Satanás vos não tente pela vossa incontinência.

Know therefore this day, and consider it in thine heart, that the L

ord

he is God in heaven above, and upon the earth beneath: there is none else.
Pelo que hoje saberás e refletirás no teu coração que só o S

enhor

é Deus em cima no céu e embaixo na terra; nenhum outro há.

For if ye throughly amend your ways and your doings; if ye throughly execute judgment between a man and his neighbour; If ye oppress not the stranger, the fatherless, and the widow, and shed not innocent blood in this place, neither walk after other gods to your hurt: Then will I cause you to dwell in this place, in the land that I gave to your fathers, for ever and ever.

Mas, se deveras melhorardes os vossos caminhos e as vossas obras, se deveras fizerdes juízo entre um homem e entre o seu companheiro, se não oprimirdes o estrangeiro, e o órfão, e a viúva, nem derramardes sangue inocente neste lugar, nem andardes após outros deuses para vosso próprio mal, eu vos farei habitar neste lugar, na terra que dei a vossos pais, de século em século.

For I am persuaded, that neither death, nor life, nor angels, nor principalities, nor powers, nor things present, nor things to come, Nor height, nor depth, nor any other creature, shall be able to separate us from the love of God, which is in Christ Jesus our Lord.

Porque estou certo de que nem a morte, nem a vida, nem os anjos, nem os principados, nem as potestades, nem o presente, nem o porvir, nem a altura, nem a profundidade, nem alguma outra criatura nos poderá separar do amor de Deus, que está em Cristo Jesus, nosso Senhor!

And if it seem evil unto you to serve the L

ord

, choose you this day whom ye will serve; whether the gods which your fathers served that were on the other side of the flood, or the gods of the Amorites, in whose land ye dwell: but as for me and my house, we will serve the L

ord

.
Porém, se vos parece mal aos vossos olhos servir ao S

enhor

, escolhei hoje a quem sirvais: se os deuses a quem serviram vossos pais, que estavam dalém do rio, ou os deuses dos amorreus, em cuja terra habitais; porém eu e a minha casa serviremos ao S

enhor

.

Wherefore comfort yourselves together, and edify one another, even as also ye do.

Pelo que exortai-vos uns aos outros e edificai-vos uns aos outros, como também o fazeis.

Having therefore obtained help of God, I continue unto this day, witnessing both to small and great, saying none other things than those which the prophets and Moses did say should come: That Christ should suffer, and that he should be the first that should rise from the dead, and should shew light unto the people, and to the Gentiles.

Mas, alcançando socorro de Deus, ainda até ao dia de hoje permaneço, dando testemunho, tanto a pequenos como a grandes, não dizendo nada mais do que o que os profetas e Moisés disseram que devia acontecer, isto é, que o Cristo devia padecer e, sendo o primeiro da ressurreição dos mortos, devia anunciar a luz a este povo e aos gentios.

Forbearing one another, and forgiving one another, if any man have a quarrel against any: even as Christ forgave you, so also do ye.

Suportando-vos uns aos outros e perdoando-vos uns aos outros, se algum tiver queixa contra outro; assim como Cristo vos perdoou, assim fazei vós também.

Owe no man any thing, but to love one another: for he that loveth another hath fulfilled the law.

A ninguém devais coisa alguma, a não ser o amor com que vos ameis uns aos outros; porque quem ama aos outros cumpriu a lei.

This is my commandment, That ye love one another, as I have loved you.

O meu mandamento é este: Que vos ameis uns aos outros, assim como eu vos amei.

When a man hath taken a new wife, he shall not go out to war, neither shall he be charged with any business: but he shall be free at home one year, and shall cheer up his wife which he hath taken.

Quando algum homem tomar uma mulher nova, não sairá à guerra, nem se lhe imporá carga alguma; por um ano inteiro ficará livre na sua casa e alegrará a sua mulher, que tomou.

Confess your faults one to another, and pray one for another, that ye may be healed. The effectual fervent prayer of a righteous man availeth much.

Confessai as vossas culpas uns aos outros e orai uns pelos outros, para que sareis; a oração feita por um justo pode muito em seus efeitos.

And above all things have fervent charity among yourselves: for charity shall cover the multitude of sins.

Mas, sobretudo, tende ardente amor uns para com os outros, porque o amor cobrirá a multidão de pecados.
Beware of false prophets, which come to you in sheep's clothing, but inwardly they are ravening wolves.
Personal Bible reading plan
Create an account to configure your Bible reading plan and you will see your progress and the next chapter to read here!
Read more...