Bible Verses about 'Ought'
«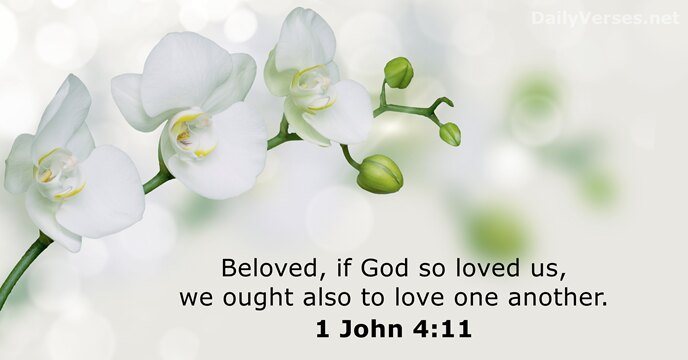 »
Beloved, if God so loved us, we ought also to love one another.

Amados, se Deus assim nos amou, também nós devemos amar uns aos outros.

If I then, your Lord and Master, have washed your feet; ye also ought to wash one another's feet.

Ora, se eu, Senhor e Mestre, vos lavei os pés, vós deveis também lavar os pés uns aos outros.

Out of the same mouth proceedeth blessing and cursing. My brethren, these things ought not so to be.

De uma mesma boca procede bênção e maldição. Meus irmãos, não convém que isto se faça assim.

So ought men to love their wives as their own bodies. He that loveth his wife loveth himself.

Assim devem os maridos amar a sua própria mulher como a seu próprio corpo. Quem ama a sua mulher ama-se a si mesmo.

Hereby perceive we the love of God, because he laid down his life for us: and we ought to lay down our lives for the brethren.

Conhecemos o amor nisto: que ele deu a sua vida por nós, e nós devemos dar a vida pelos irmãos.

Likewise the Spirit also helpeth our infirmities: for we know not what we should pray for as we ought: but the Spirit itself maketh intercession for us with groanings which cannot be uttered.

E da mesma maneira também o Espírito ajuda as nossas fraquezas; porque não sabemos o que havemos de pedir como convém, mas o mesmo Espírito intercede por nós com gemidos inexprimíveis.

Walk in wisdom toward them that are without, redeeming the time. Let your speech be always with grace, seasoned with salt, that ye may know how ye ought to answer every man.

Andai com sabedoria para com os que estão de fora, remindo o tempo. A vossa palavra seja sempre agradável, temperada com sal, para que saibais como vos convém responder a cada um.

For I say, through the grace given unto me, to every man that is among you, not to think of himself more highly than he ought to think; but to think soberly, according as God hath dealt to every man the measure of faith.

Porque, pela graça que me é dada, digo a cada um dentre vós que não saiba mais do que convém saber, mas que saiba com temperança, conforme a medida da fé que Deus repartiu a cada um.

And when ye stand praying, forgive, if ye have ought against any: that your Father also which is in heaven may forgive you your trespasses.

E, quando estiverdes orando, perdoai, se tendes alguma coisa contra alguém, para que vosso Pai, que está nos céus, vos perdoe as vossas ofensas.
Ye shall not add unto the word which I command you, neither shall ye diminish ought from it, that ye may keep the commandments of the L

ord

your God which I command you.
Nada acrescentareis à palavra que vos mando, nem diminuireis dela, para que guardeis os mandamentos do S

enhor

, vosso Deus, que eu vos mando.

And the multitude of them that believed were of one heart and of one soul: neither said any of them that ought of the things which he possessed was his own; but they had all things common.

E era um o coração e a alma da multidão dos que criam, e ninguém dizia que coisa alguma do que possuía era sua própria, mas todas as coisas lhes eram comuns.

We are bound to thank God always for you, brethren, as it is meet, because that your faith groweth exceedingly, and the charity of every one of you all toward each other aboundeth.

Sempre devemos, irmãos, dar graças a Deus por vós, como é de razão, porque a vossa fé cresce muitíssimo, e o amor de cada um de vós aumenta de uns para com os outros.

And he was teaching in one of the synagogues on the sabbath. And, behold, there was a woman which had a spirit of infirmity eighteen years, and was bowed together, and could in no wise lift up herself. And when Jesus saw her, he called her to him, and said unto her, Woman, thou art loosed from thine infirmity. And he laid his hands on her: and immediately she was made straight, and glorified God. And the ruler of the synagogue answered with indignation, because that Jesus had healed on the sabbath day, and said unto the people, There are six days in which men ought to work: in them therefore come and be healed, and not on the sabbath day. The Lord then answered him, and said, Thou hypocrite, doth not each one of you on the sabbath loose his ox or his ass from the stall, and lead him away to watering? And ought not this woman, being a daughter of Abraham, whom Satan hath bound, lo, these eighteen years, be loosed from this bond on the sabbath day? And when he had said these things, all his adversaries were ashamed: and all the people rejoiced for all the glorious things that were done by him.

E ensinava no sábado, numa das sinagogas. E eis que estava ali uma mulher que tinha um espírito de enfermidade havia já dezoito anos; e andava curvada e não podia de modo algum endireitar-se. E, vendo-a Jesus, chamou-a a si, e disse-lhe: Mulher, estás livre da tua enfermidade. E impôs as mãos sobre ela, e logo se endireitou e glorificava a Deus. E, tomando a palavra o príncipe da sinagoga, indignado porque Jesus curava no sábado, disse à multidão: Seis dias há em que é mister trabalhar; nestes, pois, vinde para serdes curados e não no dia de sábado. Respondeu-lhe, porém, o Senhor e disse: Hipócrita, no sábado não desprende da manjedoura cada um de vós o seu boi ou jumento e não o leva a beber água? E não convinha soltar desta prisão, no dia de sábado, esta filha de Abraão, a qual há dezoito anos Satanás mantinha presa? E, dizendo ele isso, todos os seus adversários ficaram envergonhados, e todo o povo se alegrava por todas as coisas gloriosas que eram feitas por ele.

Awake to righteousness, and sin not; for some have not the knowledge of God: I speak this to your shame.

Vigiai justamente e não pequeis; porque alguns ainda não têm o conhecimento de Deus; digo-o para vergonha vossa.
And if a soul sin, and commit any of these things which are forbidden to be done by the commandments of the L

ord

; though he wist it not, yet is he guilty, and shall bear his iniquity.
E, se alguma pessoa pecar e fizer contra algum de todos os mandamentos do S

enhor

o que se não deve fazer, ainda que o não soubesse, contudo, será ela culpada e levará a sua iniquidade.

Let the brother of low degree rejoice in that he is exalted: But the rich, in that he is made low: because as the flower of the grass he shall pass away.

Mas glorie-se o irmão abatido na sua exaltação, e o rico, em seu abatimento, porque ele passará como a flor da erva.

For my thoughts are not your thoughts, neither are your ways my ways, saith the L

ord

.
Porque os meus pensamentos não são os vossos pensamentos, nem os vossos caminhos, os meus caminhos, diz o S

enhor

.

For as the heavens are higher than the earth, so are my ways higher than your ways, and my thoughts than your thoughts.

Porque, assim como os céus são mais altos do que a terra, assim são os meus caminhos mais altos do que os vossos caminhos, e os meus pensamentos, mais altos do que os vossos pensamentos.
For I know the thoughts that I think toward you, saith the L

ord

, thoughts of peace, and not of evil, to give you an expected end.
Porque eu bem sei os pensamentos que penso de vós, diz o S

enhor

; pensamentos de paz e não de mal, para vos dar o fim que esperais.

So we fasted and besought our God for this: and he was intreated of us.

Nós, pois, jejuamos e pedimos isso ao nosso Deus, e moveu-se pelas nossas orações.

Commit thy works unto the L

ord

, and thy thoughts shall be established.
Confia ao S

enhor

as tuas obras, e teus pensamentos serão estabelecidos.

In the multitude of my thoughts within me thy comforts delight my soul.

Multiplicando-se dentro de mim os meus cuidados, as tuas consolações reanimaram a minha alma.

Take therefore no thought for the morrow: for the morrow shall take thought for the things of itself. Sufficient unto the day is the evil thereof.

Não vos inquieteis, pois, pelo dia de amanhã, porque o dia de amanhã cuidará de si mesmo. Basta a cada dia o seu mal.
I sought the L

ord

, and he heard me, and delivered me from all my fears.
Busquei ao S

enhor

, e ele me respondeu; livrou-me de todos os meus temores.

I am sought of them that asked not for me; I am found of them that sought me not: I said, Behold me, behold me, unto a nation that was not called by my name.

Fui buscado pelos que não perguntavam por mim; fui achado por aqueles que me não buscavam; a um povo que se não chamava do meu nome eu disse: Eis-me aqui.
A soft answer turneth away wrath: but grievous words stir up anger.
Personal Bible reading plan
Create an account to configure your Bible reading plan and you will see your progress and the next chapter to read here!
Read more...