12 Bible Verses about 'Presence'
«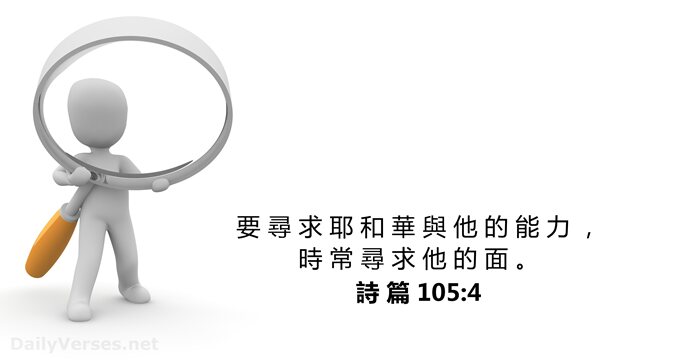 »
You make known to me the path of life; in your presence there is fullness of joy; at your right hand are pleasures forevermore.

你 必 將 生 命 的 道 路 指 示 我 。 在 你 面 前 有 滿 足 的 喜 樂 ; 在 你 右 手 中 有 永 遠 的 福 樂 。

Seek the L

ord

and his strength; seek his presence continually!

要 尋 求 耶 和 華 與 他 的 能 力 , 時 常 尋 求 他 的 面 。

Seek the L

ord

and his strength; seek his presence continually!

要 尋 求 耶 和 華 與 他 的 能 力 , 時 常 尋 求 他 的 面 。

Where shall I go from your Spirit? Or where shall I flee from your presence? If I ascend to heaven, you are there! If I make my bed in Sheol, you are there!

我 往 哪 裡 去 躲 避 你 的 靈 ? 我 往 哪 裡 逃 、 躲 避 你 的 面 ? 我 若 升 到 天 上 , 你 在 那 裡 ; 我 若 在 陰 間 下 榻 , 你 也 在 那 裡 。

And the L

ord

said to Satan, "Behold, all that he has is in your hand. Only against him do not stretch out your hand." So Satan went out from the presence of the L

ord

.

耶 和 華 對 撒 但 說 : 「 凡 他 所 有 的 都 在 你 手 中 ; 只 是 不 可 伸 手 加 害 於 他 。 」 於 是 撒 但 從 耶 和 華 面 前 退 去 。

Fight the good fight of the faith. Take hold of the eternal life to which you were called and about which you made the good confession in the presence of many witnesses.

你 要 為 真 道 打 那 美 好 的 仗 , 持 定 永 生 。 你 為 此 被 召 , 也 在 許 多 見 證 人 面 前 , 已 經 作 了 那 美 好 的 見 證 。

God chose what is low and despised in the world, even things that are not, to bring to nothing things that are, so that no human being might boast in the presence of God.

神 也 揀 選 了 世 上 卑 賤 的 , 被 人 厭 惡 的 , 以 及 那 無 有 的 , 為 要 廢 掉 那 有 的 。 使 一 切 有 血 氣 的 , 在 神 面 前 一 個 也 不 能 自 誇 。

Just so, I tell you, there is joy before the angels of God over one sinner who repents.

我 告 訴 你 們 , 一 個 罪 人 悔 改 , 在 神 的 使 者 面 前 也 是 這 樣 為 他 歡 喜 。

Repent therefore, and turn back, that your sins may be blotted out.

所 以 , 你 們 當 悔 改 歸 正 , 使 你 們 的 罪 得 以 塗 抹 , 這 樣 , 那 安 舒 的 日 子 就 必 從 主 面 前 來 到 。

A man's gift makes room for him and brings him before the great.

人 的 禮 物 為 他 開 路 , 引 他 到 高 位 的 人 面 前 。

Oh, how abundant is your goodness, which you have stored up for those who fear you and worked for those who take refuge in you, in the sight of the children of mankind!

敬 畏 你 、 投 靠 你 的 人 , 你 為 他 們 所 積 存 的 , 在 世 人 面 前 所 施 行 的 恩 惠 是 何 等 大 呢 !

One Sabbath he was going through the grainfields, and as they made their way, his disciples began to pluck heads of grain. And the Pharisees were saying to him, "Look, why are they doing what is not lawful on the Sabbath?" And he said to them, "Have you never read what David did, when he was in need and was hungry, he and those who were with him: how he entered the house of God, in the time of Abiathar the high priest, and ate the bread of the Presence, which it is not lawful for any but the priests to eat, and also gave it to those who were with him?" And he said to them, "The Sabbath was made for man, not man for the Sabbath. So the Son of Man is lord even of the Sabbath."

耶 穌 當 安 息 日 從 麥 地 經 過 。 他 門 徒 行 路 的 時 候 , 掐 了 麥 穗 。 法 利 賽 人 對 耶 穌 說 : 看 哪 , 他 們 在 安 息 日 為 甚 麼 做 不 可 做 的 事 呢 ? 耶 穌 對 他 們 說 : 經 上 記 著 大 衛 和 跟 從 他 的 人 缺 乏 飢 餓 之 時 所 做 的 事 , 你 們 沒 有 念 過 麼 ? 他 當 亞 比 亞 他 作 大 祭 司 的 時 候 , 怎 麼 進 了 神 的 殿 , 吃 了 陳 設 餅 , 又 給 跟 從 他 的 人 吃 。 這 餅 除 了 祭 司 以 外 , 人 都 不 可 吃 。 又 對 他 們 說 : 安 息 日 是 為 人 設 立 的 , 人 不 是 為 安 息 日 設 立 的 。 所 以 , 人 子 也 是 安 息 日 的 主 。
I stretch out my hands to you;
my soul thirsts for you like a parched land. Selah
For as in one body we have many members, and the members do not all have the same function, so we, though many, are one body in Christ, and individually members one of another.
Read more
I stretch out my hands to you; my soul thirsts for you like a parched land. Selah
Personal Bible reading plan
Create an account to configure your Bible reading plan and you will see your progress and the next chapter to read here!
Read more...