10 Bible Verses about 'Rebuke'
«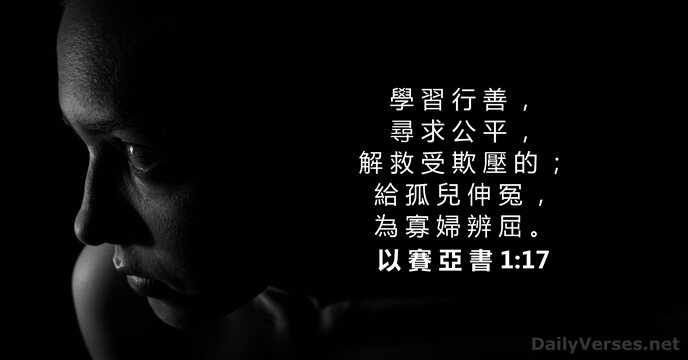 »
As many as I love, I rebuke and chasten. Therefore be zealous and repent.

凡 我 所 疼 愛 的 , 我 就 責 備 管 教 他 ; 所 以 你 要 發 熱 心 , 也 要 悔 改 。

The ransom of a man's life is his riches, But the poor does not hear rebuke.

人 的 資 財 是 他 生 命 的 贖 價 ; 窮 乏 人 卻 聽 不 見 威 嚇 的 話 。

Preach the word! Be ready in season and out of season. Convince, rebuke, exhort, with all longsuffering and teaching.

務 要 傳 道 , 無 論 得 時 不 得 時 , 總 要 專 心 ; 並 用 百 般 的 忍 耐 , 各 樣 的 教 訓 , 責 備 人 、 警 戒 人 、 勸 勉 人 。

Turn at my rebuke; Surely I will pour out my spirit on you; I will make my words known to you.

你 們 當 因 我 的 責 備 回 轉 ; 我 要 將 我 的 靈 澆 灌 你 們 , 將 我 的 話 指 示 你 們 。

Learn to do good; Seek justice, Rebuke the oppressor; Defend the fatherless, Plead for the widow.

學 習 行 善 , 尋 求 公 平 , 解 救 受 欺 壓 的 ; 給 孤 兒 伸 冤 , 為 寡 婦 辨 屈 。

If your brother sins against you, rebuke him; and if he repents, forgive him. And if he sins against you seven times in a day, and seven times in a day returns to you, saying, 'I repent,' you shall forgive him.

若 是 你 的 弟 兄 得 罪 你 , 就 勸 戒 他 ; 他 若 懊 悔 , 就 饒 恕 他 。 倘 若 他 一 天 七 次 得 罪 你 , 又 七 次 回 轉 , 說 : 我 懊 悔 了 , 你 總 要 饒 恕 他 。

You shall not hate your brother in your heart. You shall surely rebuke your neighbor, and not bear sin because of him. You shall not take vengeance, nor bear any grudge against the children of your people, but you shall love your neighbor as yourself: I am the L

ord

.

不 可 心 裡 恨 你 的 弟 兄 ; 總 要 指 摘 你 的 鄰 舍 , 免 得 因 他 擔 罪 。 不 可 報 仇 , 也 不 可 埋 怨 你 本 國 的 子 民 , 卻 要 愛 人 如 己 。 我 是 耶 和 華 。

My son, do not despise the chastening of the L

ord

, Nor detest His correction; For whom the L

ord

loves He corrects, Just as a father the son in whom he delights.

我 兒 , 你 不 可 輕 看 耶 和 華 的 管 教 , 也 不 可 厭 煩 他 的 責 備 ; 因 為 耶 和 華 所 愛 的 , 他 必 責 備 , 正 如 父 親 責 備 所 喜 愛 的 兒 子 。

The L

ord

your God in your midst, The Mighty One, will save; He will rejoice over you with gladness, He will quiet you with His love, He will rejoice over you with singing.

耶 和 華 你 的 神 是 施 行 拯 救 、 大 有 能 力 的 主 。 他 在 你 中 間 必 因 你 歡 欣 喜 樂 , 默 然 愛 你 , 且 因 你 喜 樂 而 歡 呼 。

Do all things without complaining and disputing, that you may become blameless and harmless, children of God without fault in the midst of a crooked and perverse generation, among whom you shine as lights in the world, holding fast the word of life.

凡 所 行 的 , 都 不 要 發 怨 言 , 起 爭 論 , 使 你 們 無 可 指 摘 , 誠 實 無 偽 , 在 這 彎 曲 悖 謬 的 世 代 作 神 無 瑕 疵 的 兒 女 。 你 們 顯 在 這 世 代 中 , 好 像 明 光 照 耀 , 將 生 命 的 道 表 明 出 來 。
I spread out my hands to You;
My soul longs for You like a thirsty land.
Selah
Let us therefore come boldly to the throne of grace, that we may obtain mercy and find grace to help in time of need.
Read more
I spread out my hands to You; My soul longs for You like a thirsty land. Selah
Personal Bible reading plan
Create an account to configure your Bible reading plan and you will see your progress and the next chapter to read here!
Read more...