Bible Verses about 'Saying'
«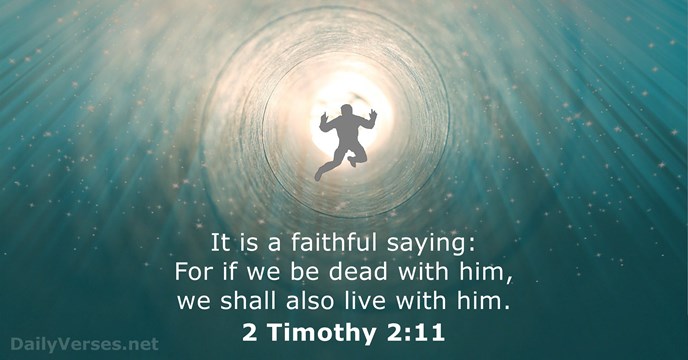 »
It is a faithful saying: For if we be dead with him, we shall also live with him.

Palavra fiel é esta: que, se morrermos com ele, também com ele viveremos.

Likewise also the cup after supper, saying, This cup is the new testament in my blood, which is shed for you.

Semelhantemente, tomou o cálice, depois da ceia, dizendo: Este cálice é o Novo Testamento no meu sangue, que é derramado por vós.

And I fell unto the ground, and heard a voice saying unto me, Saul, Saul, why persecutest thou me?

E caí por terra e ouvi uma voz que me dizia: Saulo, Saulo, por que me persegues?

For I the L

ord

thy God will hold thy right hand, saying unto thee, Fear not; I will help thee.
Porque eu, o S

enhor

, teu Deus, te tomo pela tua mão direita e te digo: não temas, que eu te ajudo.

And he took bread, and gave thanks, and brake it, and gave unto them, saying, This is my body which is given for you: this do in remembrance of me.

E, tomando o pão e havendo dado graças, partiu-o e deu-lho, dizendo: Isto é o meu corpo, que por vós é dado; fazei isso em memória de mim.

But when Jesus heard it, he answered him, saying, Fear not: believe only, and she shall be made whole.

Jesus, porém, ouvindo-o, respondeu-lhe, dizendo: Não temas; crê somente, e será salva.

Then spake Jesus again unto them, saying, I am the light of the world: he that followeth me shall not walk in darkness, but shall have the light of life.

Falou-lhes, pois, Jesus outra vez, dizendo: Eu sou a luz do mundo; quem me segue não andará em trevas, mas terá a luz da vida.

In the last day, that great day of the feast, Jesus stood and cried, saying, If any man thirst, let him come unto me, and drink.

E, no último dia, o grande dia da festa, Jesus pôs-se em pé e clamou, dizendo: Se alguém tem sede, que venha a mim e beba.

If thy brother trespass against thee, rebuke him; and if he repent, forgive him. And if he trespass against thee seven times in a day, and seven times in a day turn again to thee, saying, I repent; thou shalt forgive him.

E, se teu irmão pecar contra ti, repreende-o; e, se ele se arrepender, perdoa-lhe; e, se pecar contra ti sete vezes no dia e sete vezes no dia vier ter contigo, dizendo: Arrependo-me, perdoa-lhe.

For so hath the Lord commanded us, saying, I have set thee to be a light of the Gentiles, that thou shouldest be for salvation unto the ends of the earth.

Porque o Senhor assim no-lo mandou: Eu te pus para luz dos gentios, para que sejas de salvação até aos confins da terra.

This is the word of the L

ord

unto Zerubbabel, saying, Not by might, nor by power, but by my spirit, saith the L

ord

of hosts.
Esta é a palavra do S

enhor

a Zorobabel, dizendo: Não por força, nem por violência, mas pelo meu Espírito, diz o S

enhor

dos Exércitos.

And every creature which is in heaven, and on the earth, and under the earth, and such as are in the sea, and all that are in them, heard I saying, Blessing, and honour, and glory, and power, be unto him that sitteth upon the throne, and unto the Lamb for ever and ever.

E ouvi a toda criatura que está no céu, e na terra, e debaixo da terra, e que está no mar, e a todas as coisas que neles há, dizer: Ao que está assentado sobre o trono e ao Cordeiro sejam dadas ações de graças, e honra, e glória, e poder para todo o sempre.

Then said Paul, John verily baptized with the baptism of repentance, saying unto the people, that they should believe on him which should come after him, that is, on Christ Jesus.

Mas Paulo disse: Certamente João batizou com o batismo do arrependimento, dizendo ao povo que cresse no que após ele havia de vir, isto é, em Jesus Cristo.

And the multitudes that went before, and that followed, cried, saying, Hosanna to the son of David: Blessed is he that cometh in the name of the Lord; Hosanna in the highest.

E as multidões, tanto as que iam adiante como as que o seguiam, clamavam, dizendo: Hosana ao Filho de Davi! Bendito o que vem em nome do Senhor! Hosana nas alturas!

But while he thought on these things, behold, the angel of the Lord appeared unto him in a dream, saying, Joseph, thou son of David, fear not to take unto thee Mary thy wife: for that which is conceived in her is of the Holy Ghost.

E, projetando ele isso, eis que, em sonho, lhe apareceu um anjo do Senhor, dizendo: José, filho de Davi, não temas receber a Maria, tua mulher, porque o que nela está gerado é do Espírito Santo.

And they stripped him, and put on him a scarlet robe. And when they had platted a crown of thorns, they put it upon his head, and a reed in his right hand: and they bowed the knee before him, and mocked him, saying, Hail, King of the Jews!

E, despindo-o, o cobriram com uma capa escarlate. E, tecendo uma coroa de espinhos, puseram-lha na cabeça e, em sua mão direita, uma cana; e, ajoelhando diante dele, o escarneciam, dizendo: Salve, Rei dos judeus!

Now when Jesus was born in Bethlehem of Judaea in the days of Herod the king, behold, there came wise men from the east to Jerusalem, Saying, Where is he that is born King of the Jews? for we have seen his star in the east, and are come to worship him.

E, tendo nascido Jesus em Belém da Judeia, no tempo do rei Herodes, eis que uns magos vieram do Oriente a Jerusalém, e perguntaram: Onde está aquele que é nascido rei dos judeus? Porque vimos a sua estrela no Oriente e viemos a adorá-lo.

He is not here, but is risen: remember how he spake unto you when he was yet in Galilee, Saying, The Son of man must be delivered into the hands of sinful men, and be crucified, and the third day rise again.

Não está aqui, mas ressuscitou. Lembrai-vos como vos falou, estando ainda na Galileia, dizendo: Convém que o Filho do Homem seja entregue nas mãos de homens pecadores, e seja crucificado, e, ao terceiro dia, ressuscite.

Be ye not as your fathers, unto whom the former prophets have cried, saying, Thus saith the L

ord

of hosts; Turn ye now from your evil ways, and from your evil doings: but they did not hear, nor hearken unto me, saith the L

ord

.
E não sejais como vossos pais, aos quais clamavam os primeiros profetas, dizendo: Assim diz o S

enhor

dos Exércitos: Convertei-vos, agora, dos vossos maus caminhos e das vossas más obras. Mas não ouviram, nem me escutaram, diz o S

enhor

.

Having therefore obtained help of God, I continue unto this day, witnessing both to small and great, saying none other things than those which the prophets and Moses did say should come: That Christ should suffer, and that he should be the first that should rise from the dead, and should shew light unto the people, and to the Gentiles.

Mas, alcançando socorro de Deus, ainda até ao dia de hoje permaneço, dando testemunho, tanto a pequenos como a grandes, não dizendo nada mais do que o que os profetas e Moisés disseram que devia acontecer, isto é, que o Cristo devia padecer e, sendo o primeiro da ressurreição dos mortos, devia anunciar a luz a este povo e aos gentios.

Now all this was done, that it might be fulfilled which was spoken of the Lord by the prophet, saying, Behold, a virgin shall be with child, and shall bring forth a son, and they shall call his name Emmanuel, which being interpreted is, God with us.

Tudo isso aconteceu para que se cumprisse o que foi dito da parte do Senhor pelo profeta, que diz: Eis que a virgem conceberá e dará à luz um filho, e ele será chamado pelo nome de Emanuel. (Emanuel traduzido é: Deus conosco).

And I heard a great voice out of heaven saying, Behold, the tabernacle of God is with men, and he will dwell with them, and they shall be his people, and God himself shall be with them, and be their God. And God shall wipe away all tears from their eyes; and there shall be no more death, neither sorrow, nor crying, neither shall there be any more pain: for the former things are passed away.

E ouvi uma grande voz do céu, que dizia: Eis aqui o tabernáculo de Deus com os homens, pois com eles habitará, e eles serão o seu povo, e o mesmo Deus estará com eles e será o seu Deus. E Deus limpará de seus olhos toda lágrima, e não haverá mais morte, nem pranto, nem clamor, nem dor, porque já as primeiras coisas são passadas.

For this, Thou shalt not commit adultery, Thou shalt not kill, Thou shalt not steal, Thou shalt not bear false witness, Thou shalt not covet; and if there be any other commandment, it is briefly comprehended in this saying, namely, Thou shalt love thy neighbour as thyself.

Com efeito: Não adulterarás, não matarás, não furtarás, não darás falso testemunho, não cobiçarás, e, se há algum outro mandamento, tudo nesta palavra se resume: Amarás ao teu próximo como a ti mesmo.
Thus speaketh the L

ord

of hosts, saying, Execute true judgment, and shew mercy and compassions every man to his brother: And oppress not the widow, nor the fatherless, the stranger, nor the poor; and let none of you imagine evil against his brother in your heart.
Assim falou o S

enhor

dos Exércitos, dizendo: Executai juízo verdadeiro, mostrai piedade e misericórdia cada um a seu irmão; e não oprimais a viúva, nem o órfão, nem o estrangeiro, nem o pobre, nem intente o mal cada um contra o seu irmão, no seu coração.

From that time Jesus began to preach, and to say, Repent: for the kingdom of heaven is at hand.

Desde então, começou Jesus a pregar e a dizer: Arrependei-vos, porque é chegado o Reino dos céus.
A prudent man foreseeth the evil, and hideth himself; but the simple pass on, and are punished.
Personal Bible reading plan
Create an account to configure your Bible reading plan and you will see your progress and the next chapter to read here!
Read more...