Bible Verses about 'Sea'
«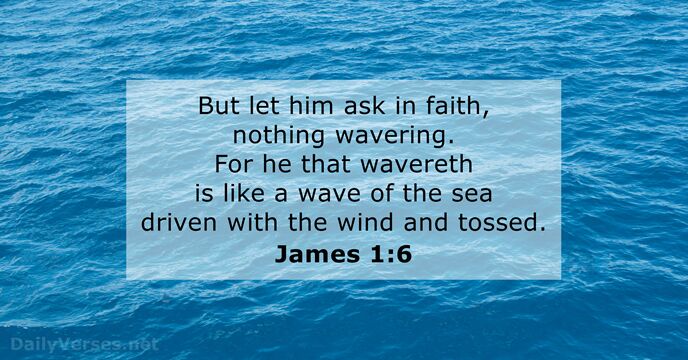 »
But let him ask in faith, nothing wavering. For he that wavereth is like a wave of the sea driven with the wind and tossed.

Peça-a, porém, com fé, não duvidando; porque o que duvida é semelhante à onda do mar, que é levada pelo vento e lançada de uma para outra parte.

It is he that buildeth his stories in the heaven, and hath founded his troop in the earth; he that calleth for the waters of the sea, and poureth them out upon the face of the earth: The L

ord

is his name.
Ele é o que edifica as suas câmaras no céu, e a sua abóbada fundou na terra, e o que chama as águas do mar, e as derrama sobre a terra; o S

enhor

é o seu nome.

For verily I say unto you, That whosoever shall say unto this mountain, Be thou removed, and be thou cast into the sea; and shall not doubt in his heart, but shall believe that those things which he saith shall come to pass; he shall have whatsoever he saith.

Porque em verdade vos digo que qualquer que disser a este monte: Ergue-te e lança-te no mar, e não duvidar em seu coração, mas crer que se fará aquilo que diz, tudo o que disser lhe será feito.

And God blessed them, and God said unto them, Be fruitful, and multiply, and replenish the earth, and subdue it: and have dominion over the fish of the sea, and over the fowl of the air, and over every living thing that moveth upon the earth.

E Deus os abençoou e Deus lhes disse: Frutificai, e multiplicai-vos, e enchei a terra, e sujeitai-a; e dominai sobre os peixes do mar, e sobre as aves dos céus, e sobre todo o animal que se move sobre a terra.

Jesus answered and said unto them, Verily I say unto you, If ye have faith, and doubt not, ye shall not only do this which is done to the fig tree, but also if ye shall say unto this mountain, Be thou removed, and be thou cast into the sea; it shall be done.

Jesus, porém, respondendo, disse-lhes: Em verdade vos digo que, se tiverdes fé e não duvidardes, não só fareis o que foi feito à figueira, mas até, se a este monte disserdes: Ergue-te e precipita-te no mar, assim será feito.

And God said, Let us make man in our image, after our likeness: and let them have dominion over the fish of the sea, and over the fowl of the air, and over the cattle, and over all the earth, and over every creeping thing that creepeth upon the earth.

E disse Deus: Façamos o homem à nossa imagem, conforme a nossa semelhança; e domine sobre os peixes do mar, e sobre as aves dos céus, e sobre o gado, e sobre toda a terra, e sobre todo réptil que se move sobre a terra.

And every creature which is in heaven, and on the earth, and under the earth, and such as are in the sea, and all that are in them, heard I saying, Blessing, and honour, and glory, and power, be unto him that sitteth upon the throne, and unto the Lamb for ever and ever.

E ouvi a toda criatura que está no céu, e na terra, e debaixo da terra, e que está no mar, e a todas as coisas que neles há, dizer: Ao que está assentado sobre o trono e ao Cordeiro sejam dadas ações de graças, e honra, e glória, e poder para todo o sempre.

Preach the word; be instant in season, out of season; reprove, rebuke, exhort with all long suffering and doctrine.

Que pregues a palavra, instes a tempo e fora de tempo, redarguas, repreendas, exortes, com toda a longanimidade e doutrina.

But when they saw him walking upon the sea, they supposed it had been a spirit, and cried out: For they all saw him, and were troubled. And immediately he talked with them, and saith unto them, Be of good cheer: it is I; be not afraid.

Mas, quando eles o viram andar sobre o mar, pensaram que era um fantasma e deram grandes gritos. Porque todos o viram e perturbaram-se; mas logo falou com eles e disse-lhes: Tende bom ânimo, sou eu; não temais.

But God hath revealed them unto us by his Spirit: for the Spirit searcheth all things, yea, the deep things of God.

Mas Deus no-las revelou pelo seu Espírito; porque o Espírito penetra todas as coisas, ainda as profundezas de Deus.

To every thing there is a season, and a time to every purpose under the heaven.

Tudo tem o seu tempo determinado, e há tempo para todo o propósito debaixo do céu.

And I saw the dead, small and great, stand before God; and the books were opened: and another book was opened, which is the book of life: and the dead were judged out of those things which were written in the books, according to their works. And the sea gave up the dead which were in it; and death and hell delivered up the dead which were in them: and they were judged every man according to their works.

E vi os mortos, grandes e pequenos, que estavam diante do trono, e abriram-se os livros. E abriu-se outro livro, que é o da vida. E os mortos foram julgados pelas coisas que estavam escritas nos livros, segundo as suas obras. E deu o mar os mortos que nele havia; e a morte e o inferno deram os mortos que neles havia; e foram julgados cada um segundo as suas obras.

And ye shall seek me, and find me, when ye shall search for me with all your heart.

E buscar-me-eis e me achareis quando me buscardes de todo o vosso coração.

And let us not be weary in well doing: for in due season we shall reap, if we faint not.

E não nos cansemos de fazer o bem, porque a seu tempo ceifaremos, se não houvermos desfalecido.

And grieve not the holy Spirit of God, whereby ye are sealed unto the day of redemption.

E não entristeçais o Espírito Santo de Deus, no qual estais selados para o Dia da redenção.

A man hath joy by the answer of his mouth: and a word spoken in due season, how good is it!

O homem se alegra na resposta da sua boca, e a palavra, a seu tempo, quão boa é!
O L

ord

, thou hast searched me, and known me. Thou knowest my downsitting and mine uprising, thou understandest my thought afar off.
S

enhor

, tu me sondaste e me conheces. Tu conheces o meu assentar e o meu levantar; de longe entendes o meu pensamento.

And he that searcheth the hearts knoweth what is the mind of the Spirit, because he maketh intercession for the saints according to the will of God.

E aquele que examina os corações sabe qual é a intenção do Espírito; e é ele que segundo Deus intercede pelos santos.

Remember the sabbath day, to keep it holy. Six days shalt thou labour, and do all thy work: But the seventh day is the sabbath of the L

ord

thy God: in it thou shalt not do any work, thou, nor thy son, nor thy daughter, thy manservant, nor thy maidservant, nor thy cattle, nor thy stranger that is within thy gates: For in six days the L

ord

made heaven and earth, the sea, and all that in them is, and rested the seventh day: wherefore the L

ord

blessed the sabbath day, and hallowed it.
Lembra-te do dia do sábado, para o santificar. Seis dias trabalharás e farás toda a tua obra, mas o sétimo dia é o sábado do S

enhor

, teu Deus; não farás nenhuma obra, nem tu, nem o teu filho, nem a tua filha, nem o teu servo, nem a tua serva, nem o teu animal, nem o teu estrangeiro que está dentro das tuas portas. Porque em seis dias fez o S

enhor

os céus e a terra, o mar e tudo que neles há e ao sétimo dia descansou; portanto, abençoou o S

enhor

o dia do sábado e o santificou.
Hast thou not known? hast thou not heard, that the everlasting God, the L

ord

, the Creator of the ends of the earth, fainteth not, neither is weary? there is no searching of his understanding.
Não sabes, não ouviste que o eterno Deus, o S

enhor

, o Criador dos confins da terra, nem se cansa, nem se fatiga? Não há esquadrinhação do seu entendimento.

Walk in wisdom toward them that are without, redeeming the time. Let your speech be always with grace, seasoned with salt, that ye may know how ye ought to answer every man.

Andai com sabedoria para com os que estão de fora, remindo o tempo. A vossa palavra seja sempre agradável, temperada com sal, para que saibais como vos convém responder a cada um.

Search me, O God, and know my heart: try me, and know my thoughts: And see if there be any wicked way in me, and lead me in the way everlasting.

Sonda-me, ó Deus, e conhece o meu coração; prova-me e conhece os meus pensamentos. E vê se há em mim algum caminho mau e guia-me pelo caminho eterno.

Set me as a seal upon thine heart, as a seal upon thine arm: for love is strong as death; jealousy is cruel as the grave: the coals thereof are coals of fire, which hath a most vehement flame.

Põe-me como selo sobre o teu coração, como selo sobre o teu braço, porque o amor é forte como a morte, e duro como a sepultura o ciúme; as suas brasas são brasas de fogo, labaredas do S

enhor

.

And I will make them and the places round about my hill a blessing; and I will cause the shower to come down in his season; there shall be showers of blessing.

E a elas e aos lugares ao redor do meu outeiro, eu porei por bênção; e farei descer a chuva a seu tempo; chuvas de bênção serão.

Labour not for the meat which perisheth, but for that meat which endureth unto everlasting life, which the Son of man shall give unto you: for him hath God the Father sealed.

Trabalhai não pela comida que perece, mas pela comida que permanece para a vida eterna, a qual o Filho do Homem vos dará, porque a este o Pai, Deus, o selou.
And though I have the gift of prophecy, and understand all mysteries, and all knowledge; and though I have all faith, so that I could remove mountains, and have not charity, I am nothing.
Personal Bible reading plan
Create an account to configure your Bible reading plan and you will see your progress and the next chapter to read here!
Read more...