Bible Verses about 'Seen'
«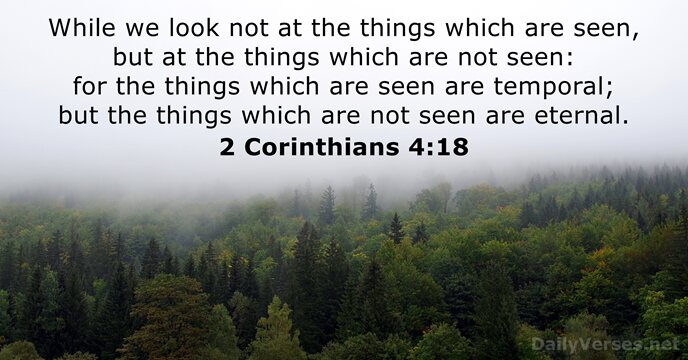 »
While we look not at the things which are seen, but at the things which are not seen: for the things which are seen are temporal; but the things which are not seen are eternal.

Não atentando nós nas coisas que se veem, mas nas que se não veem; porque as que se veem são temporais, e as que se não veem são eternas.

Jesus saith unto him, Thomas, because thou hast seen me, thou hast believed: blessed are they that have not seen, and yet have believed.

Disse-lhe Jesus: Porque me viste, Tomé, creste; bem-aventurados os que não viram e creram!

If a man say, I love God, and hateth his brother, he is a liar: for he that loveth not his brother whom he hath seen, how can he love God whom he hath not seen?

Se alguém diz: Eu amo a Deus e aborrece a seu irmão, é mentiroso. Pois quem não ama seu irmão, ao qual viu, como pode amar a Deus, a quem não viu?

Now faith is the substance of things hoped for, the evidence of things not seen.

Ora, a fé é o firme fundamento das coisas que se esperam e a prova das coisas que se não veem.

If ye had known me, ye should have known my Father also: and from henceforth ye know him, and have seen him.

Se vós me conhecêsseis a mim, também conheceríeis a meu Pai; e já desde agora o conheceis e o tendes visto.

No man hath seen God at any time. If we love one another, God dwelleth in us, and his love is perfected in us.

Ninguém jamais viu a Deus; se nós amamos uns aos outros, Deus está em nós, e em nós é perfeito o seu amor.

No man hath seen God at any time, the only begotten Son, which is in the bosom of the Father, he hath declared him.

Deus nunca foi visto por alguém. O Filho unigênito, que está no seio do Pai, este o fez conhecer.

And the shepherds returned, glorifying and praising God for all the things that they had heard and seen, as it was told unto them.

E voltaram os pastores glorificando e louvando a Deus por tudo o que tinham ouvido e visto, como lhes havia sido dito.

Those things, which ye have both learned, and received, and heard, and seen in me, do: and the God of peace shall be with you.

O que também aprendestes, e recebestes, e ouvistes, e vistes em mim, isso fazei; e o Deus de paz será convosco.

But as it is written, Eye hath not seen, nor ear heard, neither have entered into the heart of man, the things which God hath prepared for them that love him.

Mas, como está escrito: As coisas que o olho não viu, e o ouvido não ouviu, e não subiram ao coração do homem são as que Deus preparou para os que o amam.

Whom having not seen, ye love; in whom, though now ye see him not, yet believing, ye rejoice with joy unspeakable and full of glory: Receiving the end of your faith, even the salvation of your souls.

Ao qual, não o havendo visto, amais; no qual, não o vendo agora, mas crendo, vos alegrais com gozo inefável e glorioso, alcançando o fim da vossa fé, a salvação da alma.

And without controversy great is the mystery of godliness: God was manifest in the flesh, justified in the Spirit, seen of angels, preached unto the Gentiles, believed on in the world, received up into glory.

E, sem dúvida alguma, grande é o mistério da piedade: Aquele que se manifestou em carne foi justificado em espírito, visto dos anjos, pregado aos gentios, crido no mundo e recebido acima, na glória.

For the invisible things of him from the creation of the world are clearly seen, being understood by the things that are made, even his eternal power and Godhead; so that they are without excuse.

Porque as suas coisas invisíveis, desde a criação do mundo, tanto o seu eterno poder como a sua divindade, se entendem e claramente se veem pelas coisas que estão criadas, para que eles fiquem inescusáveis.

Turn again, and tell Hezekiah the captain of my people, Thus saith the L

ord

, the God of David thy father, I have heard thy prayer, I have seen thy tears: behold, I will heal thee: on the third day thou shalt go up unto the house of the L

ord

.
Volta e dize a Ezequias, chefe do meu povo: Assim diz o S

enhor

, Deus de Davi, teu pai: Ouvi a tua oração e vi as tuas lágrimas; eis que eu te sararei; ao terceiro dia subirás à Casa do S

enhor

.

Behold that which I have seen: it is good and comely for one to eat and to drink, and to enjoy the good of all his labour that he taketh under the sun all the days of his life, which God giveth him: for it is his portion.

Eis aqui o que eu vi, uma boa e bela coisa: comer, e beber, e gozar cada um do bem de todo o seu trabalho, em que trabalhou debaixo do sol, todos os dias da sua vida que Deus lhe deu; porque esta é a sua porção.

Now when Jesus was born in Bethlehem of Judaea in the days of Herod the king, behold, there came wise men from the east to Jerusalem, Saying, Where is he that is born King of the Jews? for we have seen his star in the east, and are come to worship him.

E, tendo nascido Jesus em Belém da Judeia, no tempo do rei Herodes, eis que uns magos vieram do Oriente a Jerusalém, e perguntaram: Onde está aquele que é nascido rei dos judeus? Porque vimos a sua estrela no Oriente e viemos a adorá-lo.

And while they looked stedfastly toward heaven as he went up, behold, two men stood by them in white apparel; Which also said, Ye men of Galilee, why stand ye gazing up into heaven? this same Jesus, which is taken up from you into heaven, shall so come in like manner as ye have seen him go into heaven.

E, estando com os olhos fitos no céu, enquanto ele subia, eis que junto deles se puseram dois varões vestidos de branco, os quais lhes disseram: Varões galileus, por que estais olhando para o céu? Esse Jesus, que dentre vós foi recebido em cima no céu, há de vir assim como para o céu o vistes ir.

And the Word was made flesh, and dwelt among us, (and we beheld his glory, the glory as of the only begotten of the Father,) full of grace and truth.

E o Verbo se fez carne e habitou entre nós, e vimos a sua glória, como a glória do Unigênito do Pai, cheio de graça e de verdade.

Moreover when ye fast, be not, as the hypocrites, of a sad countenance: for they disfigure their faces, that they may appear unto men to fast. Verily I say unto you, They have their reward.

E, quando jejuardes, não vos mostreis contristados como os hipócritas, porque desfiguram o rosto, para que aos homens pareça que jejuam. Em verdade vos digo que já receberam o seu galardão.

But thou, when thou fastest, anoint thine head, and wash thy face; That thou appear not unto men to fast, but unto thy Father which is in secret: and thy Father, which seeth in secret, shall reward thee openly.

Porém tu, quando jejuares, unge a cabeça e lava o rosto, para não pareceres aos homens que jejuas, mas sim a teu Pai, que está oculto; e teu Pai, que vê o que está oculto, te recompensará.
And this is the confidence that we have in him, that, if we ask any thing according to his will, he heareth us.
Personal Bible reading plan
Create an account to configure your Bible reading plan and you will see your progress and the next chapter to read here!
Read more...