Bible Verses about 'Sin'
«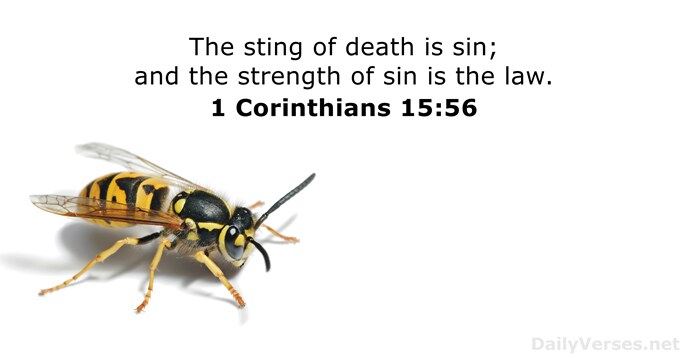 »
The sting of death is sin; and the strength of sin is the law.

Ora, o aguilhão da morte é o pecado, e a força do pecado é a lei.

Jesus answered them, Verily, verily, I say unto you, Whosoever committeth sin is the servant of sin.

Respondeu-lhes Jesus: Em verdade, em verdade vos digo que todo aquele que comete pecado é servo do pecado.

Whosoever committeth sin transgresseth also the law: for sin is the transgression of the law.

Qualquer que pratica o pecado também pratica iniquidade, porque o pecado é iniquidade.

For he hath made him to be sin for us, who knew no sin; that we might be made the righteousness of God in him.

Àquele que não conheceu pecado, o fez pecado por nós; para que, nele, fôssemos feitos justiça de Deus.

Righteousness exalteth a nation: but sin is a reproach to any people.

A justiça exalta as nações, mas o pecado é o opróbrio dos povos.

Thy word have I hid in mine heart, that I might not sin against thee.

Escondi a tua palavra no meu coração, para eu não pecar contra ti.

What shall we say then? Shall we continue in sin, that grace may abound? God forbid. How shall we, that are dead to sin, live any longer therein?

Que diremos, pois? Permaneceremos no pecado, para que a graça seja mais abundante? De modo nenhum! Nós que estamos mortos para o pecado, como viveremos ainda nele?

I acknowledge my sin unto thee, and mine iniquity have I not hid. I said, I will confess my transgressions unto the L

ord

; and thou forgavest the iniquity of my sin. Selah.
Confessei-te o meu pecado e a minha maldade não encobri; dizia eu: Confessarei ao S

enhor

as minhas transgressões; e tu perdoaste a maldade do meu pecado. (Selá)

Blessed is he whose transgression is forgiven, whose sin is covered.

Bem-aventurado aquele cuja transgressão é perdoada, e cujo pecado é coberto.

What then? shall we sin, because we are not under the law, but under grace? God forbid.

Pois quê? Pecaremos porque não estamos debaixo da lei, mas debaixo da graça? De modo nenhum!

For sin shall not have dominion over you: for ye are not under the law, but under grace.

Porque o pecado não terá domínio sobre vós, pois não estais debaixo da lei, mas debaixo da graça.

What shall we say then? Is the law sin? God forbid. Nay, I had not known sin, but by the law: for I had not known lust, except the law had said, Thou shalt not covet.

Que diremos, pois? É a lei pecado? De modo nenhum! Mas eu não conheci o pecado senão pela lei; porque eu não conheceria a concupiscência, se a lei não dissesse: Não cobiçarás.

For the wages of sin is death; but the gift of God is eternal life through Jesus Christ our Lord.

Porque o salário do pecado é a morte, mas o dom gratuito de Deus é a vida eterna, por Cristo Jesus, nosso Senhor.

In the multitude of words there wanteth not sin: but he that refraineth his lips is wise.

Na multidão de palavras não falta transgressão, mas o que modera os seus lábios é prudente.

Be ye angry, and sin not: let not the sun go down upon your wrath: Neither give place to the devil.

Irai-vos e não pequeis; não se ponha o sol sobre a vossa ira. Não deis lugar ao diabo.

Therefore by the deeds of the law there shall no flesh be justified in his sight: for by the law is the knowledge of sin.

Por isso, nenhuma carne será justificada diante dele pelas obras da lei, porque pela lei vem o conhecimento do pecado.

For if we have been planted together in the likeness of his death, we shall be also in the likeness of his resurrection: Knowing this, that our old man is crucified with him, that the body of sin might be destroyed, that henceforth we should not serve sin.

Porque, se fomos plantados juntamente com ele na semelhança da sua morte, também o seremos na da sua ressurreição; sabendo isto: que o nosso velho homem foi com ele crucificado, para que o corpo do pecado seja desfeito, a fim de que não sirvamos mais ao pecado.

That as sin hath reigned unto death, even so might grace reign through righteousness unto eternal life by Jesus Christ our Lord.

Para que, assim como o pecado reinou na morte, também a graça reinasse pela justiça para a vida eterna, por Jesus Cristo, nosso Senhor.

But now being made free from sin, and become servants to God, ye have your fruit unto holiness, and the end everlasting life.

Mas, agora, libertados do pecado e feitos servos de Deus, tendes o vosso fruto para santificação, e por fim a vida eterna.

But the scripture hath concluded all under sin, that the promise by faith of Jesus Christ might be given to them that believe.

Mas a Escritura encerrou tudo debaixo do pecado, para que a promessa pela fé em Jesus Cristo fosse dada aos crentes.

Wherefore I say unto you, All manner of sin and blasphemy shall be forgiven unto men: but the blasphemy against the Holy Ghost shall not be forgiven unto men.

Portanto, eu vos digo: todo pecado e blasfêmia se perdoará aos homens, mas a blasfêmia contra o Espírito não será perdoada aos homens.

But if we walk in the light, as he is in the light, we have fellowship one with another, and the blood of Jesus Christ his Son cleanseth us from all sin.

Mas, se andarmos na luz, como ele na luz está, temos comunhão uns com os outros, e o sangue de Jesus Cristo, seu Filho, nos purifica de todo pecado.

So Christ was once offered to bear the sins of many; and unto them that look for him shall he appear the second time without sin unto salvation.

Assim também Cristo, oferecendo-se uma vez, para tirar os pecados de muitos, aparecerá segunda vez, sem pecado, aos que o esperam para a salvação.

For we have not an high priest which cannot be touched with the feeling of our infirmities; but was in all points tempted like as we are, yet without sin.

Porque não temos um sumo sacerdote que não possa compadecer-se das nossas fraquezas; porém um que, como nós, em tudo foi tentado, mas sem pecado.

Forasmuch then as Christ hath suffered for us in the flesh, arm yourselves likewise with the same mind: for he that hath suffered in the flesh hath ceased from sin.

Ora, pois, já que Cristo padeceu por nós na carne, armai-vos também vós com este pensamento: que aquele que padeceu na carne já cessou do pecado.
And though I have the gift of prophecy, and understand all mysteries, and all knowledge; and though I have all faith, so that I could remove mountains, and have not charity, I am nothing.
Personal Bible reading plan
Create an account to configure your Bible reading plan and you will see your progress and the next chapter to read here!
Read more...