Bible Verses about 'Some'
«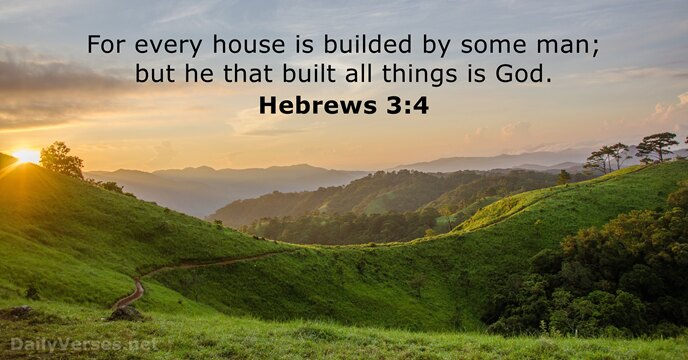 »
For every house is builded by some man; but he that built all things is God.

Porque toda casa é edificada por alguém, mas o que edificou todas as coisas é Deus.

Awake to righteousness, and sin not; for some have not the knowledge of God: I speak this to your shame.

Vigiai justamente e não pequeis; porque alguns ainda não têm o conhecimento de Deus; digo-o para vergonha vossa.

Let brotherly love continue. Be not forgetful to entertain strangers: for thereby some have entertained angels unawares.

Permaneça o amor fraternal. Não vos esqueçais da hospitalidade, porque, por ela, alguns, não o sabendo, hospedaram anjos.

For the love of money is the root of all evil: which while some coveted after, they have erred from the faith, and pierced themselves through with many sorrows.

Porque o amor do dinheiro é a raiz de toda espécie de males; e nessa cobiça alguns se desviaram da fé e se traspassaram a si mesmos com muitas dores.

The Lord is not slack concerning his promise, as some men count slackness; but is longsuffering to us-ward, not willing that any should perish, but that all should come to repentance.

O Senhor não retarda a sua promessa, ainda que alguns a têm por tardia; mas é longânimo para convosco, não querendo que alguns se percam, senão que todos venham a arrepender-se.

For I long to see you, that I may impart unto you some spiritual gift, to the end ye may be established; That is, that I may be comforted together with you by the mutual faith both of you and me.

Porque desejo ver-vos, para vos comunicar algum dom espiritual, a fim de que sejais confortados, isto é, para que juntamente convosco eu seja consolado pela fé mútua, tanto vossa como minha.

And let us consider one another to provoke unto love and to good works: Not forsaking the assembling of ourselves together, as the manner of some is; but exhorting one another: and so much the more, as ye see the day approaching.

E consideremo-nos uns aos outros, para nos estimularmos ao amor e às boas obras, não deixando a nossa congregação, como é costume de alguns; antes, admoestando-nos uns aos outros; e tanto mais quanto vedes que se vai aproximando aquele Dia.

For in him we live, and move, and have our being; as certain also of your own poets have said, For we are also his offspring.

Porque nele vivemos, e nos movemos, e existimos, como também alguns dos vossos poetas disseram: Pois somos também sua geração.

For scarcely for a righteous man will one die: yet peradventure for a good man some would even dare to die. But God commendeth his love toward us, in that, while we were yet sinners, Christ died for us.

Porque apenas alguém morrerá por um justo; pois poderá ser que pelo bom alguém ouse morrer. Mas Deus prova o seu amor para conosco em que Cristo morreu por nós, sendo nós ainda pecadores.

But now in Christ Jesus ye who sometimes were far off are made nigh by the blood of Christ.

Mas, agora, em Cristo Jesus, vós, que antes estáveis longe, já pelo sangue de Cristo chegastes perto.

For bodily exercise profiteth little: but godliness is profitable unto all things, having promise of the life that now is, and of that which is to come.

Porque o exercício corporal para pouco aproveita, mas a piedade para tudo é proveitosa, tendo a promessa da vida presente e da que há de vir.

It is a snare to the man who devoureth that which is holy, and after vows to make enquiry.

Laço é para o homem dizer precipitadamente: É santo; e, feitos os votos, então, inquirir.

Be sober, be vigilant; because your adversary the devil, as a roaring lion, walketh about, seeking whom he may devour.

Sede sóbrios, vigiai, porque o diabo, vosso adversário, anda em derredor, bramando como leão, buscando a quem possa tragar.

For what shall it profit a man, if he shall gain the whole world, and lose his own soul?

Pois que aproveitaria ao homem ganhar todo o mundo e perder a sua alma?

Then he said unto them, Go your way, eat the fat, and drink the sweet, and send portions unto them for whom nothing is prepared: for this day is holy unto our L

ord

: neither be ye sorry; for the joy of the L

ord

is your strength.
Disse-lhes mais: Ide, e comei as gorduras, e bebei as doçuras, e enviai porções aos que não têm nada preparado para si; porque esse dia é consagrado ao nosso Senhor; portanto, não vos entristeçais, porque a alegria do S

enhor

é a vossa força.

Greater love hath no man than this, that a man lay down his life for his friends.

Ninguém tem maior amor do que este: de dar alguém a sua vida pelos seus amigos.

And it came to pass, that he went through the corn fields on the sabbath day; and his disciples began, as they went, to pluck the ears of corn. And the Pharisees said unto him, Behold, why do they on the sabbath day that which is not lawful? And he said unto them, Have ye never read what David did, when he had need, and was an hungred, he, and they that were with him? How he went into the house of God in the days of Abiathar the high priest, and did eat the shewbread, which is not lawful to eat but for the priests, and gave also to them which were with him? And he said unto them, The sabbath was made for man, and not man for the sabbath: Therefore the Son of man is Lord also of the sabbath.

E aconteceu que, passando ele num sábado pelas searas, os seus discípulos, caminhando, começaram a colher espigas. E os fariseus lhe disseram: Vês? Por que fazem no sábado o que não é lícito? Mas ele disse-lhes: Nunca lestes o que fez Davi, quando estava em necessidade e teve fome, ele e os que com ele estavam? Como entrou na Casa de Deus, no tempo de Abiatar, sumo sacerdote, e comeu os pães da proposição, dos quais não era lícito comer senão aos sacerdotes, dando também aos que com ele estavam? E disse-lhes: O sábado foi feito por causa do homem, e não o homem, por causa do sábado. Assim, o Filho do Homem até do sábado é senhor.

Forbearing one another, and forgiving one another, if any man have a quarrel against any: even as Christ forgave you, so also do ye.

Suportando-vos uns aos outros e perdoando-vos uns aos outros, se algum tiver queixa contra outro; assim como Cristo vos perdoou, assim fazei vós também.

For what is a man profited, if he shall gain the whole world, and lose his own soul? or what shall a man give in exchange for his soul?

Pois que aproveita ao homem ganhar o mundo inteiro, se perder a sua alma? Ou que dará o homem em recompensa da sua alma?

Who art thou that judgest another man's servant? to his own master he standeth or falleth. Yea, he shall be holden up: for God is able to make him stand.

Quem és tu que julgas o servo alheio? Para seu próprio senhor ele está em pé ou cai; mas estará firme, porque poderoso é Deus para o firmar.

But Peter said, Ananias, why hath Satan filled thine heart to lie to the Holy Ghost, and to keep back part of the price of the land? Whiles it remained, was it not thine own? and after it was sold, was it not in thine own power? why hast thou conceived this thing in thine heart? thou hast not lied unto men, but unto God.

Disse, então, Pedro: Ananias, por que encheu Satanás o teu coração, para que mentisses ao Espírito Santo e retivesses parte do preço da herdade? Guardando-a, não ficava para ti? E, vendida, não estava em teu poder? Por que formaste este desígnio em teu coração? Não mentiste aos homens, mas a Deus.

If a man say, I love God, and hateth his brother, he is a liar: for he that loveth not his brother whom he hath seen, how can he love God whom he hath not seen?

Se alguém diz: Eu amo a Deus e aborrece a seu irmão, é mentiroso. Pois quem não ama seu irmão, ao qual viu, como pode amar a Deus, a quem não viu?

Every man also to whom God hath given riches and wealth, and hath given him power to eat thereof, and to take his portion, and to rejoice in his labour; this is the gift of God.

E quanto ao homem, a quem Deus deu riquezas e fazenda e lhe deu poder para delas comer, e tomar a sua porção, e gozar do seu trabalho, isso é dom de Deus.

Brethren, if a man be overtaken in a fault, ye which are spiritual, restore such an one in the spirit of meekness; considering thyself, lest thou also be tempted.

Irmãos, se algum homem chegar a ser surpreendido nalguma ofensa, vós, que sois espirituais, encaminhai o tal com espírito de mansidão, olhando por ti mesmo, para que não sejas também tentado.

He also that received seed among the thorns is he that heareth the word; and the care of this world, and the deceitfulness of riches, choke the word, and he becometh unfruitful.

E o que foi semeado entre espinhos é o que ouve a palavra, mas os cuidados deste mundo e a sedução das riquezas sufocam a palavra, e fica infrutífera.
Beware of false prophets, which come to you in sheep's clothing, but inwardly they are ravening wolves.
Personal Bible reading plan
Create an account to configure your Bible reading plan and you will see your progress and the next chapter to read here!
Read more...