Bible Verses about 'Speak'
«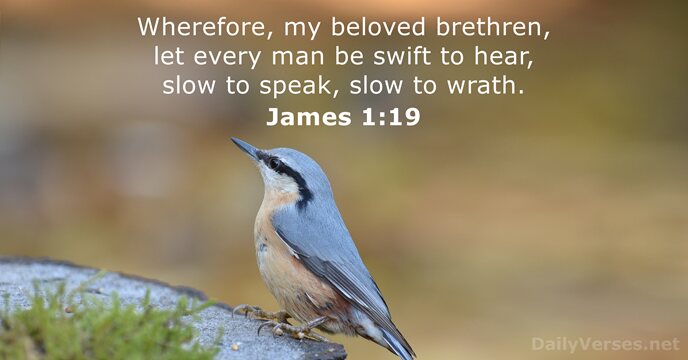 »
And as I began to speak, the Holy Ghost fell on them, as on us at the beginning.

E, quando comecei a falar, caiu sobre eles o Espírito Santo, como também sobre nós ao princípio.

But speak thou the things which become sound doctrine.

Tu, porém, fala o que convém à sã doutrina.

Wherefore, my beloved brethren, let every man be swift to hear, slow to speak, slow to wrath.

Sabeis isto, meus amados irmãos; mas todo o homem seja pronto para ouvir, tardio para falar, tardio para se irar.

But when they shall lead you, and deliver you up, take no thought beforehand what ye shall speak, neither do ye premeditate: but whatsoever shall be given you in that hour, that speak ye: for it is not ye that speak, but the Holy Ghost.

Quando, pois, vos conduzirem para vos entregarem, não estejais solícitos de antemão pelo que haveis de dizer; mas o que vos for dado naquela hora, isso falai; porque não sois vós os que falais, mas o Espírito Santo.

Though I speak with the tongues of men and of angels, and have not charity, I am become as sounding brass, or a tinkling cymbal.

Ainda que eu falasse as línguas dos homens e dos anjos e não tivesse amor, seria como o metal que soa ou como o sino que tine.

But I say unto you, That every idle word that men shall speak, they shall give account thereof in the day of judgment.

Mas eu vos digo que de toda palavra ociosa que os homens disserem hão de dar conta no Dia do Juízo.

Not that I speak in respect of want: for I have learned, in whatsoever state I am, therewith to be content.

Não digo isto como por necessidade, porque já aprendi a contentar-me com o que tenho.

Awake to righteousness, and sin not; for some have not the knowledge of God: I speak this to your shame.

Vigiai justamente e não pequeis; porque alguns ainda não têm o conhecimento de Deus; digo-o para vergonha vossa.

And have no fellowship with the unfruitful works of darkness, but rather reprove them. For it is a shame even to speak of those things which are done of them in secret.

E não comuniqueis com as obras infrutuosas das trevas, mas, antes, condenai-as. Porque o que eles fazem em oculto, até dizê-lo é torpe.

And there appeared unto them cloven tongues like as of fire, and it sat upon each of them. And they were all filled with the Holy Ghost, and began to speak with other tongues, as the Spirit gave them utterance.

E foram vistas por eles línguas repartidas, como que de fogo, as quais pousaram sobre cada um deles. E todos foram cheios do Espírito Santo e começaram a falar em outras línguas, conforme o Espírito Santo lhes concedia que falassem.

Open thy mouth for the dumb in the cause of all such as are appointed to destruction.

Abre a tua boca a favor do mudo, pelo direito de todos os que se acham em desolação.

Now I beseech you, brethren, by the name of our Lord Jesus Christ, that ye all speak the same thing, and that there be no divisions among you; but that ye be perfectly joined together in the same mind and in the same judgment.

Rogo-vos, porém, irmãos, pelo nome de nosso Senhor Jesus Cristo, que digais todos uma mesma coisa e que não haja entre vós dissensões; antes, sejais unidos, em um mesmo sentido e em um mesmo parecer.

For he that will love life, and see good days, let him refrain his tongue from evil, and his lips that they speak no guile: Let him eschew evil, and do good; let him seek peace, and ensue it.

Porque quem quer amar a vida e ver os dias bons, refreie a sua língua do mal, e os seus lábios não falem engano; aparte-se do mal e faça o bem; busque a paz e siga-a.

For the customs of the people are vain: for one cutteth a tree out of the forest, the work of the hands of the workman, with the axe. They deck it with silver and with gold; they fasten it with nails and with hammers, that it move not. They are upright as the palm tree, but speak not: they must needs be borne, because they cannot go. Be not afraid of them; for they cannot do evil, neither also is it in them to do good.

Porque os costumes dos povos são vaidade; pois cortam do bosque um madeiro, obra das mãos do artífice, com machado. Com prata e com ouro o enfeitam, com pregos e com martelos o firmam, para que não se mova. São como a palmeira, obra torneada, mas não podem falar; necessitam de quem os leve, porquanto não podem andar; não tenhais receio deles, pois não podem fazer mal, nem tampouco têm poder de fazer bem.

Open thy mouth, judge righteously, and plead the cause of the poor and needy.

Abre a tua boca, julga retamente e faze justiça aos pobres e aos necessitados.

Therefore say unto them, Thus saith the Lord G

od

; There shall none of my words be prolonged any more, but the word which I have spoken shall be done, saith the Lord G

od

.
Portanto, dize-lhes: Assim diz o Senhor J

eová

: Não será mais retardada nenhuma das minhas palavras, e a palavra que falei se cumprirá, diz o Senhor J

eová

.

He that keepeth his mouth keepeth his life: but he that openeth wide his lips shall have destruction.

O que guarda a sua boca conserva a sua alma, mas o que muito abre os lábios tem perturbação.

God is not a man, that he should lie; neither the son of man, that he should repent: hath he said, and shall he not do it? or hath he spoken, and shall he not make it good?

Deus não é homem, para que minta; nem filho de homem, para que se arrependa; porventura, diria ele e não o faria? Ou falaria e não o confirmaria?

Then Peter opened his mouth, and said, Of a truth I perceive that God is no respecter of persons: But in every nation he that feareth him, and worketh righteousness, is accepted with him.

E, abrindo Pedro a boca, disse: Reconheço, por verdade, que Deus não faz acepção de pessoas; mas que lhe é agradável aquele que, em qualquer nação, o teme e faz o que é justo.

And when they had prayed, the place was shaken where they were assembled together; and they were all filled with the Holy Ghost, and they spake the word of God with boldness.

E, tendo eles orado, moveu-se o lugar em que estavam reunidos; e todos foram cheios do Espírito Santo e anunciavam com ousadia a palavra de Deus.
And this is the confidence that we have in him, that, if we ask any thing according to his will, he heareth us.
Personal Bible reading plan
Create an account to configure your Bible reading plan and you will see your progress and the next chapter to read here!
Read more...