Bible Verses about 'Those'
«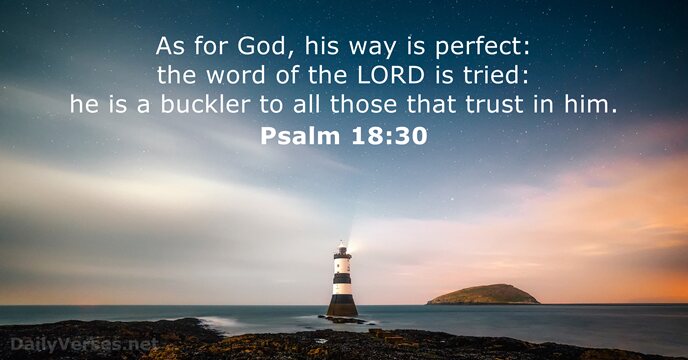 »
As for God, his way is perfect: the word of the L

ord

is tried: he is a buckler to all those that trust in him.
O caminho de Deus é perfeito; a palavra do S

enhor

é provada; é um escudo para todos os que nele confiam.

Look to yourselves, that we lose not those things which we have wrought, but that we receive a full reward.

Olhai por vós mesmos, para que não percamos o que temos ganhado; antes, recebamos o inteiro galardão.

God setteth the solitary in families: he bringeth out those which are bound with chains: but the rebellious dwell in a dry land.

Deus faz que o solitário viva em família; liberta aqueles que estão presos em grilhões; mas os rebeldes habitam em terra seca.

Those things, which ye have both learned, and received, and heard, and seen in me, do: and the God of peace shall be with you.

O que também aprendestes, e recebestes, e ouvistes, e vistes em mim, isso fazei; e o Deus de paz será convosco.

But if any provide not for his own, and specially for those of his own house, he hath denied the faith, and is worse than an infidel.

Mas, se alguém não tem cuidado dos seus e principalmente dos da sua família, negou a fé e é pior do que o infiel.

Now I Nebuchadnezzar praise and extol and honour the King of heaven, all whose works are truth, and his ways judgment: and those that walk in pride he is able to abase.

Agora, pois, eu, Nabucodonosor, louvo, e exalço, e glorifico ao Rei dos céus; porque todas as suas obras são verdades; e os seus caminhos, juízo, e pode humilhar aos que andam na soberba.
But the mercy of the L

ord

is from everlasting to everlasting upon them that fear him, and his righteousness unto children's children; To such as keep his covenant, and to those that remember his commandments to do them.
Mas a misericórdia do S

enhor

é de eternidade a eternidade sobre aqueles que o temem, e a sua justiça sobre os filhos dos filhos; sobre aqueles que guardam o seu concerto, e sobre os que se lembram dos seus mandamentos para os cumprirem.

And have no fellowship with the unfruitful works of darkness, but rather reprove them. For it is a shame even to speak of those things which are done of them in secret.

E não comuniqueis com as obras infrutuosas das trevas, mas, antes, condenai-as. Porque o que eles fazem em oculto, até dizê-lo é torpe.

Then said Jesus to those Jews which believed on him, If ye continue in my word, then are ye my disciples indeed; And ye shall know the truth, and the truth shall make you free.

Jesus dizia, pois, aos judeus que criam nele: Se vós permanecerdes na minha palavra, verdadeiramente, sereis meus discípulos e conhecereis a verdade, e a verdade vos libertará.

And an highway shall be there, and a way, and it shall be called The way of holiness; the unclean shall not pass over it; but it shall be for those: the wayfaring men, though fools, shall not err therein.

E ali haverá um alto caminho, um caminho que se chamará O Caminho Santo; o imundo não passará por ele, mas será para o povo de Deus; os caminhantes, até mesmo os loucos, não errarão.

Neither yield ye your members as instruments of unrighteousness unto sin: but yield yourselves unto God, as those that are alive from the dead, and your members as instruments of righteousness unto God.

Nem tampouco apresenteis os vossos membros ao pecado por instrumentos de iniquidade; mas apresentai-vos a Deus, como vivos dentre mortos, e os vossos membros a Deus, como instrumentos de justiça.

Beloved, if our heart condemn us not, then have we confidence toward God. And whatsoever we ask, we receive of him, because we keep his commandments, and do those things that are pleasing in his sight.

Amados, se o nosso coração nos não condena, temos confiança para com Deus; e qualquer coisa que lhe pedirmos, dele a receberemos, porque guardamos os seus mandamentos e fazemos o que é agradável à sua vista.

And Jesus being full of the Holy Ghost returned from Jordan, and was led by the Spirit into the wilderness, Being forty days tempted of the devil. And in those days he did eat nothing: and when they were ended, he afterward hungered.

E Jesus, cheio do Espírito Santo, voltou do Jordão e foi levado pelo Espírito ao deserto. E quarenta dias foi tentado pelo diabo, e, naqueles dias, não comeu coisa alguma, e, terminados eles, teve fome.

Rejoice with them that do rejoice, and weep with them that weep.

Alegrai-vos com os que se alegram e chorai com os que choram.

For verily I say unto you, That whosoever shall say unto this mountain, Be thou removed, and be thou cast into the sea; and shall not doubt in his heart, but shall believe that those things which he saith shall come to pass; he shall have whatsoever he saith.

Porque em verdade vos digo que qualquer que disser a este monte: Ergue-te e lança-te no mar, e não duvidar em seu coração, mas crer que se fará aquilo que diz, tudo o que disser lhe será feito.

But I say unto you which hear, Love your enemies, do good to them which hate you, Bless them that curse you, and pray for them which despitefully use you.

Mas a vós, que ouvis, digo: Amai a vossos inimigos, fazei bem aos que vos aborrecem, bendizei os que vos maldizem e orai pelos que vos caluniam.

Having therefore obtained help of God, I continue unto this day, witnessing both to small and great, saying none other things than those which the prophets and Moses did say should come: That Christ should suffer, and that he should be the first that should rise from the dead, and should shew light unto the people, and to the Gentiles.

Mas, alcançando socorro de Deus, ainda até ao dia de hoje permaneço, dando testemunho, tanto a pequenos como a grandes, não dizendo nada mais do que o que os profetas e Moisés disseram que devia acontecer, isto é, que o Cristo devia padecer e, sendo o primeiro da ressurreição dos mortos, devia anunciar a luz a este povo e aos gentios.
Behold, the eye of the L

ord

is upon them that fear him, upon them that hope in his mercy.
Eis que os olhos do S

enhor

estão sobre os que o temem, sobre os que esperam na sua misericórdia.

Deceit is in the heart of them that imagine evil: but to the counsellors of peace is joy.

Engano há no coração dos que maquinam mal, mas alegria têm os que aconselham a paz.
And they that know thy name will put their trust in thee: for thou, L

ord

, hast not forsaken them that seek thee.
E em ti confiarão os que conhecem o teu nome; porque tu, S

enhor

, nunca desamparaste os que te buscam.

So then they that are in the flesh cannot please God.

Portanto, os que estão na carne não podem agradar a Deus.

And I saw the dead, small and great, stand before God; and the books were opened: and another book was opened, which is the book of life: and the dead were judged out of those things which were written in the books, according to their works. And the sea gave up the dead which were in it; and death and hell delivered up the dead which were in them: and they were judged every man according to their works.

E vi os mortos, grandes e pequenos, que estavam diante do trono, e abriram-se os livros. E abriu-se outro livro, que é o da vida. E os mortos foram julgados pelas coisas que estavam escritas nos livros, segundo as suas obras. E deu o mar os mortos que nele havia; e a morte e o inferno deram os mortos que neles havia; e foram julgados cada um segundo as suas obras.

Blessed are they that mourn: for they shall be comforted.

Bem-aventurados os que choram, porque eles serão consolados.

Bless them which persecute you: bless, and curse not.

Abençoai aos que vos perseguem; abençoai e não amaldiçoeis.

But I say unto you, Love your enemies, bless them that curse you, do good to them that hate you, and pray for them which despitefully use you, and persecute you.

Eu, porém, vos digo: Amai a vossos inimigos, bendizei os que vos maldizem, fazei bem aos que vos odeiam e orai pelos que vos maltratam e vos perseguem.
Beware of false prophets, which come to you in sheep's clothing, but inwardly they are ravening wolves.
Personal Bible reading plan
Create an account to configure your Bible reading plan and you will see your progress and the next chapter to read here!
Read more...