Bible Verses about 'Water'
«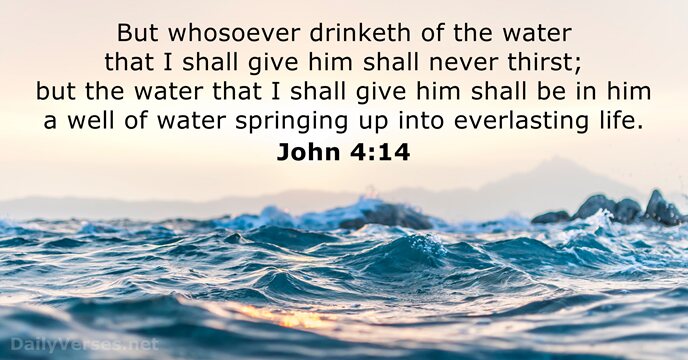 »
But whosoever drinketh of the water that I shall give him shall never thirst; but the water that I shall give him shall be in him a well of water springing up into everlasting life.

Mas aquele que beber da água que eu lhe der nunca terá sede, porque a água que eu lhe der se fará nele uma fonte de água a jorrar para a vida eterna.

As in water face answereth to face, so the heart of man to man.

Como na água o rosto corresponde ao rosto, assim o coração do homem ao homem.

As the hart panteth after the water brooks, so panteth my soul after thee, O God.

Como o cervo brama pelas correntes das águas, assim suspira a minha alma por ti, ó Deus!

He that believeth on me, as the scripture hath said, out of his belly shall flow rivers of living water.

Quem crê em mim, como diz a Escritura, rios de água viva correrão do seu ventre.

Can any man forbid water, that these should not be baptized, which have received the Holy Ghost as well as we?

Respondeu, então, Pedro: Pode alguém, porventura, recusar a água, para que não sejam batizados estes que também receberam, como nós, o Espírito Santo?

Jesus answered, Verily, verily, I say unto thee, Except a man be born of water and of the Spirit, he cannot enter into the kingdom of God.

Jesus respondeu: Na verdade, na verdade te digo que aquele que não nascer da água e do Espírito não pode entrar no Reino de Deus.

And ye shall serve the L

ord

your God, and he shall bless thy bread, and thy water; and I will take sickness away from the midst of thee.
E servireis ao S

enhor

, vosso Deus, e ele abençoará o vosso pão e a vossa água; e eu tirarei do meio de ti as enfermidades.

O God, thou art my God; early will I seek thee: my soul thirsteth for thee, my flesh longeth for thee in a dry and thirsty land, where no water is.

Ó Deus, tu és o meu Deus; de madrugada te buscarei; a minha alma tem sede de ti; a minha carne te deseja muito em uma terra seca e cansada, onde não há água.

Husbands, love your wives, even as Christ also loved the church, and gave himself for it; That he might sanctify and cleanse it with the washing of water by the word.

Vós, maridos, amai vossa mulher, como também Cristo amou a igreja e a si mesmo se entregou por ela, para a santificar, purificando-a com a lavagem da água, pela palavra.

And he was there with the L

ord

forty days and forty nights; he did neither eat bread, nor drink water. And he wrote upon the tables the words of the covenant, the ten commandments.
E esteve Moisés ali com o S

enhor

quarenta dias e quarenta noites; não comeu pão, nem bebeu água, e escreveu nas tábuas as palavras do concerto, os dez mandamentos.

And I knew him not: but he that sent me to baptize with water, the same said unto me, Upon whom thou shalt see the Spirit descending, and remaining on him, the same is he which baptizeth with the Holy Ghost.

E eu não o conhecia, mas o que me mandou a batizar com água, esse me disse: Sobre aquele que vires descer o Espírito e sobre ele repousar, esse é o que batiza com o Espírito Santo.

And in hell he lift up his eyes, being in torments, and seeth Abraham afar off, and Lazarus in his bosom. And he cried and said, Father Abraham, have mercy on me, and send Lazarus, that he may dip the tip of his finger in water, and cool my tongue; for I am tormented in this flame.

E, no Hades, ergueu os olhos, estando em tormentos, e viu ao longe Abraão e Lázaro, no seu seio. E, clamando, disse: Abraão, meu pai, tem misericórdia de mim e manda a Lázaro que molhe na água a ponta do seu dedo e me refresque a língua, porque estou atormentado nesta chama.

The liberal soul shall be made fat: and he that watereth shall be watered also himself.

A alma generosa engordará, e o que regar também será regado.

But let judgment run down as waters, and righteousness as a mighty stream.

Corra, porém, o juízo como as águas, e a justiça, como o ribeiro impetuoso.

These ye shall eat of all that are in the waters: all that have fins and scales shall ye eat: And whatsoever hath not fins and scales ye may not eat; it is unclean unto you.

Isto comereis de tudo o que há nas águas: tudo o que tem barbatanas e escamas comereis. Mas tudo o que não tiver barbatanas nem escamas não o comereis; imundo vos será.

They shall hunger no more, neither thirst any more; neither shall the sun light on them, nor any heat. For the Lamb which is in the midst of the throne shall feed them, and shall lead them unto living fountains of waters: and God shall wipe away all tears from their eyes.

Nunca mais terão fome, nunca mais terão sede; nem sol nem calma alguma cairá sobre eles, porque o Cordeiro que está no meio do trono os apascentará e lhes servirá de guia para as fontes das águas da vida; e Deus limpará de seus olhos toda lágrima.

Blessed is the man that trusteth in the L

ord

, and whose hope the L

ord

is. For he shall be as a tree planted by the waters, and that spreadeth out her roots by the river, and shall not see when heat cometh, but her leaf shall be green; and shall not be careful in the year of drought, neither shall cease from yielding fruit.
Bendito o varão que confia no S

enhor

, e cuja esperança é o S

enhor

. Porque ele será como a árvore plantada junto às águas, que estende as suas raízes para o ribeiro e não receia quando vem o calor, mas a sua folha fica verde; e, no ano de sequidão, não se afadiga nem deixa de dar fruto.
The L

ord

is my shepherd; I shall not want. He maketh me to lie down in green pastures: he leadeth me beside the still waters.
O S

enhor

é o meu pastor; nada me faltará. Deitar-me faz em verdes pastos, guia-me mansamente a águas tranquilas.

And I will establish my covenant with you, neither shall all flesh be cut off any more by the waters of a flood; neither shall there any more be a flood to destroy the earth.

E eu convosco estabeleço o meu concerto, que não será mais destruída toda carne pelas águas do dilúvio e que não haverá mais dilúvio para destruir a terra.

The like figure whereunto even baptism doth also now save us (not the putting away of the filth of the flesh, but the answer of a good conscience toward God,) by the resurrection of Jesus Christ.

Que também, como uma verdadeira figura, agora vos salva, batismo, não do despojamento da imundícia da carne, mas da indagação de uma boa consciência para com Deus, pela ressurreição de Jesus Cristo.

In the beginning God created the heaven and the earth. And the earth was without form, and void; and darkness was upon the face of the deep. And the Spirit of God moved upon the face of the waters.

No princípio, criou Deus os céus e a terra. E a terra era sem forma e vazia; e havia trevas sobre a face do abismo; e o Espírito de Deus se movia sobre a face das águas.
It is he that buildeth his stories in the heaven, and hath founded his troop in the earth; he that calleth for the waters of the sea, and poureth them out upon the face of the earth: The L

ord

is his name.
Ele é o que edifica as suas câmaras no céu, e a sua abóbada fundou na terra, e o que chama as águas do mar, e as derrama sobre a terra; o S

enhor

é o seu nome.

When thou passest through the waters, I will be with thee; and through the rivers, they shall not overflow thee: when thou walkest through the fire, thou shalt not be burned; neither shall the flame kindle upon thee.

Quando passares pelas águas, estarei contigo, e, quando pelos rios, eles não te submergirão; quando passares pelo fogo, não te queimarás, nem a chama arderá em ti.

And he was teaching in one of the synagogues on the sabbath. And, behold, there was a woman which had a spirit of infirmity eighteen years, and was bowed together, and could in no wise lift up herself. And when Jesus saw her, he called her to him, and said unto her, Woman, thou art loosed from thine infirmity. And he laid his hands on her: and immediately she was made straight, and glorified God. And the ruler of the synagogue answered with indignation, because that Jesus had healed on the sabbath day, and said unto the people, There are six days in which men ought to work: in them therefore come and be healed, and not on the sabbath day. The Lord then answered him, and said, Thou hypocrite, doth not each one of you on the sabbath loose his ox or his ass from the stall, and lead him away to watering? And ought not this woman, being a daughter of Abraham, whom Satan hath bound, lo, these eighteen years, be loosed from this bond on the sabbath day? And when he had said these things, all his adversaries were ashamed: and all the people rejoiced for all the glorious things that were done by him.

E ensinava no sábado, numa das sinagogas. E eis que estava ali uma mulher que tinha um espírito de enfermidade havia já dezoito anos; e andava curvada e não podia de modo algum endireitar-se. E, vendo-a Jesus, chamou-a a si, e disse-lhe: Mulher, estás livre da tua enfermidade. E impôs as mãos sobre ela, e logo se endireitou e glorificava a Deus. E, tomando a palavra o príncipe da sinagoga, indignado porque Jesus curava no sábado, disse à multidão: Seis dias há em que é mister trabalhar; nestes, pois, vinde para serdes curados e não no dia de sábado. Respondeu-lhe, porém, o Senhor e disse: Hipócrita, no sábado não desprende da manjedoura cada um de vós o seu boi ou jumento e não o leva a beber água? E não convinha soltar desta prisão, no dia de sábado, esta filha de Abraão, a qual há dezoito anos Satanás mantinha presa? E, dizendo ele isso, todos os seus adversários ficaram envergonhados, e todo o povo se alegrava por todas as coisas gloriosas que eram feitas por ele.
And this is the confidence that we have in him, that, if we ask any thing according to his will, he heareth us.
Personal Bible reading plan
Create an account to configure your Bible reading plan and you will see your progress and the next chapter to read here!
Read more...