Bible Verses about 'Well'
«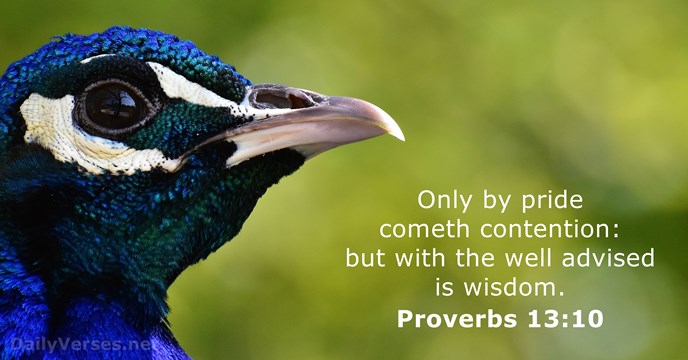 »
Ye call me Master and Lord: and ye say well; for so I am.

Vós me chamais Mestre e Senhor e dizeis bem, porque eu o sou.

Only by pride cometh contention: but with the well advised is wisdom.

Da soberba só provém a contenda, mas com os que se aconselham se acha a sabedoria.

O that there were such an heart in them, that they would fear me, and keep all my commandments always, that it might be well with them, and with their children for ever!

Quem dera que eles tivessem tal coração que me temessem e guardassem todos os meus mandamentos todos os dias, para que bem lhes fosse a eles e a seus filhos, para sempre!

While he yet spake, behold, a bright cloud overshadowed them: and behold a voice out of the cloud, which said, This is my beloved Son, in whom I am well pleased; hear ye him.

E, estando ele ainda a falar, eis que uma nuvem luminosa os cobriu. E da nuvem saiu uma voz que dizia: Este é o meu Filho amado, em quem me comprazo; escutai-o.

His lord said unto him, Well done, thou good and faithful servant: thou hast been faithful over a few things, I will make thee ruler over many things: enter thou into the joy of thy lord.

E o seu senhor lhe disse: Bem está, servo bom e fiel. Sobre o pouco foste fiel, sobre muito te colocarei; entra no gozo do teu senhor.

And let us not be weary in well doing: for in due season we shall reap, if we faint not.

E não nos cansemos de fazer o bem, porque a seu tempo ceifaremos, se não houvermos desfalecido.

Learn to do well; seek judgment, relieve the oppressed, judge the fatherless, plead for the widow.

Aprendei a fazer o bem; praticai o que é reto; ajudai o oprimido; fazei justiça ao órfão; tratai da causa das viúvas.

Beloved, I wish above all things that thou mayest prosper and be in health, even as thy soul prospereth.

Amado, desejo que te vá bem em todas as coisas e que tenhas saúde, assim como bem vai a tua alma.

For thou hast possessed my reins: thou hast covered me in my mother's womb. I will praise thee; for I am fearfully and wonderfully made: marvellous are thy works; and that my soul knoweth right well.

Pois possuíste o meu interior; entreteceste-me no ventre de minha mãe. Eu te louvarei, porque de um modo terrível e tão maravilhoso fui formado; maravilhosas são as tuas obras, e a minha alma o sabe muito bem.

How much then is a man better than a sheep? Wherefore it is lawful to do well on the sabbath days.

Pois quanto mais vale um homem do que uma ovelha? É, por consequência, lícito fazer bem nos sábados.

Can any man forbid water, that these should not be baptized, which have received the Holy Ghost as well as we?

Respondeu, então, Pedro: Pode alguém, porventura, recusar a água, para que não sejam batizados estes que também receberam, como nós, o Espírito Santo?

Ye shall walk in all the ways which the L

ord

your God hath commanded you, that ye may live, and that it may be well with you, and that ye may prolong your days in the land which ye shall possess.
Andareis em todo o caminho que vos manda o S

enhor

, vosso Deus, para que vivais, e bem vos suceda, e prolongueis os dias na terra que haveis de possuir.
Thou shalt keep therefore his statutes, and his commandments, which I command thee this day, that it may go well with thee, and with thy children after thee, and that thou mayest prolong thy days upon the earth, which the L

ord

thy God giveth thee, for ever.
E guardarás os seus estatutos e os seus mandamentos, que te ordeno hoje, para que bem te vá a ti e a teus filhos depois de ti e para que prolongues os dias na terra que o S

enhor

, teu Deus, te dá para todo o sempre.

Exhort servants to be obedient unto their own masters, and to please them well in all things; not answering again; Not purloining, but shewing all good fidelity; that they may adorn the doctrine of God our Saviour in all things.

Exorta os servos a que se sujeitem a seu senhor e em tudo agradem, não contradizendo, não defraudando; antes, mostrando toda a boa lealdade, para que, em tudo, sejam ornamento da doutrina de Deus, nosso Salvador.

Now when all the people were baptized, it came to pass, that Jesus also being baptized, and praying, the heaven was opened, And the Holy Ghost descended in a bodily shape like a dove upon him, and a voice came from heaven, which said, Thou art my beloved Son; in thee I am well pleased.

E aconteceu que, como todo o povo se batizava, sendo batizado também Jesus, orando ele, o céu se abriu, e o Espírito Santo desceu sobre ele em forma corpórea, como uma pomba; e ouviu-se uma voz do céu, que dizia: Tu és meu Filho amado; em ti me tenho comprazido.

But when Jesus heard it, he answered him, saying, Fear not: believe only, and she shall be made whole.

Jesus, porém, ouvindo-o, respondeu-lhe, dizendo: Não temas; crê somente, e será salva.

But whosoever drinketh of the water that I shall give him shall never thirst; but the water that I shall give him shall be in him a well of water springing up into everlasting life.

Mas aquele que beber da água que eu lhe der nunca terá sede, porque a água que eu lhe der se fará nele uma fonte de água a jorrar para a vida eterna.

But when Jesus heard that, he said unto them, They that be whole need not a physician, but they that are sick.

Jesus, porém, ouvindo, disse-lhes: Não necessitam de médico os sãos, mas sim, os doentes.

In the day of prosperity be joyful, but in the day of adversity consider: God also hath set the one over against the other, to the end that man should find nothing after him.

No dia da prosperidade, goza do bem, mas, no dia da adversidade, considera; porque também Deus fez este em oposição àquele, para que o homem nada ache que tenha de vir depois dele.

And Jesus said unto him, Go thy way; thy faith hath made thee whole. And immediately he received his sight, and followed Jesus in the way.

E Jesus lhe disse: Vai, a tua fé te salvou. E logo viu, e seguiu a Jesus pelo caminho.

Let no man seek his own, but every man another's wealth.

Ninguém busque o proveito próprio; antes, cada um, o que é de outrem.
Keep the sabbath day to sanctify it, as the L

ord

thy God hath commanded thee. Six days thou shalt labour, and do all thy work: But the seventh day is the sabbath of the L

ord

thy God: in it thou shalt not do any work, thou, nor thy son, nor thy daughter, nor thy manservant, nor thy maidservant, nor thine ox, nor thine ass, nor any of thy cattle, nor thy stranger that is within thy gates; that thy manservant and thy maidservant may rest as well as thou.
Guarda o dia de sábado, para o santificar, como te ordenou o S

enhor

, teu Deus. Seis dias trabalharás e farás toda a tua obra. Mas o sétimo dia é o sábado do S

enhor

, teu Deus; não farás nenhuma obra nele, nem tu, nem teu filho, nem tua filha, nem o teu servo, nem a tua serva, nem o teu boi, nem o teu jumento, nem animal algum teu, nem o estrangeiro que está dentro de tuas portas; para que o teu servo e a tua serva descansem como tu.

A good man sheweth favour, and lendeth: he will guide his affairs with discretion.

Bem irá ao homem que se compadece e empresta; disporá as suas coisas com juízo.

If ye had known me, ye should have known my Father also: and from henceforth ye know him, and have seen him.

Se vós me conhecêsseis a mim, também conheceríeis a meu Pai; e já desde agora o conheceis e o tendes visto.

But seek ye first the kingdom of God, and his righteousness; and all these things shall be added unto you.

Mas buscai primeiro o Reino de Deus, e a sua justiça, e todas essas coisas vos serão acrescentadas.
For all the law is fulfilled in one word, even in this; Thou shalt love thy neighbour as thyself.
Personal Bible reading plan
Create an account to configure your Bible reading plan and you will see your progress and the next chapter to read here!
Read more...