Bible Verses about 'Whole'
«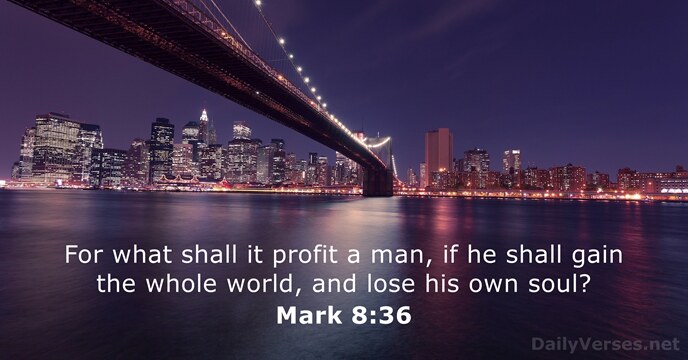 »
For what shall it profit a man, if he shall gain the whole world, and lose his own soul?

Pois que aproveitaria ao homem ganhar todo o mundo e perder a sua alma?

Let us hear the conclusion of the whole matter: Fear God, and keep his commandments: for this is the whole duty of man.

De tudo o que se tem ouvido, o fim é: Teme a Deus e guarda os seus mandamentos; porque este é o dever de todo homem.

With my whole heart have I sought thee: O let me not wander from thy commandments.

De todo o meu coração te busquei; não me deixes desviar dos teus mandamentos.

Blessed are they that keep his testimonies, and that seek him with the whole heart.

Bem-aventurados os que guardam os seus testemunhos e o buscam de todo o coração.

And he is the propitiation for our sins: and not for ours only, but also for the sins of the whole world.

E ele é a propiciação pelos nossos pecados e não somente pelos nossos, mas também pelos de todo o mundo.

I will praise thee, O L

ord

, with my whole heart; I will shew forth all thy marvellous works.
Eu te louvarei, S

enhor

, de todo o meu coração; contarei todas as tuas maravilhas.

Put on the whole armour of God, that ye may be able to stand against the wiles of the devil.

Revesti-vos de toda a armadura de Deus, para que possais estar firmes contra as astutas ciladas do diabo.

For in many things we offend all. If any man offend not in word, the same is a perfect man, and able also to bridle the whole body.

Porque todos tropeçamos em muitas coisas. Se alguém não tropeça em palavra, o tal varão é perfeito e poderoso para também refrear todo o corpo.

For what is a man profited, if he shall gain the whole world, and lose his own soul? or what shall a man give in exchange for his soul?

Pois que aproveita ao homem ganhar o mundo inteiro, se perder a sua alma? Ou que dará o homem em recompensa da sua alma?

Wherefore take unto you the whole armour of God, that ye may be able to withstand in the evil day, and having done all, to stand.

Portanto, tomai toda a armadura de Deus, para que possais resistir no dia mau e, havendo feito tudo, ficar firmes.

And if thy right eye offend thee, pluck it out, and cast it from thee: for it is profitable for thee that one of thy members should perish, and not that thy whole body should be cast into hell.

Portanto, se o teu olho direito te escandalizar, arranca-o e atira-o para longe de ti, pois te é melhor que se perca um dos teus membros do que todo o teu corpo seja lançado no inferno.

But when Jesus heard it, he answered him, saying, Fear not: believe only, and she shall be made whole.

Jesus, porém, ouvindo-o, respondeu-lhe, dizendo: Não temas; crê somente, e será salva.

I ate no pleasant bread, neither came flesh nor wine in my mouth, neither did I anoint myself at all, till three whole weeks were fulfilled.

Manjar desejável não comi, nem carne nem vinho entraram na minha boca, nem me ungi com unguento, até que se cumpriram as três semanas.

But when Jesus heard that, he said unto them, They that be whole need not a physician, but they that are sick.

Jesus, porém, ouvindo, disse-lhes: Não necessitam de médico os sãos, mas sim, os doentes.

And Jesus said unto him, Go thy way; thy faith hath made thee whole. And immediately he received his sight, and followed Jesus in the way.

E Jesus lhe disse: Vai, a tua fé te salvou. E logo viu, e seguiu a Jesus pelo caminho.

I wait for the L

ord

, my soul doth wait, and in his word do I hope.
Aguardo o S

enhor

; a minha alma o aguarda, e espero na sua palavra.

And he said unto them, Go ye into all the world, and preach the gospel to every creature.

E disse-lhes: Ide por todo o mundo, pregai o evangelho a toda criatura.

For all the law is fulfilled in one word, even in this; Thou shalt love thy neighbour as thyself.

Porque toda a lei se cumpre numa só palavra, nesta: Amarás o teu próximo como a ti mesmo.

And when the day of Pentecost was fully come, they were all with one accord in one place. And suddenly there came a sound from heaven as of a rushing mighty wind, and it filled all the house where they were sitting.

Cumprindo-se o dia de Pentecostes, estavam todos reunidos no mesmo lugar; e, de repente, veio do céu um som, como de um vento veemente e impetuoso, e encheu toda a casa em que estavam assentados.
And the L

ord

shall be king over all the earth: in that day shall there be one L

ord

, and his name one.
E o S

enhor

será rei sobre toda a terra; naquele dia, um será o S

enhor

, e um será o seu nome.

Before the mountains were brought forth, or ever thou hadst formed the earth and the world, even from everlasting to everlasting, thou art God.

Antes que os montes nascessem, ou que tu formasses a terra e o mundo, sim, de eternidade a eternidade, tu és Deus.

For in him dwelleth all the fulness of the Godhead bodily. And ye are complete in him, which is the head of all principality and power.

Porque nele habita corporalmente toda a plenitude da divindade. E estais perfeitos nele, que é a cabeça de todo principado e potestade.

O God, thou art my God; early will I seek thee: my soul thirsteth for thee, my flesh longeth for thee in a dry and thirsty land, where no water is.

Ó Deus, tu és o meu Deus; de madrugada te buscarei; a minha alma tem sede de ti; a minha carne te deseja muito em uma terra seca e cansada, onde não há água.

Now therefore, if ye will obey my voice indeed, and keep my covenant, then ye shall be a peculiar treasure unto me above all people: for all the earth is mine.

Agora, pois, se diligentemente ouvirdes a minha voz e guardardes o meu concerto, então, sereis a minha propriedade peculiar dentre todos os povos; porque toda a terra é minha.

And God said, Behold, I have given you every herb bearing seed, which is upon the face of all the earth, and every tree, in the which is the fruit of a tree yielding seed; to you it shall be for meat.

E disse Deus: Eis que vos tenho dado toda erva que dá semente e que está sobre a face de toda a terra e toda árvore em que há fruto de árvore que dá semente; ser-vos-ão para mantimento.
And though I have the gift of prophecy, and understand all mysteries, and all knowledge; and though I have all faith, so that I could remove mountains, and have not charity, I am nothing.
Personal Bible reading plan
Create an account to configure your Bible reading plan and you will see your progress and the next chapter to read here!
Read more...