Bible Verses about 'But'
«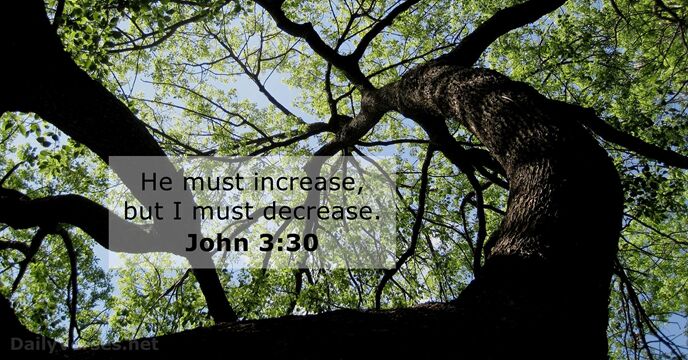 »
He must increase, but I must decrease.

Be not overcome of evil, but overcome evil with good.

But Jesus beheld them, and said unto them, With men this is impossible; but with God all things are possible.

But he that shall endure unto the end, the same shall be saved.

For his anger endureth but a moment;
in his favour is life:
weeping may endure for a night,
but joy cometh in the morning.
Hatred stirreth up strifes:
but love covereth all sins.

All things are lawful for me, but all things are not expedient: all things are lawful for me, but all things edify not.

But he answered and said, It is written, Man shall not live by bread alone, but by every word that proceedeth out of the mouth of God.

I came not to call the righteous, but sinners to repentance.

But when Jesus heard that, he said unto them, They that be whole need not a physician, but they that are sick.

Let no man seek his own, but every man another's wealth.

A man's heart deviseth his way:
but the L

ord

directeth his steps.

Now a mediator is not a mediator of one, but God is one.

When pride cometh, then cometh shame:
but with the lowly is wisdom.
A soft answer turneth away wrath:
but grievous words stir up anger.
Only by pride cometh contention:
but with the well advised is wisdom.

Heaven and earth shall pass away, but my words shall not pass away.

Righteousness exalteth a nation:
but sin is a reproach to any people.

But many that are first shall be last; and the last shall be first.

The wicked borroweth, and payeth not again:
but the righteous sheweth mercy, and giveth.
A fool's wrath is presently known:
but a prudent man covereth shame.
In all labour there is profit:
but the talk of the lips tendeth only to penury.
A fool uttereth all his mind:
but a wise man keepeth it in till afterwards.

All things are lawful unto me, but all things are not expedient: all things are lawful for me, but I will not be brought under the power of any.

I tell you, Nay: but, except ye repent, ye shall all likewise perish.
Therefore being justified by faith, we have peace with God through our Lord Jesus Christ.
Personal Bible reading plan
Create an account to configure your Bible reading plan and you will see your progress and the next chapter to read here!
Read more...