Bible Verses about 'Doing'
«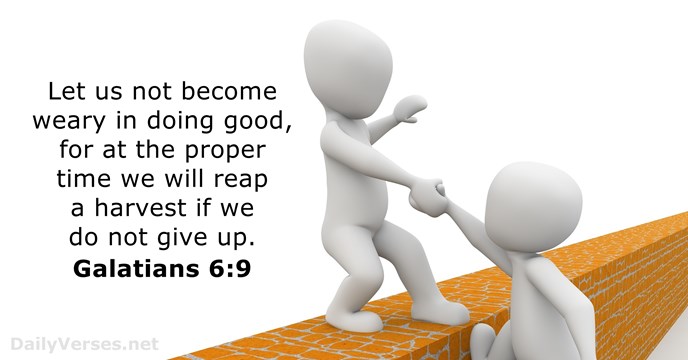 »
Let us not become weary in doing good, for at the proper time we will reap a harvest if we do not give up.

Therefore encourage one another and build each other up, just as in fact you are doing.

Wash and make yourselves clean.
Take your evil deeds out of my sight;
stop doing wrong.

But when you give to the needy, do not let your left hand know what your right hand is doing, so that your giving may be in secret. Then your Father, who sees what is done in secret, will reward you.

"If you keep your feet from breaking the Sabbath
and from doing as you please on my holy day,
if you call the Sabbath a delight
and the L

ord

's holy day honorable,
and if you honor it by not going your own way
and not doing as you please or speaking idle words,
then you will find your joy in the L

ord

,
and I will cause you to ride in triumph on the heights of the land
and to feast on the inheritance of your father Jacob."
For the mouth of the L

ord

has spoken.

Keep on loving one another as brothers and sisters. Do not forget to show hospitality to strangers, for by so doing some people have shown hospitality to angels without knowing it.

But whoever looks intently into the perfect law that gives freedom, and continues in it—not forgetting what they have heard, but doing it—they will be blessed in what they do.

Very truly I tell you, whoever believes in me will do the works I have been doing, and they will do even greater things than these, because I am going to the Father.

And let us consider how we may spur one another on toward love and good deeds, not giving up meeting together, as some are in the habit of doing, but encouraging one another—and all the more as you see the Day approaching.

Now may the God of peace, who through the blood of the eternal covenant brought back from the dead our Lord Jesus, that great Shepherd of the sheep, equip you with everything good for doing his will, and may he work in us what is pleasing to him, through Jesus Christ, to whom be glory for ever and ever. Amen.

Then Peter said, "Ananias, how is it that Satan has so filled your heart that you have lied to the Holy Spirit and have kept for yourself some of the money you received for the land? Didn't it belong to you before it was sold? And after it was sold, wasn't the money at your disposal? What made you think of doing such a thing? You have not lied just to human beings but to God."

One Sabbath Jesus was going through the grainfields, and as his disciples walked along, they began to pick some heads of grain. The Pharisees said to him, "Look, why are they doing what is unlawful on the Sabbath?" He answered, "Have you never read what David did when he and his companions were hungry and in need? In the days of Abiathar the high priest, he entered the house of God and ate the consecrated bread, which is lawful only for priests to eat. And he also gave some to his companions." Then he said to them, "The Sabbath was made for man, not man for the Sabbath. So the Son of Man is Lord even of the Sabbath."

For it is by grace you have been saved, through faith—and this is not from yourselves, it is the gift of God—not by works, so that no one can boast.

Rend your heart
and not your garments.
Return to the L

ord

your God,
for he is gracious and compassionate,
slow to anger and abounding in love,
and he relents from sending calamity.
If anyone sins and does what is forbidden in any of the L

ord

's commands, even though they do not know it, they are guilty and will be held responsible.

For the flesh desires what is contrary to the Spirit, and the Spirit what is contrary to the flesh. They are in conflict with each other, so that you are not to do whatever you want.

On a Sabbath Jesus was teaching in one of the synagogues, and a woman was there who had been crippled by a spirit for eighteen years. She was bent over and could not straighten up at all. When Jesus saw her, he called her forward and said to her, "Woman, you are set free from your infirmity." Then he put his hands on her, and immediately she straightened up and praised God. Indignant because Jesus had healed on the Sabbath, the synagogue leader said to the people, "There are six days for work. So come and be healed on those days, not on the Sabbath." The Lord answered him, "You hypocrites! Doesn't each of you on the Sabbath untie your ox or donkey from the stall and lead it out to give it water? Then should not this woman, a daughter of Abraham, whom Satan has kept bound for eighteen long years, be set free on the Sabbath day from what bound her?" When he said this, all his opponents were humiliated, but the people were delighted with all the wonderful things he was doing.

The heart is deceitful above all things
and beyond cure. Who can understand it?
"I the L

ord

search the heart and examine the mind,
to reward each person according to their conduct,
according to what their deeds deserve."
In that day you will say:
"Give praise to the L

ord

, proclaim his name;
make known among the nations what he has done,
and proclaim that his name is exalted."

If you really change your ways and your actions and deal with each other justly, if you do not oppress the foreigner, the fatherless or the widow and do not shed innocent blood in this place, and if you do not follow other gods to your own harm, then I will let you live in this place, in the land I gave your ancestors for ever and ever.

Do not be like your ancestors, to whom the earlier prophets proclaimed: This is what the L

ord

Almighty says: 'Turn from your evil ways and your evil practices.' But they would not listen or pay attention to me, declares the L

ord

.
Anxiety weighs down the heart, but a kind word cheers it up.
Personal Bible reading plan
Create an account to configure your Bible reading plan and you will see your progress and the next chapter to read here!
Read more...