Bible Verses about the Second coming
«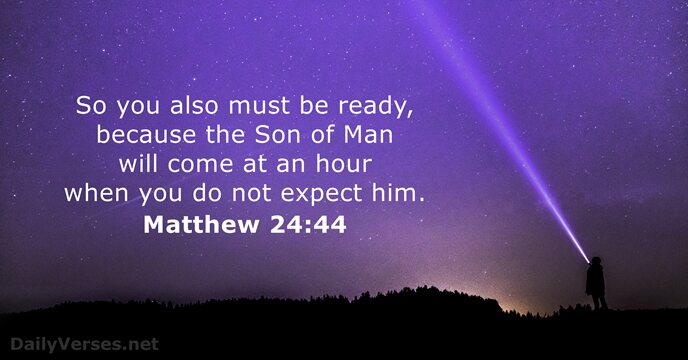 »
| | |
| --- | --- |
| So you also must be ready, because the Son of Man will come at an hour when you do not expect him. | Olkaa siis tekin valmiit, sillä Ihmisen Poika tulee hetkellä, jota ette aavista. |
| And let us consider how we may spur one another on toward love and good deeds, not giving up meeting together, as some are in the habit of doing, but encouraging one another—and all the more as you see the Day approaching. | Pitäkäämme huolta toinen toisestamme ja kannustakaamme toisiamme rakkauteen ja hyviin tekoihin. Me emme saa lyödä laimin seurakuntamme yhteisiä kokouksia, niin kuin muutamilla on tapana, vaan meidän tulee rohkaista toisiamme, sitä enemmän mitä lähempänä näette Herran päivän olevan. |
| He who testifies to these things says, "Yes, I am coming soon." Amen. Come, Lord Jesus. | Hän, joka todistaa tämän, sanoo: »Tämä on tosi, minä tulen pian.» Aamen. Tule, Herra Jeesus! |
| Therefore keep watch, because you do not know on what day your Lord will come. | Valvokaa siis, sillä te ette tiedä, minä päivänä teidän Herranne tulee. |
| Look, I am coming soon! My reward is with me, and I will give to each person according to what they have done. | Minä tulen pian, ja tullessani minä tuon jokaiselle palkan, maksan kullekin hänen tekojensa mukaan. |
| The end of all things is near. Therefore be alert and of sober mind so that you may pray. | Kaiken loppu on lähellä. Olkaa siis ymmärtäväiset ja raittiit voidaksenne rukoilla. |
| "I am the Alpha and the Omega," says the Lord God, "who is, and who was, and who is to come, the Almighty." | »Minä olen A ja O, alku ja loppu», sanoo Herra Jumala, hän, joka on, joka oli ja joka on tuleva, Kaikkivaltias. |
| I am coming soon. Hold on to what you have, so that no one will take your crown. | Minä tulen pian. Pidä kiinni siitä mitä sinulla on, ettei kukaan vie voitonseppelettäsi. |
| They were looking intently up into the sky as he was going, when suddenly two men dressed in white stood beside them. "Men of Galilee," they said, "why do you stand here looking into the sky? This same Jesus, who has been taken from you into heaven, will come back in the same way you have seen him go into heaven." | Ja kun he Jeesuksen etääntyessä vielä tähysivät taivaalle, heidän vieressään seisoi yhtäkkiä kaksi valkopukuista miestä. Nämä sanoivat: »Galilean miehet, mitä te siinä seisotte katselemassa taivaalle? Tämä Jeesus, joka otettiin teidän luotanne taivaaseen, tulee kerran takaisin, samalla tavoin kuin näitte hänen taivaaseen menevän.» |
| And now, dear children, continue in him, so that when he appears we may be confident and unashamed before him at his coming. | Niin, lapseni, pysykää Kristuksessa, jotta hänen ilmestyessään voimme astua rohkeasti esiin emmekä joudu häveten väistymään hänen luotaan, kun hän saapuu. |
| "Look, he is coming with the clouds," and "every eye will see him, even those who pierced him"; and all peoples on earth "will mourn because of him." So shall it be! Amen. | Katso, hän tulee pilvissä! Kaikki ihmiset näkevät hänet, nekin, jotka hänet lävistivät, ja hänen tullessaan vaikeroivat maailman kaikki kansat. Näin on käyvä. Aamen. |
| Watch out for false prophets. They come to you in sheep's clothing, but inwardly they are ferocious wolves. | Varokaa vääriä profeettoja. He tulevat luoksenne lampaiden vaatteissa, mutta sisältä he ovat raatelevia susia. |
| But do not forget this one thing, dear friends: With the Lord a day is like a thousand years, and a thousand years are like a day. | Mutta älkää te, rakkaat ystävät, unohtako tätä: Herralle yksi päivä on kuin tuhat vuotta ja tuhat vuotta kuin yksi päivä. |
| Being confident of this, that he who began a good work in you will carry it on to completion until the day of Christ Jesus. | Minä luotan siihen, että Jumala, joka on teissä aloittanut hyvän työnsä, myös saattaa sen päätökseen Kristuksen Jeesuksen päivään mennessä. |
| And do not grieve the Holy Spirit of God, with whom you were sealed for the day of redemption. | Älkää tuottako surua Jumalan Pyhälle Hengelle, jonka olette saaneet sinetiksi lunastuksen päivää varten. |
If I have the gift of prophecy and can fathom all mysteries and all knowledge, and if I have a faith that can move mountains, but do not have love, I am nothing.
Personal Bible reading plan
Create an account to configure your Bible reading plan and you will see your progress and the next chapter to read here!
Read more...