Bible Verses about Sin
«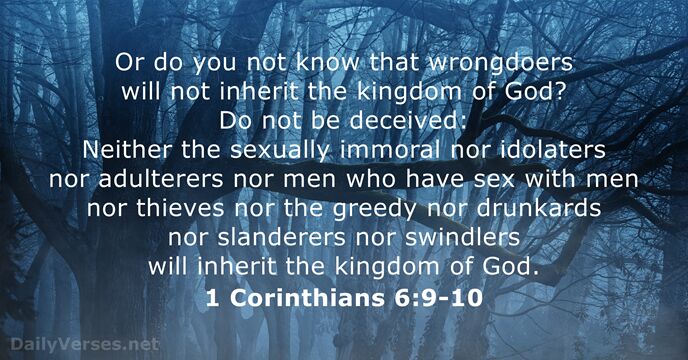 »
Or do you not know that wrongdoers will not inherit the kingdom of God? Do not be deceived: Neither the sexually immoral nor idolaters nor adulterers nor men who have sex with men nor thieves nor the greedy nor drunkards nor slanderers nor swindlers will inherit the kingdom of God.

Weten jullie dan niet dat slechte mensen niet bij Gods Koninkrijk zullen horen? Houd jezelf toch niet voor de gek! Mensen die met allerlei mannen of vrouwen naar bed gaan, of afgoden aanbidden, of niet trouw zijn aan hun eigen man of vrouw, of mannen die met mannen en vrouwen die met vrouwen seks hebben, of mensen die stelen, hebzuchtig zijn, te veel drinken, leugens over anderen rondvertellen of anderen bedriegen, zullen Gods Koninkrijk niet binnengaan.

If we confess our sins, he is faithful and just and will forgive us our sins and purify us from all unrighteousness.

Maar als we het aan God vertellen als we verkeerd hebben gedaan en Hem om vergeving vragen, dan vergeeft Hij ons. Dan wast Hij ons weer schoon van elke ongehoorzaamheid, zoals Hij heeft beloofd. Want Hij doet altijd wat Hij heeft gezegd.

For all have sinned and fall short of the glory of God, and all are justified freely by his grace through the redemption that came by Christ Jesus.

Want álle mensen zijn ongehoorzaam aan God. Daardoor moeten álle mensen leven zonder de heerlijke aanwezigheid van God in hun leven. Maar door Gods liefdevolle goedheid worden ze vrijgesproken van hun schuld. Niet omdat ze dat verdienen, maar dankzij Jezus Christus.

Put to death, therefore, whatever belongs to your earthly nature: sexual immorality, impurity, lust, evil desires and greed, which is idolatry.

Reken daarom af met je aardse verlangens. Je moet die doden! Ik bedoel dit: Ga niet meer met allerlei mannen of vrouwen naar bed. Doe geen andere verkeerde dingen op het gebied van seks. Wees niet langer hebzuchtig, want hebzucht is een afgod.

What then? Shall we sin because we are not under the law but under grace? By no means!

Hoe zit het dus? Zullen we dan maar veel slechte dingen doen, omdat de wet niets meer over ons te zeggen heeft, en God ons in zijn liefde alles vergeeft? Nee, natuurlijk niet!

If your brother or sister sins, go and point out their fault, just between the two of you. If they listen to you, you have won them over.

Jezus zei: "Als iemand verkeerd tegen je heeft gedaan, ga dan naar hem toe en praat met hem onder vier ogen. Als hij naar je luistert, heb je hem gered."

Direct my footsteps according to your word; let no sin rule over me.

Zorg ervoor dat ik altijd het goede doe. Laat het kwaad geen macht over me krijgen.

You adulterous people, don't you know that friendship with the world means enmity against God? Therefore, anyone who chooses to be a friend of the world becomes an enemy of God.

Jullie zijn ontrouw aan God! Weten jullie niet, dat je geen vriend kan zijn van de wereld én van God? Als je dus een vriend van de wereld wil zijn, ben je vanzelf een vijand van God.

Have mercy on me, O God, according to your unfailing love; according to your great compassion blot out my transgressions. Wash away all my iniquity and cleanse me from my sin.

God, heb alstublieft medelijden met mij, omdat U liefdevol bent. Doe weg wat ik verkeerd heb gedaan, omdat U goed bent. Was mijn ongehoorzaamheid van mij af. Vergeef me mijn slechte daden.

Why do you look at the speck of sawdust in your brother's eye and pay no attention to the plank in your own eye?

Jullie zien wél dat er een splinter zit in het oog van iemand anders. Maar jullie merken helemaal niet dat er een hele balk in je eigen oog zit!

Whoever walks in integrity walks securely, but whoever takes crooked paths will be found out.

Als je eerlijk leeft, hoef je nergens bang voor te zijn. Maar als je liegt en bedriegt, zul je uiteindelijk gestraft worden.

A good man brings good things out of the good stored up in his heart, and an evil man brings evil things out of the evil stored up in his heart. For the mouth speaks what the heart is full of.

Net zo haalt een goed mens goede dingen tevoorschijn uit de goede voorraad in zijn hart. Maar een slecht mens haalt slechte dingen tevoorschijn uit de slechte voorraad in zijn hart. Want iemands woorden verraden wat er in zijn hart is.

Above all, love each other deeply, because love covers over a multitude of sins.

Maar het belangrijkste is dat jullie als broeders en zusters veel van elkaar houden. Want de liefde vergeeft wat jullie verkeerd tegen elkaar doen.

If we claim to have fellowship with him and yet walk in the darkness, we lie and do not live out the truth.

Dus als we zeggen dat we één met Hem zijn, maar zelf in het donker leven omdat we Hem niet willen gehoorzamen, dan liegen we. Dan leven we niet vanuit Gods waarheid.

Have nothing to do with the fruitless deeds of darkness, but rather expose them. It is shameful even to mention what the disobedient do in secret.

Doe niet mee met de slechte dingen van de duisternis. Breng ze liever aan het licht. Want de dingen van de duisternis worden stiekem gedaan – en ze zijn bijna te erg om hardop te noemen.

Brothers and sisters, if someone is caught in a sin, you who live by the Spirit should restore that person gently. But watch yourselves, or you also may be tempted.

Broeders en zusters, stel dat jullie merken dat iemand in de gemeente iets slechts heeft gedaan. Dan moeten jullie je door de Geest laten leiden en hem weer op het rechte pad brengen. Doe dat op een vriendelijke manier. Doe niet alsof je beter bent dan hij. Je moet eraan denken dat je zelf óók in de verleiding kan komen om ongehoorzaam aan God te zijn.

"He himself bore our sins" in his body on the cross, so that we might die to sins and live for righteousness; "by his wounds you have been healed."

Toen Hij aan het kruis werd gespijkerd, droeg Hij ónze ongehoorzaamheid in Zich mee aan het kruis. Onze ongehoorzaamheid werd daar gekruisigd. Daardoor zijn we nu dood voor het kwaad. Nu kunnen we leven zoals God het wil. En door de wonden die de zweepslagen in zijn lichaam hebben gemaakt, hebben jullie genezing gekregen.

Blessed is the one who does not walk in step with the wicked or stand in the way that sinners take or sit in the company of mockers.

Het is heerlijk als je niet luistert naar de raad van mensen die zich niets van God aantrekken, als je niet omgaat met slechte mensen, als je niet meedoet met mensen die lachen om God.

Come near to God and he will come near to you. Wash your hands, you sinners, and purify your hearts, you double-minded.

Ga naar God toe, dan zal Hij naar jou toe komen. Stop met het doen van slechte dingen, ongehoorzame mensen! Leef voortaan zoals God het wil, twijfelaars!

Out of the same mouth come praise and cursing. My brothers and sisters, this should not be.

We prijzen en vervloeken met dezelfde mond! Dat is niet goed, broeders en zusters!

So Christ was sacrificed once to take away the sins of many; and he will appear a second time, not to bear sin, but to bring salvation to those who are waiting for him.

Zo is ook Christus éénmaal gestorven. Hij heeft Zichzelf éénmaal geofferd om de straf voor de ongehoorzaamheid van de mensen op Zich te nemen. Als Hij voor de tweede keer komt, komt Hij niet meer om Zichzelf voor onze ongehoorzaamheid te offeren. Dan komt Hij om de mensen die op Hem vertrouwen voor hun redding, helemaal te bevrijden.

Therefore no one will be declared righteous in God's sight by the works of the law; rather, through the law we become conscious of our sin.

Want niemand kan, door zich precies aan de wet te houden, door God vrijgesproken worden van schuld. De wet zorgt er namelijk niet voor dat mensen gaan leven zoals God het wil. De wet laat hun alleen zien dat ze níet leven zoals God het wil.

But among you there must not be even a hint of sexual immorality, or of any kind of impurity, or of greed, because these are improper for God's holy people.

Maar jullie mogen absoluut niet met allerlei vrouwen of mannen naar bed gaan, of allerlei andere verkeerde dingen op het gebied van seks doen. Wees ook niet langer hebzuchtig.

Remember, L

ord

, your great mercy and love, for they are from of old. Do not remember the sins of my youth and my rebellious ways; according to your love remember me, for you, L

ord

, are good.

Denk toch aan wat U in uw liefde allemaal al heeft gedaan. U bent altijd vol liefde geweest. Denk daarom niet meer aan de dingen die ik verkeerd heb gedaan, aan de keren dat ik ongehoorzaam aan U was toen ik nog jong was. Want U houdt immers van mij, Heer.

For if you forgive other people when they sin against you, your heavenly Father will also forgive you.

Als jullie de mensen vergeven wat ze verkeerd doen, zal jullie hemelse Vader jullie ook vergeven wat jullie verkeerd doen.
Yet to all who did receive him, to those who believed in his name, he gave the right to become children of God.
Personal Bible reading plan
Create an account to configure your Bible reading plan and you will see your progress and the next chapter to read here!
Read more...