«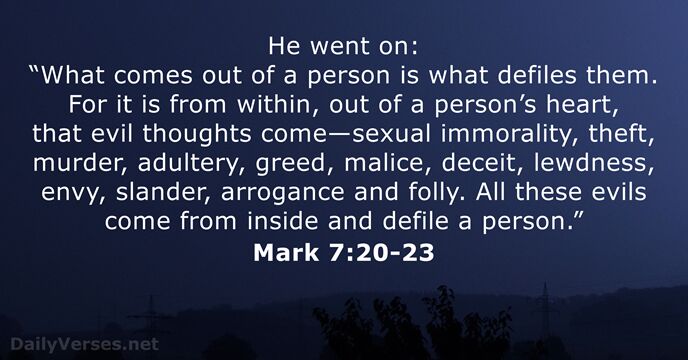 »
He went on: "What comes out of a person is what defiles them. For it is from within, out of a person's heart, that evil thoughts come—sexual immorality, theft, murder, adultery, greed, malice, deceit, lewdness, envy, slander, arrogance and folly. All these evils come from inside and defile a person."

Wat uít je mond komt, maakt je onrein. Want dat komt van binnenuit, uit je hart. Daar vandaan komen de slechte gedachten, verkeerde dingen op het gebied van seks, moord, diefstal, ontrouw aan je man of vrouw, hebzucht, slechtheid, bedrog, gebrek aan zelfbeheersing, roddel, kwaadsprekerij, trots, onverstandigheid. Al die slechte dingen komen van binnenuit naar buiten en maken je onrein.

Whoever conceals their sins does not prosper, but the one who confesses and renounces them finds mercy.

Als je nooit je fouten toegeeft, zal het niet goed met je gaan. Maar als je ze hardop toegeeft en ze niet meer doet, zul je vergeving krijgen.

Whoever sows to please their flesh, from the flesh will reap destruction; whoever sows to please the Spirit, from the Spirit will reap eternal life.

Dus als je slechte dingen zaait door alleen maar te doen wat je zelf wil, zul je ellende en dood oogsten. Maar als je goede dingen zaait door te leven zoals de Geest het wil, zul je eeuwig leven oogsten.

Those who are in the realm of the flesh cannot please God.

Mensen die zich door hun 'ik' laten leiden, doen precies het tegenovergestelde van wat God wil. Ze gedragen zich als vijanden van God. Want ze gehoorzamen niet aan de wet van God. Dat kunnen ze ook niet. Daarom geniet God niet van zulke mensen.

"In your anger do not sin": Do not let the sun go down while you are still angry, and do not give the devil a foothold.

Als je boos op iemand wordt, houd je boosheid dan niet vast, want dat is verkeerd. Zorg ervoor dat je vóór het eind van de dag je boosheid weer kwijt bent. Zo geef je de duivel geen kans.

The sting of death is sin, and the power of sin is the law.

De dood heeft macht door het kwaad, en het kwaad heeft macht door de wet van Mozes.

Jesus replied, "Very truly I tell you, everyone who sins is a slave to sin."

Jezus antwoordde: "Luister goed! Ik zeg jullie dat iedereen die slechte dingen doet, een slaaf is van het kwaad."

For the wages of sin is death, but the gift of God is eternal life in Christ Jesus our Lord.

Het kwaad brengt altijd de dood: het is je loon voor wat je hebt gedaan. Maar de liefdevolle goedheid van God geeft een geschenk: het eeuwige leven, door onze Heer Jezus Christus.

Do not love the world or anything in the world. If anyone loves the world, love for the Father is not in them.

Houd niet van de wereld en van de dingen die van de wereld zijn. Als je van de wereld houdt, houd je niet werkelijk van de Vader.

Repent, then, and turn to God, so that your sins may be wiped out, that times of refreshing may come from the Lord.

Maar als jullie nu spijt hebben en in Jezus gaan geloven, zal God jullie vergeven dat jullie Hem ongehoorzaam zijn geweest. Alles wat jullie verkeerd gedaan hebben, zal Hij dan helemaal wegdoen. Dan zal God jullie rust en vrede geven.

What shall we say, then? Shall we go on sinning so that grace may increase? By no means! We are those who have died to sin; how can we live in it any longer?

Hoe zit het dan? Zullen we dan maar veel slechte dingen doen, zodat God ons veel kan vergeven? Nee, natuurlijk niet! Hoe zouden we op de oude manier verder kunnen leven? Ons oude, slechte 'ik' is toch dood?

Wash and make yourselves clean. Take your evil deeds out of my sight; stop doing wrong.

Ga je wassen, zorg dat je schoon wordt! Zorg dat Ik geen slechte dingen meer zie! Stop met de slechte dingen die jullie doen!

Sin is not ended by multiplying words, but the prudent hold their tongues.

Als je veel praat, zeg je vaak dingen die je niet had mogen zeggen. Maar als je je mond beheerst, ben je verstandig.

So I say, walk by the Spirit, and you will not gratify the desires of the flesh.

Ik bedoel dit: laat je leiden door de Geest en niet door je 'ik.'

For sin shall no longer be your master, because you are not under the law, but under grace.

Het kwaad mag niet meer over jullie heersen. Want nu heerst niet meer de wet van Mozes over jullie, maar de liefdevolle goedheid van God.

There is a way that appears to be right, but in the end it leads to death.

Soms denk je dat je op de goede weg bent, terwijl die weg uiteindelijk bij de dood uitkomt.

Repent! Turn away from all your offenses; then sin will not be your downfall.

Stop dus met het doen van slechte dingen! Want anders zal het slecht met jullie aflopen!

For where you have envy and selfish ambition, there you find disorder and every evil practice.

Want door jaloersheid en geruzie ontstaat verwarring en worden er allerlei slechte dingen gedaan.

We have sinned and done wrong. We have been wicked and have rebelled; we have turned away from your commands and laws.

Ik geef toe dat wij veel verkeerde dingen hebben gedaan. We hebben niet geleefd zoals U het wil. We zijn U ongehoorzaam geweest. We hebben ons niet aan uw wetten en leefregels willen houden.

God made him who had no sin to be sin for us, so that in him we might become the righteousness of God.

God heeft alle ongehoorzaamheid van alle mensen op Jezus gelegd. Aan het kruis droeg Jezus ónze straf. Maar Hij is Zelf nooit ongehoorzaam aan God geweest. Zo kon Hij ons bevrijden van onze ongehoorzaamheid en daarmee ook van Gods straf.

Do not offer any part of yourself to sin as an instrument of wickedness, but rather offer yourselves to God as those who have been brought from death to life; and offer every part of yourself to him as an instrument of righteousness.

Laat je niet langer door het kwaad gebruiken voor het doen van slechte dingen. Maar laat je door God gebruiken voor het doen van goede dingen, als mensen die eerst dood waren, maar die nu levend zijn.

But Scripture has locked up everything under the control of sin, so that what was promised, being given through faith in Jesus Christ, might be given to those who believe.

Maar dat konden ze niet. Dus door de wet gingen de mensen juist zien hoe slecht ze zijn. Zo zouden ze gaan begrijpen dat ze alleen door geloof in Jezus Christus hun deel van de belofte zouden krijgen en niet door zich aan de wet van Mozes te houden.
Then I acknowledged my sin to you and did not cover up my iniquity. I said, "I will confess my transgressions to the L

ord

." And you forgave the guilt of my sin.

Maar tenslotte vertelde ik U dat ik U ongehoorzaam was geweest. Ik verborg niets voor U. Ik vertelde U alles wat ik verkeerd had gedaan. Toen vergaf U het mij en U deed mijn schuld weg.

What you have said in the dark will be heard in the daylight, and what you have whispered in the ear in the inner rooms will be proclaimed from the roofs.

Daarom zal alles wat jullie in het donker hebben gezegd, in het licht worden gehoord. En alles wat jullie achter gesloten deuren in een oor hebben gefluisterd, zal van de daken worden geroepen.

That God was reconciling the world to himself in Christ, not counting people's sins against them. And he has committed to us the message of reconciliation.

God heeft door Christus de mensen vergeven dat ze ongehoorzaam aan Hem waren. Nu zijn ze vrijgesproken van schuld. En Hij heeft ons de taak gegeven om dit aan de mensen te vertellen. Want daardoor kunnen ze vrienden van God worden.
Yet to all who did receive him, to those who believed in his name, he gave the right to become children of God.
Personal Bible reading plan
Create an account to configure your Bible reading plan and you will see your progress and the next chapter to read here!
Read more...