Bible Verses about Slavery
«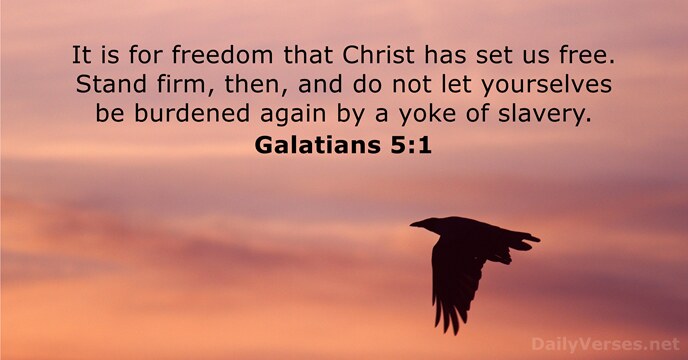 »
It is for freedom that Christ has set us free. Stand firm, then, and do not let yourselves be burdened again by a yoke of slavery.

基 督 釋 放 了 我 們 , 叫 我 們 得 以 自 由 。 所 以 要 站 立 得 穩 , 不 要 再 被 奴 僕 的 軛 挾 制 。

Jesus replied, "Very truly I tell you, everyone who sins is a slave to sin."

耶 穌 回 答 說 : 我 實 實 在 在 的 告 訴 你 們 , 所 有 犯 罪 的 就 是 罪 的 奴 僕 。

The Spirit you received does not make you slaves, so that you live in fear again; rather, the Spirit you received brought about your adoption to sonship. And by him we cry, "Abba, Father."

你 們 所 受 的 , 不 是 奴 僕 的 心 , 仍 舊 害 怕 ; 所 受 的 , 乃 是 兒 子 的 心 , 因 此 我 們 呼 叫 : 阿 爸 ! 父 !

Remember that you were slaves in Egypt and that the L

ord

your God brought you out of there with a mighty hand and an outstretched arm. Therefore the L

ord

your God has commanded you to observe the Sabbath day.

你 也 要 記 念 你 在 埃 及 地 作 過 奴 僕 ; 耶 和 華 你 神 用 大 能 的 手 和 伸 出 來 的 膀 臂 將 你 從 那 裡 領 出 來 。 因 此 , 耶 和 華 你 的 神 吩 咐 你 守 安 息 日 。

So if the Son sets you free, you will be free indeed.

所 以 天 父 的 兒 子 若 叫 你 們 自 由 , 你 們 就 真 自 由 了 。

The rich rule over the poor, and the borrower is slave to the lender.

富 戶 管 轄 窮 人 ; 欠 債 的 是 債 主 的 僕 人 。

But now that you have been set free from sin and have become slaves of God, the benefit you reap leads to holiness, and the result is eternal life.

但 現 今 , 你 們 既 從 罪 裡 得 了 釋 放 , 作 了 神 的 奴 僕 , 就 有 成 聖 的 果 子 , 那 結 局 就 是 永 生 。

Is not this the kind of fasting I have chosen: to loose the chains of injustice and untie the cords of the yoke, to set the oppressed free and break every yoke?

我 所 揀 選 的 禁 食 不 是 要 鬆 開 凶 惡 的 繩 , 解 下 軛 上 的 索 , 使 被 欺 壓 的 得 自 由 , 折 斷 一 切 的 軛 麼 ?

Live as free people, but do not use your freedom as a cover-up for evil; live as God's slaves.

你 們 雖 是 自 由 的 , 卻 不 可 藉 著 自 由 遮 蓋 惡 毒 , 總 要 作 神 的 僕 人 。

Teach slaves to be subject to their masters in everything, to try to please them, not to talk back to them, and not to steal from them, but to show that they can be fully trusted, so that in every way they will make the teaching about God our Savior attractive.

勸 僕 人 要 順 服 自 己 的 主 人 , 凡 事 討 他 的 喜 歡 , 不 可 頂 撞 他 , 不 可 私 拿 東 西 ; 要 顯 為 忠 誠 , 以 致 凡 事 尊 榮 我 們 救 主 神 的 道 。

Not so with you. Instead, whoever wants to become great among you must be your servant, and whoever wants to be first must be your slave.

只 是 在 你 們 中 間 , 不 可 這 樣 ; 你 們 中 間 誰 願 為 大 , 就 必 作 你 們 的 用 人 ; 誰 願 為 首 , 就 必 作 你 們 的 僕 人 。

For if we have been united with him in a death like his, we will certainly also be united with him in a resurrection like his. For we know that our old self was crucified with him so that the body ruled by sin might be done away with, that we should no longer be slaves to sin.

我 們 若 在 他 死 的 形 狀 上 與 他 聯 合 , 也 要 在 他 復 活 的 形 狀 上 與 他 聯 合 ; 因 為 知 道 我 們 的 舊 人 和 他 同 釘 十 字 架 , 使 罪 身 滅 絕 , 叫 我 們 不 再 作 罪 的 奴 僕 。

The Spirit of the Lord is on me, because he has anointed me to proclaim good news to the poor. He has sent me to proclaim freedom for the prisoners and recovery of sight for the blind, to set the oppressed free.

主 的 靈 在 我 身 上 , 因 為 他 用 膏 膏 我 , 叫 我 傳 福 音 給 貧 窮 的 人 ; 差 遣 我 報 告 : 被 擄 的 得 釋 放 , 瞎 眼 的 得 看 見 , 叫 那 受 壓 制 的 得 自 由 。

Diligent hands will rule, but laziness ends in forced labor.

殷 勤 人 的 手 必 掌 權 ; 懶 惰 的 人 必 服 苦 。

There is neither Jew nor Gentile, neither slave nor free, nor is there male and female, for you are all one in Christ Jesus. If you belong to Christ, then you are Abraham's seed, and heirs according to the promise.

並 不 分 猶 太 人 、 希 利 尼 人 , 自 主 的 、 為 奴 的 , 或 男 或 女 , 因 為 你 們 在 基 督 耶 穌 裡 都 成 為 一 了 。 你 們 既 屬 乎 基 督 , 就 是 亞 伯 拉 罕 的 後 裔 , 是 照 著 應 許 承 受 產 業 的 了 。

For we were all baptized by one Spirit so as to form one body—whether Jews or Gentiles, slave or free—and we were all given the one Spirit to drink.

我 們 不 拘 是 猶 太 人 , 是 希 利 尼 人 , 是 為 奴 的 , 是 自 主 的 , 都 從 一 位 聖 靈 受 洗 , 成 了 一 個 身 體 , 飲 於 一 位 聖 靈 。
So if anyone tells you, 'There he is, out in the wilderness,' do not go out; or, 'Here he is, in the inner rooms,' do not believe it. For as lightning that comes from the east is visible even in the west, so will be the coming of the Son of Man.
Personal Bible reading plan
Create an account to configure your Bible reading plan and you will see your progress and the next chapter to read here!
Read more...