19 Bible Verses about the Soul
«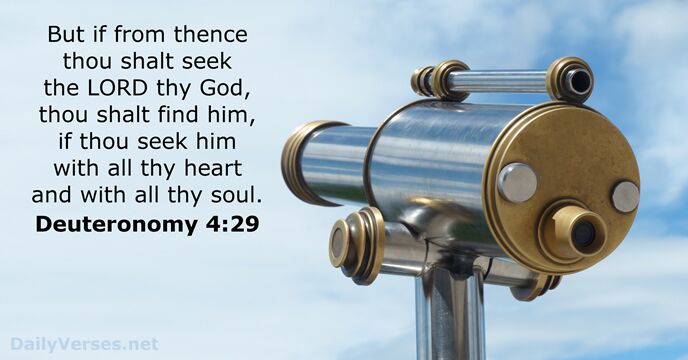 »
But if from thence thou shalt seek the L

ord

thy God, thou shalt find him, if thou seek him with all thy heart and with all thy soul.

Maar na lange tijd zullen jullie toch de Heer, jullie God, weer gaan zoeken. En als je hem zoekt met je hele hart, dan zul je hem vinden.

For what is a man profited, if he shall gain the whole world, and lose his own soul? or what shall a man give in exchange for his soul?

Stel dat je de hele wereld in bezit krijgt. Wat heb je daaraan als je je leven verliest? Het eeuwige leven is niet te koop.

Truly my soul waiteth upon God: from him cometh my salvation.

Alleen bij God krijg ik rust, alleen hij kan mij redden.

Why art thou cast down, O my soul? and why art thou disquieted within me? hope thou in God: for I shall yet praise him, who is the health of my countenance, and my God.

Waarom ben ik zo bedroefd, waarom zo onrustig van binnen? Ik moet op God vertrouwen. Eens zal ik hem weer danken. Hij zal mij redden, hij is mijn God.

Thus saith the L

ord

, Stand ye in the ways, and see, and ask for the old paths, where is the good way, and walk therein, and ye shall find rest for your souls. But they said, We will not walk therein.

De Heer zegt: 'Volk van Israël, denk eens na over hoe jullie leven. Denk eens aan de wet die ik jullie lang geleden gaf. Ik heb jullie de weg gewezen. Ik beloofde dat jullie in vrede zouden leven als jullie het goede zouden doen. Maar jullie zeiden: 'Dat doen we niet.''

Jesus said unto him, Thou shalt love the Lord thy God with all thy heart, and with all thy soul, and with all thy mind.

Jezus antwoordde: 'De eerste en belangrijkste regel is deze: «De Heer is je God. Je moet van hem houden met je hele hart, met je hele ziel, en met je hele verstand.»'

Beloved, I wish above all things that thou mayest prosper and be in health, even as thy soul prospereth.

Beste vriend, ik hoop dat alles goed met je gaat, en dat je gezond bent. Ik weet dat het in ieder geval goed gaat met je geloof.

For thou hast possessed my reins: thou hast covered me in my mother's womb. I will praise thee; for I am fearfully and wonderfully made: marvellous are thy works; and that my soul knoweth right well.

U maakte mij in de buik van mijn moeder. Elk deel van mijn lichaam hebt u gevormd. Ik dank u daarvoor. Want het is een wonder, zoals ik gemaakt ben. Alles wat u maakt, is een wonder. Dat weet ik heel goed.

And ye shall seek me, and find me, when ye shall search for me with all your heart.

Jullie zullen mij zoeken. En als je mij zoekt met heel je hart, zul je mij vinden.

O God, thou art my God; early will I seek thee: my soul thirsteth for thee, my flesh longeth for thee in a dry and thirsty land, where no water is.

God, u bent mijn God! Ik zoek u, met heel mijn hart verlang ik naar u, mijn hele lichaam verlangt naar u. Om mij heen is het dor en droog, nergens vind ik water.

Bless the L

ord

, O my soul: and all that is within me, bless his holy name.

Ik dank de Heer, ik dank de heilige Heer vanuit het diepst van mijn hart.

Pleasant words are as an honeycomb, sweet to the soul, and health to the bones.

Vriendelijke woorden geven mensen kracht, net zoals zoete honing mensen sterk maakt.

And fear not them which kill the body, but are not able to kill the soul: but rather fear him which is able to destroy both soul and body in hell.

Jullie moeten niet bang zijn voor de mensen. Ze kunnen wel je lichaam doden, maar niet je ziel. Je moet alleen bang zijn voor God, want hij kan iemand met lichaam en ziel vernietigen in de hel.

I wait for the L

ord

, my soul doth wait, and in his word do I hope.

Ik verlang naar de Heer, ik wacht op hem, ik vertrouw op zijn woorden.

Deliver my soul, O L

ord

, from lying lips, and from a deceitful tongue.

Heer, bescherm mij tegen mijn vijanden, bevrijd mij van bedriegers en leugenaars!

The law of the L

ord

is perfect, converting the soul: the testimony of the L

ord

is sure, making wise the simple.

De wet van de Heer is volmaakt, zijn wet geeft mensen weer kracht. De woorden van de Heer zijn betrouwbaar, het zijn wijze lessen voor jonge mensen.

But take diligent heed to do the commandment and the law, which Moses the servant of the L

ord

charged you, to love the L

ord

your God, and to walk in all his ways, and to keep his commandments, and to cleave unto him, and to serve him with all your heart and with all your soul.

Daarna zei Jozua: 'Houd je altijd heel precies aan de wetten en regels van de Heer, die Mozes aan jullie gegeven heeft. Jullie moeten de Heer, je God, liefhebben. Leef zoals hij het wil en houd je aan zijn wetten. Wees hem altijd trouw en dien hem met heel je hart en heel je ziel.'

And, behold, this day I am going the way of all the earth: and ye know in all your hearts and in all your souls, that not one thing hath failed of all the good things which the L

ord

your God spake concerning you; all are come to pass unto you, and not one thing hath failed thereof.

Luister goed! Ik ga bijna sterven. Jullie weten heel goed dat de Heer, jullie God, zich aan al zijn beloftes gehouden heeft. Hij heeft ze allemaal laten uitkomen.

My lips shall greatly rejoice when I sing unto thee; and my soul, which thou hast redeemed.

Ik zal voor u juichen en zingen, want u zult mij bevrijden.
Trust in the L

ord

, and do good;
so shalt thou dwell in the land, and verily thou shalt be fed.
He that handleth a matter wisely shall find good:
and whoso trusteth in the L

ord

, happy is he.
Read more
Trust in the L

ord

, and do good; so shalt thou dwell in the land, and verily thou shalt be fed.
Personal Bible reading plan
Create an account to configure your Bible reading plan and you will see your progress and the next chapter to read here!
Read more...