Bible Verses about the Soul
«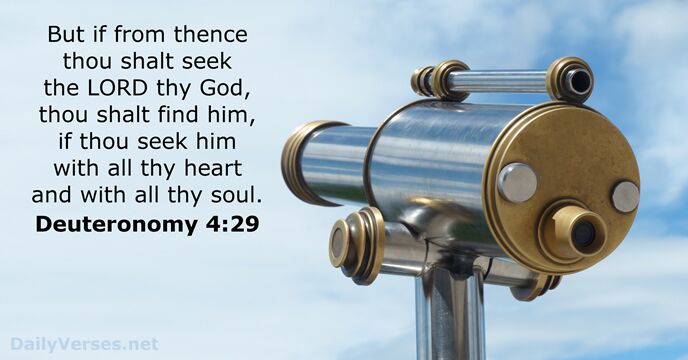 »
But if from thence thou shalt seek the L

ord

thy God, thou shalt find him, if thou seek him with all thy heart and with all thy soul.

Muiden kansojen seassa te sitten etsitte Herraa, Jumalaanne, ja myös löydätte hänet, kun vain käännytte hänen puoleensa vilpittömästi ja koko sydämestänne.

For what is a man profited, if he shall gain the whole world, and lose his own soul? or what shall a man give in exchange for his soul?

Mitä hyödyttää ihmistä, jos hän voittaa omakseen koko maailman mutta menettää sielunsa? Millä ihminen voi ostaa sielunsa takaisin?

Truly my soul waiteth upon God: from him cometh my salvation.

Jumalan edessä mieleni hiljenee, hän antaa minulle avun.

Why art thou cast down, O my soul? and why art thou disquieted within me? hope thou in God: for I shall yet praise him, who is the health of my countenance, and my God.

Miksi olet masentunut, sieluni, miksi olet niin levoton? Odota Jumalaa! Vielä saan kiittää häntä, Jumalaani, auttajaani.

Thus saith the L

ord

, Stand ye in the ways, and see, and ask for the old paths, where is the good way, and walk therein, and ye shall find rest for your souls. But they said, We will not walk therein.

Näin sanoo Herra: – Pysähtykää ja katsokaa, minne olette menossa, ottakaa oppia menneistä ajoista! Valitkaa oikea tie ja kulkekaa sitä, niin löydätte rauhan. Näin sanoin, mutta te vastasitte: »Emme kulje!»

Jesus said unto him, Thou shalt love the Lord thy God with all thy heart, and with all thy soul, and with all thy mind.

Jeesus vastasi: »Rakasta Herraa, Jumalaasi, koko sydämestäsi, koko sielustasi ja mielestäsi.»

Beloved, I wish above all things that thou mayest prosper and be in health, even as thy soul prospereth.

Rakas ystävä, toivon, että sinulle kuuluu joka suhteessa hyvää ja että olet terve; sisäisestihän sinulle kuuluu hyvää.

For thou hast possessed my reins: thou hast covered me in my mother's womb. I will praise thee; for I am fearfully and wonderfully made: marvellous are thy works; and that my soul knoweth right well.

Sinä olet luonut minut sisintäni myöten, äitini kohdussa olet minut punonut. Minä olen ihme, suuri ihme, ja kiitän sinua siitä. Ihmeellisiä ovat sinun tekosi, minä tiedän sen.

And ye shall seek me, and find me, when ye shall search for me with all your heart.

Te etsitte minua, ja te löydätte minut! Koko sydämestänne te minua etsitte, ja minä annan teidän löytää itseni.

O God, thou art my God; early will I seek thee: my soul thirsteth for thee, my flesh longeth for thee in a dry and thirsty land, where no water is.

Jumala, minun Jumalani, sinua minä odotan. Sieluni janoaa sinua, ruumiini ikävöi sinua ja uupuu autiomaassa ilman vettä.

Bless the L

ord

, O my soul: and all that is within me, bless his holy name.

Ylistä Herraa, minun sieluni, ja kaikki mitä minussa on, ylistä hänen pyhää nimeään.

And fear not them which kill the body, but are not able to kill the soul: but rather fear him which is able to destroy both soul and body in hell.

Älkää pelätkö niitä, jotka tappavat ruumiin mutta eivät kykene tappamaan sielua. Pelätkää sen sijaan häntä, joka voi sekä sielun että ruumiin hukuttaa helvettiin.

Pleasant words are as an honeycomb, sweet to the soul, and health to the bones.

Ystävän sanat ovat nuorta hunajaa: makeat mielelle, virvoittavat ruumiille.

Deliver my soul, O L

ord

, from lying lips, and from a deceitful tongue.

Herra, pelasta minut valehtelijoiden käsistä, varjele heidän petollisilta puheiltaan.

I wait for the L

ord

, my soul doth wait, and in his word do I hope.

Minä odotan sinua, Herra, odotan sinua koko sielustani ja panen toivoni sinun sanaasi.

The law of the L

ord

is perfect, converting the soul: the testimony of the L

ord

is sure, making wise the simple.

Herra on antanut täydellisen lain, se virvoittaa mielen. Herran ohjeet ovat luotettavat, ne neuvovat taitamatonta.

But take diligent heed to do the commandment and the law, which Moses the servant of the L

ord

charged you, to love the L

ord

your God, and to walk in all his ways, and to keep his commandments, and to cleave unto him, and to serve him with all your heart and with all your soul.

Mutta huolehtikaa aina siitä, että tarkoin noudatatte niitä käskyjä ja ohjeita, jotka Mooses, Herran palvelija, antoi teille. Rakastakaa Herraa, Jumalaanne, kulkekaa aina hänen teitään, noudattakaa hänen käskyjään, pysykää hänelle uskollisina ja palvelkaa häntä koko sydämestänne ja sielustanne.

My lips shall greatly rejoice when I sing unto thee; and my soul, which thou hast redeemed.

Minun huuleni avautuvat ilohuutoon. Minä laulan sinulle kiitosta, koska sinä lunastit minut.

And, behold, this day I am going the way of all the earth: and ye know in all your hearts and in all your souls, that not one thing hath failed of all the good things which the L

ord

your God spake concerning you; all are come to pass unto you, and not one thing hath failed thereof.

Minun lähtöni hetki on lähellä. Minä olen nyt menossa sitä tietä, jota meidän kaikkien on mentävä. Älkää koskaan unohtako, että Herra, teidän Jumalanne, ei ole jättänyt täyttämättä ainoatakaan teille antamaansa lupausta. Ne ovat kaikki täyttyneet.
And he saith unto them, Follow me, and I will make you fishers of men.
Personal Bible reading plan
Create an account to configure your Bible reading plan and you will see your progress and the next chapter to read here!
Read more...