Bible Verses about Speaking
«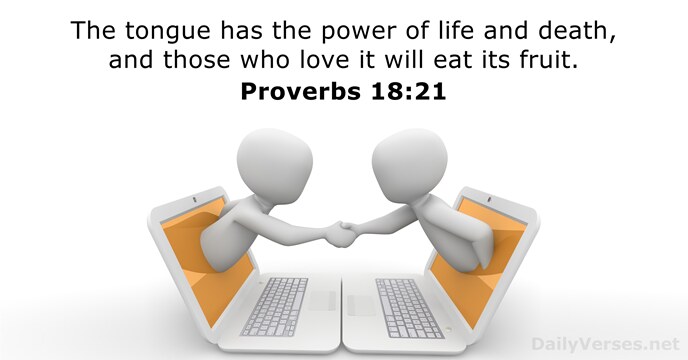 »
| | |
| --- | --- |
| The tongue has the power of life and death, and those who love it will eat its fruit. | A morte e a vida estão no poder da língua; e aquele que a ama comerá do seu fruto. |
| A good man brings good things out of the good stored up in his heart, and an evil man brings evil things out of the evil stored up in his heart. For the mouth speaks what the heart is full of. | O homem bom, do bom tesouro do seu coração, tira o bem, e o homem mau, do mau tesouro do seu coração, tira o mal, porque da abundância do seu coração fala a boca. |
| Do not let any unwholesome talk come out of your mouths, but only what is helpful for building others up according to their needs, that it may benefit those who listen. | Não saia da vossa boca nenhuma palavra torpe, mas só a que for boa para promover a edificação, para que dê graça aos que a ouvem. |
| Those who guard their lips preserve their lives, but those who speak rashly will come to ruin. | O que guarda a sua boca conserva a sua alma, mas o que muito abre os lábios tem perturbação. |
| Do not repay evil with evil or insult with insult. On the contrary, repay evil with blessing, because to this you were called so that you may inherit a blessing. | Não tornando mal por mal ou injúria por injúria; antes, pelo contrário, bendizendo, sabendo que para isto fostes chamados, para que, por herança, alcanceis a bênção. |
| The soothing tongue is a tree of life, but a perverse tongue crushes the spirit. | Uma língua saudável é árvore de vida, mas a perversidade nela quebranta o espírito. |
| Even fools are thought wise if they keep silent, and discerning if they hold their tongues. | Até o tolo, quando se cala, será reputado por sábio; e o que cerrar os seus lábios, por sábio. |
| But I tell you that everyone will have to give account on the day of judgment for every empty word they have spoken. | Mas eu vos digo que de toda palavra ociosa que os homens disserem hão de dar conta no Dia do Juízo. |
| My dear brothers and sisters, take note of this: Everyone should be quick to listen, slow to speak and slow to become angry. | Sabeis isto, meus amados irmãos; mas todo o homem seja pronto para ouvir, tardio para falar, tardio para se irar. |
| Sin is not ended by multiplying words, but the prudent hold their tongues. | Na multidão de palavras não falta transgressão, mas o que modera os seus lábios é prudente. |
| Speak up for those who cannot speak for themselves, for the rights of all who are destitute. | Abre a tua boca a favor do mudo, pelo direito de todos os que se acham em desolação. |
| A person finds joy in giving an apt reply— and how good is a timely word! | O homem se alegra na resposta da sua boca, e a palavra, a seu tempo, quão boa é! |
| A gentle answer turns away wrath, but a harsh word stirs up anger. | A resposta branda desvia o furor, mas a palavra dura suscita a ira. |
| Dear children, let us not love with words or speech but with actions and in truth. | Meus filhinhos, não amemos de palavra, nem de língua, mas por obra e em verdade. |
| We all stumble in many ways. Anyone who is never at fault in what they say is perfect, able to keep their whole body in check. | Porque todos tropeçamos em muitas coisas. Se alguém não tropeça em palavra, o tal varão é perfeito e poderoso para também refrear todo o corpo. |
| A gossip betrays a confidence, but a trustworthy person keeps a secret. | O que anda praguejando descobre o segredo, mas o fiel de espírito encobre o negócio. |
| Words from the mouth of the wise are gracious, but fools are consumed by their own lips. | Nas palavras da boca do sábio, há favor, mas os lábios do tolo o devoram. |
| If your brother or sister sins, go and point out their fault, just between the two of you. If they listen to you, you have won them over. | Ora, se teu irmão pecar contra ti, vai e repreende-o entre ti e ele só; se te ouvir, ganhaste a teu irmão. |
| My mouth is filled with your praise, declaring your splendor all day long. | Encha-se a minha boca do teu louvor e da tua glória todo o dia. |
| What you have said in the dark will be heard in the daylight, and what you have whispered in the ear in the inner rooms will be proclaimed from the roofs. | Porquanto tudo o que em trevas dissestes à luz será ouvido; e o que falastes ao ouvido no gabinete sobre os telhados será apregoado. |
| Out of the same mouth come praise and cursing. My brothers and sisters, this should not be. | De uma mesma boca procede bênção e maldição. Meus irmãos, não convém que isto se faça assim. |
| If you declare with your mouth, "Jesus is Lord," and believe in your heart that God raised him from the dead, you will be saved. | A saber: Se, com a tua boca, confessares ao Senhor Jesus e, em teu coração, creres que Deus o ressuscitou dos mortos, serás salvo. |
| In the same way, the Spirit helps us in our weakness. We do not know what we ought to pray for, but the Spirit himself intercedes for us through wordless groans. | E da mesma maneira também o Espírito ajuda as nossas fraquezas; porque não sabemos o que havemos de pedir como convém, mas o mesmo Espírito intercede por nós com gemidos inexprimíveis. |
| Plans fail for lack of counsel, but with many advisers they succeed. | Onde não há conselho os projetos saem vãos, mas, com a multidão de conselheiros, se confirmarão. |
| And when you pray, do not keep on babbling like pagans, for they think they will be heard because of their many words. | E, orando, não useis de vãs repetições, como os gentios, que pensam que, por muito falarem, serão ouvidos. |
The thief comes only to steal and kill and destroy; I have come that they may have life, and have it to the full.
Personal Bible reading plan
Create an account to configure your Bible reading plan and you will see your progress and the next chapter to read here!
Read more...