69 Bible Verses about Speaking
«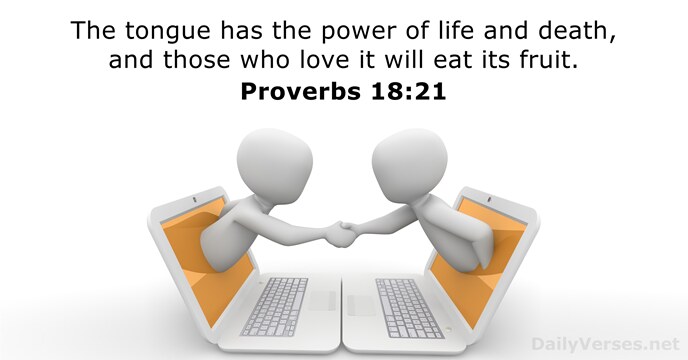 »
The tongue has the power of life and death, and those who love it will eat its fruit.

Woorden kunnen goed doen of kwaad doen. Denk dus goed na voordat je iets zegt.

A good man brings good things out of the good stored up in his heart, and an evil man brings evil things out of the evil stored up in his heart. For the mouth speaks what the heart is full of.

Zo zegt een goed mens goede dingen omdat hij van binnen goed is. En een slecht mens zegt slechte dingen omdat hij van binnen slecht is. Je woorden laten zien hoe je van binnen bent!

Do not let any unwholesome talk come out of your mouths, but only what is helpful for building others up according to their needs, that it may benefit those who listen.

Zeg geen slechte, negatieve dingen over mensen. Maar zeg, als het nodig is, dingen die het geloof van anderen sterker maken. Zeg iets dat mensen goeddoet.

Those who guard their lips preserve their lives, but those who speak rashly will come to ruin.

Als je nadenkt voordat je iets zegt, bescherm je jezelf, maar als je zomaar dingen roept, loopt het slecht met je af.

Do not repay evil with evil or insult with insult. On the contrary, repay evil with blessing, because to this you were called so that you may inherit a blessing.

Als iemand je kwaad doet, doe hem dan geen kwaad terug. Als je wordt uitgescholden, scheld dan niet terug. Jullie zijn uitgekozen om goed te doen. Wens mensen dus het goede toe. Dan zal God ook goed voor jullie zijn.

The soothing tongue is a tree of life, but a perverse tongue crushes the spirit.

Vriendelijke woorden geven mensen kracht om te leven, maar boze woorden maken mensen kapot.

Even fools are thought wise if they keep silent, and discerning if they hold their tongues.

Zelfs dwaze mensen lijken verstandig als ze zwijgen, en domme mensen lijken wijs als ze hun mond houden.

But I tell you that everyone will have to give account on the day of judgment for every empty word they have spoken.

Luister naar mijn woorden: God zal rechtspreken over de wereld. En dan bekijkt hij of mensen verkeerde dingen gezegd hebben.

My dear brothers and sisters, take note of this: Everyone should be quick to listen, slow to speak and slow to become angry.

Vrienden, bedenk dit goed: Je moet altijd bereid zijn om naar een ander te luisteren. Maar denk eerst goed na voordat je iets terugzegt. En word vooral niet meteen kwaad.

Sin is not ended by multiplying words, but the prudent hold their tongues.

Mensen die zomaar iets zeggen, doen snel domme dingen, maar mensen die eerst rustig nadenken, zijn verstandig.

Speak up for those who cannot speak for themselves, for the rights of all who are destitute.

Lemuel, jij moet zwakke mensen verdedigen, je moet mensen die machteloos zijn, beschermen.

A person finds joy in giving an apt reply— and how good is a timely word!

Het is fijn als iemand precies het goede zegt. Goede woorden op het juiste moment zijn geweldig!

Dear children, let us not love with words or speech but with actions and in truth.

Vrienden, we moeten anderen laten merken dat we van hen houden. Niet door mooie woorden, maar door daden die Gods waarheid laten zien.

A gentle answer turns away wrath, but a harsh word stirs up anger.

Boze mensen worden rustig als je vriendelijk tegen hen bent, maar ze worden woedend als je hen beledigt.

We all stumble in many ways. Anyone who is never at fault in what they say is perfect, able to keep their whole body in check.

En verkeerde dingen doen we allemaal. Alleen als je nooit iets verkeerds zegt, ben je volmaakt. Want als je de baas bent over je tong, waarmee je spreekt, dan ben je de baas over je hele lichaam.

A gossip betrays a confidence, but a trustworthy person keeps a secret.

Mensen die veel kletsen, kunnen geen geheim bewaren. Mensen die te vertrouwen zijn, houden hun mond.

Words from the mouth of the wise are gracious, but fools are consumed by their own lips.

Als een wijs mens iets zegt, dan krijgt hij waardering. Maar als een dwaas iets gaat zeggen, dan brengt hij zichzelf in de problemen.

If your brother or sister sins, go and point out their fault, just between the two of you. If they listen to you, you have won them over.

Jezus zei: 'Stel dat een andere gelovige iets verkeerds doet. Zeg hem dan wat hij verkeerd gedaan heeft zonder dat er anderen bij zijn. Als hij naar je luistert, dan heb je hem bij God teruggebracht.'

My mouth is filled with your praise, declaring your splendor all day long.

Ik zing over u, elke dag weer zing ik over uw macht.

What you have said in the dark will be heard in the daylight, and what you have whispered in the ear in the inner rooms will be proclaimed from the roofs.

Nu is alles waarover jullie praten, nog geheim. Maar straks zal iedereen het te horen krijgen.

And when you pray, do not keep on babbling like pagans, for they think they will be heard because of their many words.

Als je bidt, moet je niet steeds maar door blijven praten. Dat doen de mensen die andere goden vereren. Ze denken: Hoe meer ik praat, hoe beter mijn god luistert!

In the same way, the Spirit helps us in our weakness. We do not know what we ought to pray for, but the Spirit himself intercedes for us through wordless groans.

De heilige Geest steunt ons als we het moeilijk hebben. Wij weten niet welke bedoeling God heeft met ons lijden. En we weten daarom niet wat we moeten bidden. Maar de heilige Geest zelf bidt voor ons, beter dan een mens het ooit zou kunnen. Zo smeekt hij God om ons te helpen.

If you declare with your mouth, "Jesus is Lord," and believe in your heart that God raised him from the dead, you will be saved.

Met onze mond eren we Jezus als onze Heer. En met heel ons hart geloven we dat God hem uit de dood heeft laten opstaan. Daarom zullen we gered worden.

Give praise to the L

ord

, proclaim his name; make known among the nations what he has done.

Dank de Heer en maak bekend wie hij is! Vertel aan iedereen wat hij gedaan heeft.

Plans fail for lack of counsel, but with many advisers they succeed.

Plannen mislukken door te weinig overleg, maar ze slagen door veel goede raad.
Trust in the L

ord

and do good;
dwell in the land and enjoy safe pasture.
Whoever is patient has great understanding,
but one who is quick-tempered displays folly.
Read more
Trust in the L

ord

and do good; dwell in the land and enjoy safe pasture.
Personal Bible reading plan
Create an account to configure your Bible reading plan and you will see your progress and the next chapter to read here!
Read more...