Bible Verses about Suffering
«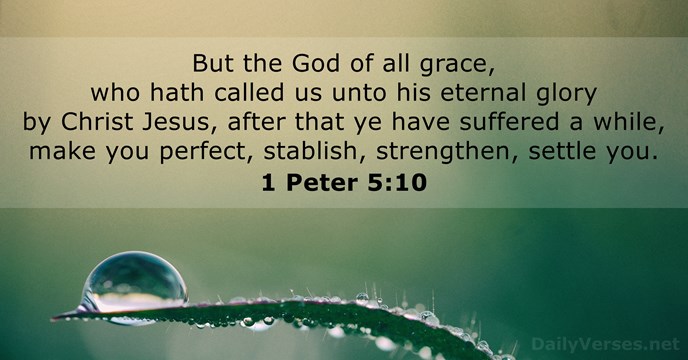 »
But the God of all grace, who hath called us unto his eternal glory by Christ Jesus, after that ye have suffered a while, make you perfect, stablish, strengthen, settle you.

Kaiken armon Jumala on Kristuksessa Jeesuksessa kutsunut teidät iankaikkiseen kirkkauteensa. Vähän aikaa kärsittyänne hän itse varustaa, voimistaa, vahvistaa ja lujittaa teidät.

Blessed be God, even the Father of our Lord Jesus Christ, the Father of mercies, and the God of all comfort; Who comforteth us in all our tribulation, that we may be able to comfort them which are in any trouble, by the comfort wherewith we ourselves are comforted of God.

Ylistetty olkoon meidän Herramme Jeesuksen Kristuksen Jumala ja Isä, armahtava Isä ja runsaan lohdutuksen Jumala! Hän rohkaisee meitä kaikissa ahdingoissamme, niin että me häneltä saamamme lohdutuksen voimalla jaksamme lohduttaa muita ahdingossa olevia.

And not only so, but we glory in tribulations also: knowing that tribulation worketh patience; And patience, experience; and experience, hope.

Me riemuitsemme jopa ahdingosta, sillä tiedämme, että ahdinko saa aikaan kestävyyttä, kestävyys auttaa selviytymään koetuksesta ja koetuksesta selviytyminen antaa toivoa.

For I reckon that the sufferings of this present time are not worthy to be compared with the glory which shall be revealed in us.

Minä päättelen, etteivät nykyisen ajan kärsimykset ole mitään sen kirkkauden rinnalla, joka vielä on ilmestyvä ja tuleva osaksemme.

Many are the afflictions of the righteous: but the L

ord

delivereth him out of them all.

Monet vaivat kohtaavat vanhurskasta, mutta kaikista niistä Herra hänet vapauttaa.

For our light affliction, which is but for a moment, worketh for us a far more exceeding and eternal weight of glory.

Tämä hetkellinen ja vähäinen ahdinkomme tuottaa meille määrättömän suuren, ikuisen kirkkauden.

Who shall separate us from the love of Christ? shall tribulation, or distress, or persecution, or famine, or nakedness, or peril, or sword?

Mikä voi erottaa meidät Kristuksen rakkaudesta? Tuska tai ahdistus, vaino tai nälkä, alastomuus, vaara tai miekka?

Forasmuch then as Christ hath suffered for us in the flesh, arm yourselves likewise with the same mind: for he that hath suffered in the flesh hath ceased from sin.

Kun siis Kristus on ruumiissaan kärsinyt, niin olkaa tekin valmiita kärsimään, jotta eläisitte jäljellä olevan maallisen elämänne Jumalan tahdon mukaisesti ettekä ihmisten himoja seuraten. Sillä se, joka on ruumiissaan kärsinyt, on luopunut synnistä.

But and if ye suffer for righteousness' sake, happy are ye: and be not afraid of their terror, neither be troubled.

Ja vaikka joutuisittekin kärsimään vanhurskauden tähden, te olette autuaita. »Älkää heitä pelätkö älkääkä hämmentykö»

For unto you it is given in the behalf of Christ, not only to believe on him, but also to suffer for his sake.

Teille on suotu se armo, että saatte uskoa Kristukseen ja vielä kärsiäkin hänen puolestaan.

Bear ye one another's burdens, and so fulfil the law of Christ.

Kantakaa toistenne taakkoja, niin te toteutatte Kristuksen lain.

He is despised and rejected of men; a man of sorrows, and acquainted with grief: and we hid as it were our faces from him; he was despised, and we esteemed him not.

Hyljeksitty hän oli, ihmisten torjuma, kipujen mies, sairauden tuttava, josta kaikki käänsivät katseensa pois. Halveksittu hän oli, me emme häntä minään pitäneet.

Surely he hath borne our griefs, and carried our sorrows: yet we did esteem him stricken, smitten of God, and afflicted.

Ja kuitenkin: hän kantoi meidän kipumme, otti taakakseen meidän sairautemme. Omista teoistaan me uskoimme hänen kärsivän rangaistusta, luulimme Jumalan häntä niistä lyövän ja kurittavan.

And he that taketh not his cross, and followeth after me, is not worthy of me.

Joka ei ota ristiään ja seuraa minua, se ei kelpaa minulle.

That I may know him, and the power of his resurrection, and the fellowship of his sufferings, being made conformable unto his death.

Minä tahdon tuntea Kristuksen ja hänen ylösnousemisensa voiman ja tulla hänen kaltaisekseen osallistumalla hänen kärsimyksiinsä ja kuolemaansa.

For as the sufferings of Christ abound in us, so our consolation also aboundeth by Christ.

Niin kuin Kristuksen kärsimykset ovat tulleet runsaina meidän osaksemme, samoin on Kristus tuonut meille runsaasti lohdutusta.

For even hereunto were ye called: because Christ also suffered for us, leaving us an example, that ye should follow his steps.

Sillä siihen teidät on kutsuttu. Kärsihän Kristuskin teidän puolestanne ja jätti teille esikuvan, jotta seuraisitte hänen jälkiään.

Then Job arose, and rent his mantle, and shaved his head, and fell down upon the ground, and worshipped, And said, Naked came I out of my mother's womb, and naked shall I return thither: the L

ord

gave, and the L

ord

hath taken away; blessed be the name of the L

ord

.

Silloin Job nousi ja repäisi viittansa. Hän ajoi päänsä paljaaksi, kumartui maahan ja sanoi: – Alastomana minä tulin äitini kohdusta, alastomana palaan täältä. Herra antoi, Herra otti, kiitetty olkoon Herran nimi!

He that findeth his life shall lose it: and he that loseth his life for my sake shall find it.

Joka varjelee elämäänsä, kadottaa sen, mutta joka elämänsä minun tähteni kadottaa, on sen löytävä.

And he humbled thee, and suffered thee to hunger, and fed thee with manna, which thou knewest not, neither did thy fathers know; that he might make thee know that man doth not live by bread only, but by every word that proceedeth out of the mouth of the L

ord

doth man live.

Tehdäkseen teidät nöyriksi hän piti teitä nälässä ja ruokki teitä sitten mannalla, jota ette olleet ennen maistaneet, eivät myöskään teidän isänne. Hän halusi osoittaa teille, ettei ihminen elä ainoastaan leivästä, vaan kaikesta mitä Herra sanoo.

And though I bestow all my goods to feed the poor, and though I give my body to be burned, and have not charity, it profiteth me nothing.

Vaikka jakaisin kaiken omaisuuteni nälkää näkeville ja vaikka antaisin polttaa itseni tulessa mutta minulta puuttuisi rakkaus, en sillä mitään voittaisi.

And they stripped him, and put on him a scarlet robe. And when they had platted a crown of thorns, they put it upon his head, and a reed in his right hand: and they bowed the knee before him, and mocked him, saying, Hail, King of the Jews!

He riisuivat Jeesuksen ja pukivat hänet punaiseen viittaan, väänsivät orjantappuroista kruunun hänen päähänsä ja panivat ruokokepin hänen oikeaan käteensä. He polvistuivat hänen eteensä ja sanoivat hänelle pilkaten: »Ole tervehditty, juutalaisten kuningas!»

Behold, happy is the man whom God correcteth: therefore despise not thou the chastening of the Almighty.

Hyvä on sen osa, jota Jumala ojentaa. Älä väheksy Kaikkivaltiaan kuritusta!

And in hell he lift up his eyes, being in torments, and seeth Abraham afar off, and Lazarus in his bosom. And he cried and said, Father Abraham, have mercy on me, and send Lazarus, that he may dip the tip of his finger in water, and cool my tongue; for I am tormented in this flame.

Kun hän tuonelan tuskissa kohotti katseensa, hän näki kaukana Abrahamin ja Lasaruksen hänen rintaansa vasten. Silloin hän huusi: 'Isä Abraham, armahda minua! Lähetä Lasarus tänne, että hän kastaisi sormenpäänsä veteen ja vilvoittaisi kieltäni. Näissä liekeissä on kauhea olla.'

Having therefore obtained help of God, I continue unto this day, witnessing both to small and great, saying none other things than those which the prophets and Moses did say should come: That Christ should suffer, and that he should be the first that should rise from the dead, and should shew light unto the people, and to the Gentiles.

Jumalan avulla olen kuitenkin selvinnyt tähän päivään asti ja voin nytkin täyttää todistajan tehtävääni, puhua sekä ylhäisille että alhaisille. Minä puhun vain siitä, minkä profeetat ja Mooses ovat ennustaneet tapahtuvan, en mistään muusta, puhun siitä, että Messiaan tuli kärsiä kuolema ja ensimmäisenä nousta kuolleista sekä julistaa valon sanomaa niin meidän kansallemme kuin muillekin kansoille.
Forbearing one another, and forgiving one another, if any man have a quarrel against any: even as Christ forgave you, so also do ye.
Personal Bible reading plan
Create an account to configure your Bible reading plan and you will see your progress and the next chapter to read here!
Read more...